Where is Makarska Riviera? Heading south from Split driving along the most scenic road D8, you'll meet a straight stretch of coastline starting from Brela village.
From there starts 38 miles long narrow strip of Adriatic Sea naturally protected by majestic Biokovo Mountain slopes.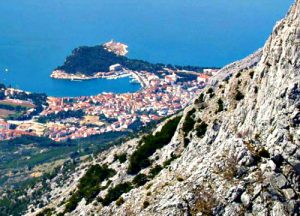 Biokovo mountain protects it from the cold continental climate and is responsible for its rich Mediterranean vegetation, mild winters and long, warm summers.
Riviera's coastline boasts on average 2750 hours of sunshine per year. The sea is incredibly clear and appealing, with an average yearly temperature of 20˚C reaching in summer period  up to 27˚C.
Most visitors to Dalmatia head straight for the islands, not knowing they are missing one of the most famous tourist destinations in the central Dalmatia. Rent your apartment on this Riviera!
Makarska Riviera Map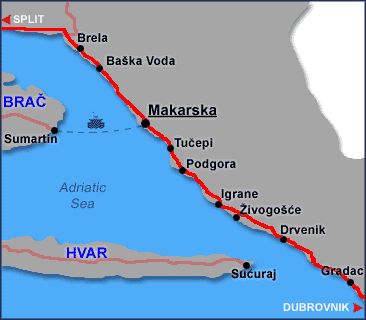 Above map shows Riviera's central position in Central Dalmatia region, spreading between Brela village, north of Makarska town (the capital) all the way to Gradac village, on the south.
The whole area has excellent connections with Split and Dalmatian hinterland such as Zagvozd, Imotski (with its Red and Blue Lakes – see the map) and Vrgorac, famous for its seven towers built during the Ottoman wars, as well as the well-preserved historical village of Kokorici. Find it on the map.
From here you can easily reach some Central Dalmatian islands like Brac and Hvar. From Makarska you have a car ferry to Sumartin (Brac island), and from Drvenik there is a ferry to Sucuraj (Hvar island) and to Dominice Korcula island.
It's the only Riviera along the Adriatic coast that has so many beaches. The 60 km long Riviera is dotted with numerous pebble beaches, known for the smooth white pebbles and sandy areas. (only few ones)
There are also many secluded beaches surrounded by lime-stone rocks. Due to the pebble beaches almost all beaches have received, for its cleanness, the blue flag – the international mark of high quality for sea water quality and  the protection of the environment.
Riviera's spacious beaches with crystal clear sea water and the pleasant shade of century old pine trees are recommended to families with children and those looking for wonderful, well-maintained beaches with a wide range of additional activities like diving, sailing and windsurfing.
Here are some best known beaches from Brela to Gradac village:
Brela Makarska Riviera beaches
Situated only 14 km north of Makarska capital is the most famous summer resorts on Riviera's coast with a few kilometers long pebble beaches. Below are images of some of the best beaches. Click on each image to enlarge it!
Brela naturist beach
Brela's  naturist beach is located between the western end of the seaside promenade in the Vrulja cove.
Vrulja cove is hardly accessible. It is a wild and fascinating cove with the most incredible and dramatic nature and little gravel beaches. To reach this unique nudist paradise beach, the best way is, hiring a boat in Brela.
Baska Voda beaches
Baska Voda, once upon a time a fishermen settlement, is another awesome holiday destination, located just 10 km north from Makarska town. Baska Voda has several very  long pebble beaches all surrounded by pine trees.
Thanks to the beautiful coastline and sea and its geographical position, at the foot of Biokovo mountain, it's also a place for hikers and nature lovers.
Makarska beaches
Makarska town is the capital of Makarska Riviera and one of the most popular summer holiday destinations. On Makarska page you can find all information about how to reach this town, what to do and see, about Makarska cuisine.
Now is time to give you more info and images about Makarska centrally located beaches and some beaches in town's neighbor like Bratus and Krvavica.
Recommended accommodation:
Hotel Dalmacija – The modernly built Hotel Dalmacija enjoys a location close to the sea and the kilometer long Beach, boasting amazing sea views.
Tucepi beaches
Tucepi is another settlement in a series of small villages along the Makarska Riviera, only 4 km from Makarska. There are some beautiful pebble beaches.
For nudist or naturist lovers, just before entering the village from Makarska, you can find a wonderful beach in a pebbled bay surrounded by steep cliffs. It's a Nugal Tucepi naturist beach!
Bellow you'll find more Tucepi's beaches!
Recommended accommodation – Bluesun Holiday Village Afrodita
Bluesun Holiday Village Afrodita in Tučepi is a charming complex of luxurious villas, set in a lovely Mediterranean garden with a peaceful and intimate atmosphere.
Podgora Beaches
Driving south from Makarska, only 9 km you will reach another beauty of Makarska Riviera, Podgora village. It has grown into one of the most popular tourist destinations in Dalmatia with a lovely port for fishing boats and picturesque stroll promenade.
The first time I visited this small place, its stone promenade (Riva) has reminded me on famous Split Riva.
Beaches here are everywhere, long pebble beaches or small secluded ones. Below are some most beautiful beach images.
Igrane village beaches
Igrane is a small harbor on the Makarska Riviera, 7 km southeast of Podgora.
The village is located on a small peninsula, with a large sandy beach (1.5 miles) to the south-east side.
Zivogosce beaches
Only few minutes from Igrane, there is Zivogosce, another Makarska Riviera village. Landscape is not changed, the new beaches are everywhere, all small pebbled beach protected by abundant pine trees.
This time almost 6 km of interconnected beaches, clean and unpolluted sea, all situated at the foot of a high Biokovo mountain peak Sutvid 1155 m, giving tourists a special temptation for holidays enjoyment.
To reach Zivogosce by car, just take highway A1 from Zagreb and exit to Sestanovac. From the exit Sestanovac Zivogosce is 35 km away.
Looking for nudist beaches?
If you're looking for naturist beaches, you won't be disappointed! Nimfa naturist beach is located near the "Nimfa" Hotel in Zivogosce.
Dole naturist beach located near the western end of "Dole" auto-camp, between Zivogosce and Igrane, is one of the most popular naturist beaches in Makarska region.
Velika Duba beach (see the image above) is also a very popular naturist beach! Don't forget to go through our Dalmatia nudist beaches for more inspiration on where to unwind!
Drvenik and Gradac beaches!
In the southernmost part of Makarska Riviera two villages, deserves your attention. The first one is Drvenik and the last one Gradac village, only 13 km to Ploce town (Bosnia and Herzegovina).
Drvenik village lies in two bays (Gornja vala and Donja vala) with some beautiful pebble beaches but its importance is related to a ferry port which connects Hvar and Korcula islands.
Ferry to Hvar – Jadrolinija ferry company has regular ferry connections with the southernmost village on Hvar island (Sucuraj) which takes about half an hour and is considerably shorter than a ferry from Split to Stari Grad (Hvar island). Once there you have to drive to Hvar town (about 80 km) or Stari Grad (60 km), Jelsa (50 km).
From this page you can download (just a simple right click) both winter or summer schedule for ferry line N° 632 Drvenik – Sucuraj – Drvenik.
Ferry to Korcula island – All information and schedule can be found by visiting Korcula LNP ferry company.