Booking some Split day tours during your Croatia vacation is an excellent opportunity to visit nearby landmarks.
Your day tour choice can be active outdoor experience or scenic drive along the coast, checking out a few nearby islands on a speedboat, or hiking in the mountains. There's plenty of things to keep your occupied.
I'll give you some of my favorite trip plans for a nice one-day getaway and you can decide for yourself what pace you want to take. I already covered many things to do in Split in Split Attractions article, but you can always find something interesting to do around the city as well. Here's my list of top suggestions:
You can easily visit these locations by yourself, but you can also hire a local tour guide. Having a guide is a great choice as they will organize the trip for you, handle all transportation, and narrate the tour and give you plenty of insight into Croatia's history and local life.
The choice is yours, so here's a few ideas on what to do and see in and around Split.
1. Plitvice Lakes National Park
The Plitvice lakes are Croatia's most famous national park and are among the most beautiful sights in Europe. Due to their natural diversity, they are part of the UNESCO World Heritage List.
Plitvice lakes consists of 16 connected lakes and numerous waterfalls, surrounded by dense forests. Many trails and small wooden bridges, built just above the calm water, await you in Plitvice.
In addition to exploring the National Park on foot, you can also explore it with the tourist train or boat throughout the whole year.
This is very important: wear comfortable sneakers or walking shoes. For your safety you may not be able to enter all areas in flip-flops or other footwear.
Plitvice is easy to visit. If you're traveling to Croatia by car it's just a short detour on your way to or from almost any Dalmatian destination. And if you don't have access to your own transportation, there are numerous day trips from Split to Plitvice you can book.
Keep in mind most organized tours to Plitvice may not include entry tickets. Plitvice introduced visitor quotas in 2019, so make sure you read our guide here to find out how to reserve your tickets to ensure a smooth entry.
2. Krka River Waterfalls Split Day Tour
Krka National Park was established in 1985, and follows the line of the Krka river from its source in the foothills of the Dinaric mountains on its short journey through the dramatic landscape to its finish in the Adriatic sea near Sibenik.
The river flows through a limestone gorge, dropping over 220m in 50km, with eight sets of rapids. Only two falls – Skradinski buk and Roski slap – are in the park itself, although the first is the most impressive of all with a 46m drop over seventeen limestone steps.
After the noise and rush of the falls, visitors are surprised to find the tranquility of Visovac. This small island is the site of an old Franciscan monastery, established in the 16th century.
Now home to a library of books and manuscripts, the monastery is the best place for contemplating the serenity of the park in perfect peace and quiet. Read more about Krka monuments and attractions, or find out how to get from Split to Krka!
You can even take a swim in Krka's pristine waters, so don't forget to bring appropriate clothes! Krka is becoming an increasingly popular destination and it's less crowded than Plitvice, so be sure to consider visiting it.
3. Blue Cave and Hvar Town Tours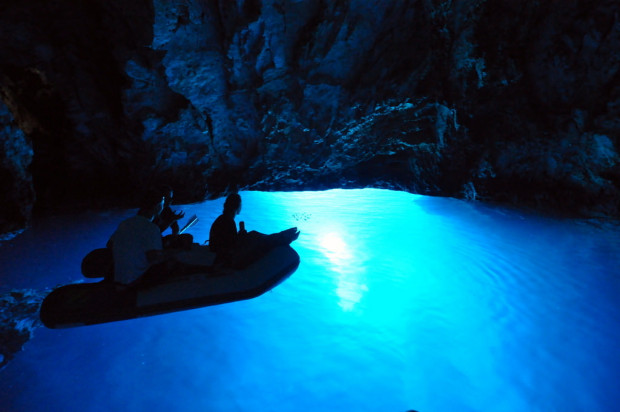 Blue cave (Modra Spilja) is situated on Bisevo island (5.8 sq. kilometers) about five kilometers south west from Vis island.
The island of Bisevo is a famous excursion site, with one-day excursions organized from Split and Komiza and Vis, but also from other islands in vicinity such as Hvar. Usually all tours start first by visiting the Blue Cave, followed by swimming in one of the coves, and it finishes with an exquisite fish lunch.
I personally recommend checking out this Blue Cave tour offer from Zentravel agency. Their offer includes a speedboat tour of Blue Cave, but also 5 nearby islands: Bisevo, Vis, Budikovac, Paklinski and Hvar. This 10-hour tour is available from May to October, and provides fantastic value for the money as you'll visit multiple islands and small local villages.
Swimming in breathtaking secluded beaches and chilling in authentic small villages is probably going to be your best memory of Croatia, so please do yourself a favor and at least consider it!
4. Split Day Tours To Dubrovnik
It's hard to imagine anyone being in Croatia without visiting Dubrovnik, the pearl of Adriatic sea.
The town of museums and festivals, the town of taverns and restaurants, the place of a mild Mediterranean climate and wonderful landscapes confirms the famous saying of the Irish writer Bernard Shaw:
"Those who look for a paradise on earth should come to this town."
Isn't this a sufficient reason for you to set out for Ragusa and verify this statement? Find out more about Split day tours to Dubrovnik from Split, and make sure to read my Dubrovnik travel guides before you visit!
I often avoid recommending Dubrovnik as a destination to stay in for an extended period (too many tourists, and prices are too high for me), but it's still definitely worth visiting. One-day trip is the perfect choice, giving you ample time to discover the down before you start feeling overwhelmed and suffocated by hordes of visitors.
Recommended guided tour I linked takes 12 hours, and includes a professional tour guide will take you through Dubrovnik's best sights and attractions.
5. Kornati Islands National Park
"On the last day of the Creation, God desired to crown His work, and thus created the Kornati Islands out of tears, stars and breath!" – GEORGE BERNRAD SHAW.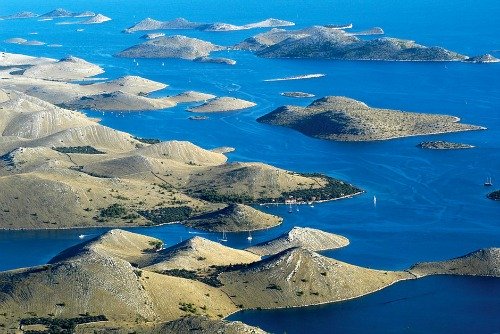 Beautiful nature, a network of countless islands and islets, the magnificent sea – all this makes the Kornati Islands National Park an attractive destination of numerous excursionists and boaters.
Unfortunately it seems Kornati tours are mostly unavailable from Split now, so I don't have any specific offers to recommend. If you find yourself near or in Zadar or surrounding places you can still easily book a sailing trip in Kornati National Park.
6. Split Day Tours To Hvar Town
Hvar is the biggest town on Hvar island, called the "Croatian Madeira". Hvar receives more than 2724 hours of sunshine each year, more than any other location in the country.
Hvar is a small medieval town that lies between protective pine-covered slopes and the azure Adriatic Sea.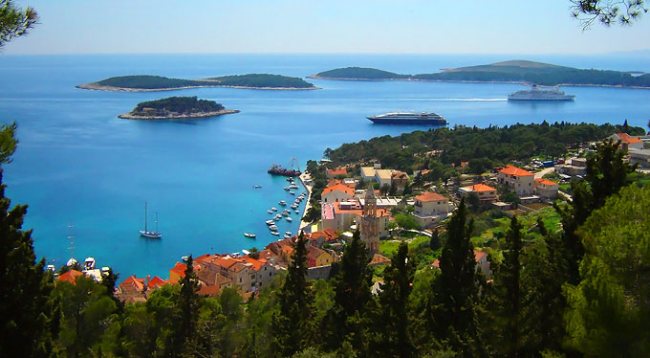 Pakleni otoci (Hell islands) are the oldest and most famous Hvar resort, spacious lagoon with shallow and sandy beaches, surrounded by thick pine forest, fragrant heather and rosemary bushes and various exotic plants.
As one of Croatia's most expensive destinations, Hvar is not in everyone's price range. But if you intend to only visit this town and island on a day trip you can easily book your speedboat excursion for around €80, which is often the price of a one-night stay in most hotels and apartments on Hvar.
Typical day trip from Split to Hvar includes a visit to small village Milna and famous beach Palmižana. Day trip I recommended includes both, including plenty of time for sightseeing in Hvar town, swiming in best Hvar beaches, and relaxing during coffee or lunch.
7. Brac And Bol Zlatni Rat Beach Tour
Situated on the south side of Mt. Vidova Gora (778 m – highest peak on all Adriatic islands) with its numerous natural and historical attractions, Bol on Brac island is a famous destination with one of the most beautiful beaches in the world – Zlatni rat (Golden cape).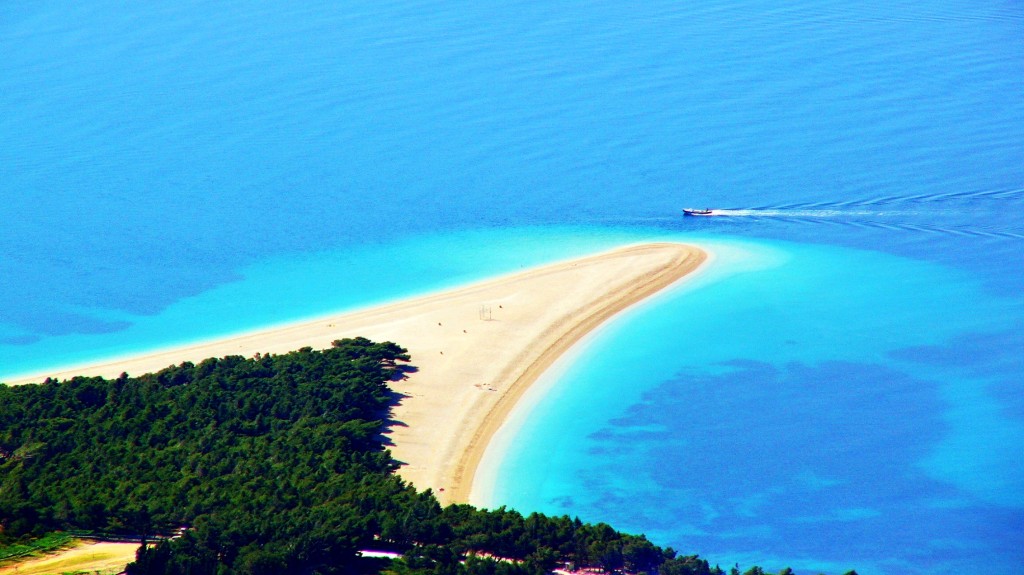 This beach is often considered one of the ten most beautiful beaches of the world. "Zlatni Rat" or Golden Horn changes its shape with the currents and winds in turquoise blue Brac channel.
This natural phenomenon is one of the biggest and the most beautiful Adriatic natural attractions. You will be able to enjoy swimming in the clear blue water, wind surfing and water skiing while relaxing in the afternoon summer breeze.
This Split day tour is organized by many different Split excursion agencies! The one I recommend is organized by Summer Blues, company which also offers party cruises. Their Split to Brac sailing trip includes a guided tour of Brac Island's Supetar, Bol, Vidova Gora, and Lucice bay, and those are just the highlights.
Paired with on-board music and unlimited drinks and free food, this day tour from Split is definitely worth considering.
8. Split to Mostar and Medjugorje Day Trip
Medugorje is now visited by pilgrims from around the entire world as a shrine, and one of the biggest prayer centers in the world, comparable to Lourdes and Fatima.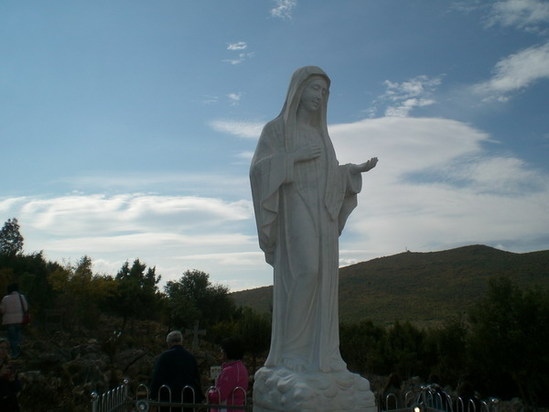 Your private tour guide will explain you more about this city and show you the religious sites. You will have free time to discover the city on your own and climb up on the Apparition Hill (where the Virgin Mary appeared in 1981).
This is an amazing day trip that enables you to discover Croatia's neighbor country of Bosnia and Herzegovina, visit an important religious site, and discover a quaint little town of Mostar.
Alternatively if you do not want to visit Medugorje, you can take a trip to Kravice waterfalls. This trip I linked is the only organized day trip to Mostar from Split which has daily departures.
If you don't need a personal tour guide and want to handle transportation by yourself, you can also take a regular bus to Medjugorje from Split main bus station. Below are Split day tour departures to Medjugorje:
Split – Medugorje
Departure time
Arrival time
Bus platform
Bus carrier
06:00
09:05
2
PANORAMA BUS -AQVARELLE-GLOBTOUR
10:55
14:25
2
PANORAMA BUS -GLOBTOUR MEĐ.SALINEA TZ
17:30
20:55
3
PANORAMA -AQVARELLE
20:30
23:00
2
PANORAMA BUS -GLOBTOUR MEĐ.
Departure times and bus lines may be subject to change, so please check it before your trip!
9. Klis Fortress & A Game of Thrones Tour
I already suggested this easy 'do it yourself day excursion' for families with children, but after a bit of research I can't wait for an opportunity to visit Klis Fortress again.
Klis fortress is one of the filming locations for fictional city of Meereen in Game of Thrones. This fact made the Fortress an incredibly popular attraction for Game of Thrones fans, but also history enthusiasts looking to discover more about Croatia.
Best Klis Fortress day trip from Split is offered on the link above, and has tons of 5-star reviews from numerous visitors. Best of all, you don't have to be a GoT fan to appreciate the fantastic view as seen on images above!
10. Imotski Red And Blue Lakes Trip
There are some Split hinterland highlights less known which deserve to be visited. One of these Split day tours is to Red and Blue lakes near Imotski. Considered one of the world's largest sink holes, these lakes will be an unforgettable day trip.
Distance from Split to Imotski is about 88 km, which you can reach within an hour driving by car, or by taking a bus from the bus station in Split port bus terminal. You can visit Jan Skov's website about Imotski to read more about these lakes and learn how to get from Split to Imotski.
Unfortunately I don't know any companies currently offering organized tours to Imotski lakes, but feel free to check this link to see other available departure locations, or check if Split was added since my last check.
If you have your own vehicle or decide to rent a car, I'm sure you'll enjoy these two beautiful lakes. If you do be sure to also visit Blue Lake tower Fort Topana built by a Croatian duke in the 9th century.
11. Adrenaline Adventures on Cetina River
For those of you who thinking that simple sightseeing is boring, do consider spending a more active day. Cetina river is very near Split, and offers a bit of an adrenaline rush for anyone with an adventurous spirit.
Adrenaline adventures on Cetina:
There's three things which are very popular on Cetina: rafting, rock climbing, and canyoning. Unless requested otherwise, all of these guided tours are aimed at beginners so you don't have to worry about previous experience.
Your professional guide will show you how to have tremendous fun but in a safe way.
Rafting on Cetina is probably the most common activity. Anyone can do it, and it's also a great way to spend a day for families with children. Rapids of Cetina river are fairly easy, and your boat will have an experienced guide to help you along. See pricing & availability »
Canyoning is a combination of walking, hiking, sliding down rapids, swimming, and for those who enjoy, cliff jumping. It's very beginner friendly and slightly challenging if you're not in great physical condition, but otherwise insanely fun. All equipment including neoprene suits, life vests and helmets is provided. See prices & availability »
Rock climbing is also more challenging for those who are not physically fit, but the tour I linked is also aimed at beginners so you don't have to worry about overexerting yourself. If you have the willpower it will be easy, and fully licensed instructors will ensure you are always safe. Full climbing equipment will be provided, and you can choose from 140 different routes based on your desired difficulty. See prices & availability »
Not everyone goes on holidays to chill on the beach all day long. With crystal clear water, breathtaking rapids and waterfalls, hidden caves and fabulous scenery, Cetina river is the best area for outdoor adventures near Split.
12. Brac, Solta or Hvar Islands Party Cruises
Adriatic sea is absolutely perfect for calm sailing. You don't need your own boat to experience life on sea, as many companies are offering one-day trips to various destinations near Split.
Sailing is one of the best ways to enjoy Split sea and neighboring islands, and Summer Blues company offers unforgettable trips on their mega catamaran departing from Split.
Summer Blues party cruises include the following destinations:
Brac island and Golden Horn beach – more info
Brac and Solta islands – more info
Hvar island, Pakleni islands, and Brac island – more info
These cruises are well organized, and large catamarans can accommodate nearly 100 people. Boats include music, free drinks and food, and will get you to your destination before you know it.
There are of course many other companies offering cruise day trips in Split, but Summer Blues offers the best on-board entertainment and facilities. You can see this page for a full list of sailing, cruises and water day trips available from Split, or see my post about party cruises in Croatia if you're interesting in sailing for multiple days.
13. Gourmet Tour on Solta Island
If you want to make an informative gourmet trip and relax away from the city bustle, I recommend Solta island. The island of Solta is well known for its production of quality olive oil, wine and honey.
Šolta (pron. sholta) is only a 45 minute cruise by ferry from Split, with both morning and afternoon trips. When you arrive on Solta island you will be met by a local guide in Rogac settlement who will take you to a wonderful tour of local producers of honey, wine and oil.
You will quickly fall in love with Solta as you ride through the island's untouched nature, with its mesmerizing smell of grass and herbs. Some of the olive trees are more than 1000 years old, and much of the island hasn't changed for generations.
In this tour you'll be able to taste traditionally made olive oil, and learn exactly how it's made. Don't dare to skip your fantastic (and free) lunch, and make sure you taste local wine.
On the off-chance you get a bit seasick on ferries like me but still want to enjoy local culinary delights, consider taking a culinary or wine tasting tour in Split. Both of these will take you on a 3 and half hour walking tour of Split, giving you some historical insight into the city and cuisine.
(Extra) 14. Wild Horse Safary Trip from Split
Over 400 horses running wild in untouched nature of Livno is a fantastic experience, especially for families with kids.
Wild Horses Safary in Livno
Departures and pickup point are flexible, and you can arrange for your transportation at any point in Split. Transfer is included in price, as is free breakfast and lunch.
Livno is a 90-minute long drive from Split, but well worth taking. This unique trip will enable you to see and interact with hundreds of wild but friendly horses, and enjoy the rest of the time on a private farm.
Multi-day experiences
Sometimes a day just isn't enough. If you're looking for a truly immersive and unforgettable travel experience, then a multi-day or week-long cruise could be the perfect solution.
Aboard the ship, you'll be pampered with luxurious amenities and fine dining, while having the freedom to choose from a range of exciting activities, from snorkeling and diving to hiking and sightseeing.
And with knowledgeable and friendly local guides on hand to share their knowledge and insights, you'll get an authentic and enriching experience that you'll cherish for a lifetime.
Browse 250+ Split cruise tour packages
---
That's It! Those are my 13+ recommended best day trips you can make from Split to see the rest of my beautiful country!
Need more ideas? Be sure to check GetYourGuide (200+ tours and day trips) and Happytovisit (170+ tours) for more inspiration!
Vast majority of guided tours range from €50 to €90 per person or group, and include a professional local tour guide, transport in air-conditioned vehicles, and often even a free lunch (please verify each tour before booking to make sure that's the case).
Even if you aren't traveling with your own car you can easily visit many different destinations near Split without spending much of your vacation budget.
More things to do in Split:
These are just some of the articles I wrote about activities and things to do in Split, and I truly hope they'll help you plan a perfect trip.
But, my most important recommendation is to make sure you take at least one or two trips and visit some of these 13 destinations during your vacation. I love Split, but it would be a shame not to experience at least a little bit more of my beautiful country, and I am certain you won't regret it.