As opposed to having only one day, three days in Split can be enough time to discover all the charms of the Diocletian city, without the inevitable race trying to visit as many as possible.
To stay in Split for only one day, is sufficient only for superficial introduction of Split city's attractiveness.
Now you will have more time to have a better approach, not only in the history of the city and its sights but to enjoy the Split people way of life and the Mediterranean philosophy of peaceful life without stress. Become a part of it.
To visit Split in 3 days, you will need to select an appropriate accommodation, whether it is a hotel, hostel or private apartment. If you don't mind the vibrancy and frenzy of the old town, than you can stay inside the old palace.
36 hours in Split With The New York Times
Planning Three Days In Split
One day in Split is an 'essential itinerary' and now it's time to expand your interest in Split neighborhoods where the spirit of the old Split still lives, particularly Veli Varos and Radunica, Marjan hill or Matejuska, the old fishing port.
These destinations will be my preposition for a second of three days in Split city.
Split's districts, Varos, Radunica (Lucac) and Matejuska  port are old parts of the city inhabited mainly by farmers and fishermen, when the Split had about thirty thousand inhabitants, with well conserved local architecture and original local ambient.
In order to help you find these charming neighborhoods, located on either side of the historic core of Split (Diocletian palace) like Veli Varos (on the west side, under the Marjan hill) and Radunica (on the eastern side, situated next to the green market), use this link of Split on Google Maps to explore the both districts (use 'Street View').
I have found this Split interactive map very useful even it is only in Croatian language but just follow my instructions:
Varos – when you enter insert in space saying 'Trazi ulicu u Splitu' (Search for the street in Split), e.g. name  'Varoški Prilaz' and in on the map click on 'Ulicni prikaz) – Street View.
You will enter in one of Varos's street, that will guide you all the way to Marjan hill lookout point.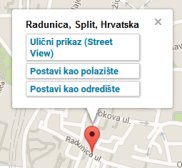 Radunica (Lucac ditrict) – use the same instruction as above and insert as a name of the street (Radunica) and on the map click the 'Street view'.
On the same map you can set direction from there to Bacvice beach if you decide to spend few hours on this popular sandy beach. On my Discover Split by walking page you can read more about these old Split districts, including Matejuska port.
Marjan Hill – The City Symbol
It is inevitable to spend at least half a day on Marjan hill, the most important city symbol.
Marjan hill will offer you a particular calmness from the city summer rush, and will allow you to enjoy the view of Split, its beaches all the way to the Central Dalmatia islands, like Brac, Hvar, Solta and Ciovo peninsula with Trogir town.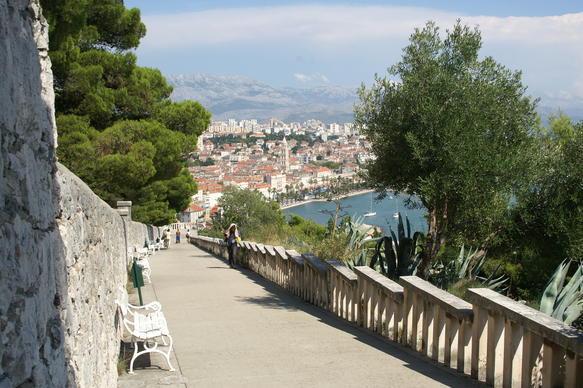 Marjan is also house to the most visited gallery of Split, the Ivan Mestrović Gallery, with an inestimable collection of the works of this most famous Croatian sculptor.
By staying three days in Split, you are entitled for free Split Card that includes 50 % of discounts, including this gallery.
Three Days In Split Card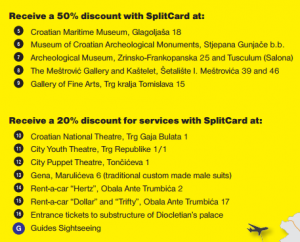 During your stay in Split for three days you should take advantage to visit the Split museums, starting with  the Museum of the Croatian archaeological monuments, the Archaeological museum,  Museum of Split, the Ethnographic museum, the Art Gallery and  the Croatian Maritime Museum within the Gripe fortress.
How much does it cost? Splitcard costs € 5 but for travelers staying in Split more then 3 days it is Free. The card is valid 72 hours.
Where you can buy  the card?  You can buy it at your hotel or in Tourist information centers:
Tourist Information Center –  Peristil bb. Open daily from 08:00 to 21:00, on Sunday from 08:00 to 20:00. Telephone: +385(0)21 34 56 06.
Tourist office of Split – Trg Republike 2 (Prokurativa). Telefon: +385(0)21 348 600, 348 601.
What to do in Split?
Here are a few of my other articles I wrote about visiting Split, which should help provide you with a ton of information about what to do and see in this town: