Split nightlife offers a lot of opportunities for socializing, drinking, dancing, and overall having a great time. The city breathes with the party spirit wherever you go. One of the important things for young people who visit Split is of course to find out what kind of night life Split offers.
Split is a place of thousands of cafe-bars practically everywhere in the city. But don't worry, this is a way of living in Split. If you are looking for after-hours clubs, Split wont disappoint you.
There are plenty of bars and clubs for you to check out in Split. Many of these are in and around the city center area so you won't have to go far to find them.
If you do want to go out of the center, make your way to Bacvice beach where you'll also find a number of great nightspots.
A popular way of meeting people and getting to spend time at some of the city's coolest bars and clubs is by going on a pub crawl with Pub Crawl Split.
During the summer, these pub crawls take place every night, leaving from Peristil by the cathedral at 9pm. Find out how to start your voyage though the Split old town!
A wild night is guaranteed, and on busy nights these pub crawls can easily attract up to around 50 people.
Split nightlife map!
Split is a blessed city for young people in search of nightlife entertainment. The old times have gone forever when I was young, when the only place to dance were Diocletian cellars under the palace.
Those were the days of the Beatles and the Rolling Stones.
Here is my version of how a good evening Split nightlife itinerary could look like, starting from Riva promenade or at one of most popular clubs inside the old city walls, and probably ending at Bacvice beach.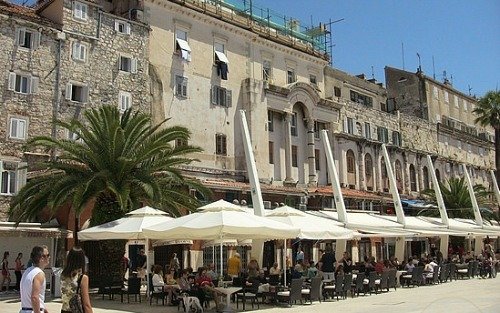 Before you start looking for after-hours nightlife points you should know that the best clubs are away from the old town. The next detail is that locals won't show their faces in any nightclub before 11 pm so take your time warming up in many cafes and bars in the old city.
Pub Crawl Split
Best night you will never forget with the Pub Crawl in Split. These events have been growing in popularity over the last few years with hordes of tourists signing up for Pub Crawls.
They are especially popular during the summer when it can attract up to 50 people each night.
Pub Crawl Split is a great way to meet travelers from all around the world while sampling some of the best nightspots the city has to offer.
Visiting a great variety of bars and clubs, these pub crawls are very dynamic and are tailored to suit the crowd every night.
Where? Central part of Riva, right across Diocletian's palace.
When? Departs at 10pm nightly from May-September. From October-April by appointment.
Choose your poison and drink as much as you can.
If you're looking to get drunk this is honestly the cheapest way. You have full access to all-you-can-drink bar for 100 minutes, so choose your favorite shooters or cocktails.
If you're still standing afterwards, you'll skip the queue and enter directly in club "Tropic" (entrance fee included), right on the beach with live DJs. To attempt to cure your hangover, next morning's breakfast is free, which you're welcome to enjoy in your also free complimentary Pub Crawl t-shirt.
TLDR:
total fee is only €20
drink all you want for the first 100 minutes
skip Tropic club's queue and enjoy great music
meet other young people from around the world
get free t-shirt and breakfast
Split bars
The Riva is a great place to start. Why not from ST Riva bar, a cocktail bar with inspiring views of the Riva promenade and port, and the best place to cool on hot summer nights.
Sabina, from Party Girl Guide to Split blog, suggests to have your first stop at F-Caffe, as she calls "a little slice of party heaven located in the heart of Split's Riva harbor".
Within the old city walls you can take a drink at Luxor cafe bar at central piazza Peristil or take a walk to nearby Dosud Ulica (street) n°10 (find it on the map).
On number 10 Ghetto Club, a bar-gallery offers drinks and art exhibitions mixed with rock, jazz, funk and disco. In summer you get outdoor tables in a courtyard lit with flaming torches, and in winter there's an upstairs lounge with a grand piano.
Most people use Ghetto as the start or end of their night. The dress is very casual, so you can go any time you want.
Immediately opposite on number 1, there is a tiny Fluid bar, a cozy place to keep on warming up.
Down the steps a bar Puls 2 near Hotel Slavija (in Buvinina 1street) is another place that serves drinks at a row of low-level tables outside in summer, with cushions on the stone steps so you can sit out.
More bars:
Club 'Imperium'– Gat Svetog Duje bb.
Cafe bar 'Gaga' – Iza Loze 5.
'Teak' Cafe bar – Majstora Jurja 11.
Club 'Quasimodo' – Gunduliceva 26.
Cafe bar 'Kauri' – Poljicka cesta 39.
'Hedonist' bar – Put Firula bb.
Split nightlife clubs
Hemingway Bar
International party bar ultra-hip disco and an obligatory stop on Split nightlife tour. It's about 5km west of town along the coast.
Address: VIII Mediteranskih igara 5.
Vanilla Club
Near the football stadium (about a 20-minute walk from town) in Poljud district. You have to be well-dressed to get in this popular dancing club.
Address: Poljudsko šetalište bb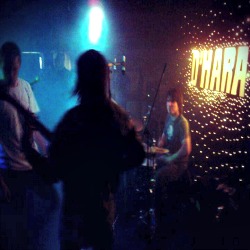 O'Hara music club
This open-air beachside venue with a full program of live rock and jazz on summer nights. Just few steps from Tropic Club. The place you should visit on your night trail.
Address: Uvala Zenta 3
Tropic Club Ecuador
After closing the bars in town, go to Bacvice beach to enjoy the nightlife under the stars. The best place in Split to finish your nightlife adventure. Also your stop on the Split Pub Crawl.
Ultra Europe
Ultra Europe's main event is being held in the center of Split. This is undoubtedly the number one party destination in Croatia, visited by over 100,000 people each year.
You'll be pleased to know we have a comprehensive Ultra Europe Survival Guide, detailing things like weather, luggage, local transportation, food, accommodation, and much more. Go read it!
Party Cruises
For the ultimate party experience you can always consider a cruise! These multi-day sailing experiences with like-minded young folks can be unforgettably fun.
There are several cruises available specifically for young people under 40 years old. Most have either Split or Dubrovnik as origin or destination ports.
We recommend browsing through our partner TourRadar to see the details of each cruise and select one that suits you best.
Consider Boat Parties!
See our article about Split boat parties for information on short sailing trips or week long cruises for young adults. If you don't want to spend multiple days on a boat just consider one of the fantastic day trips we mentioned.