There are many kids activities in Split and Dalmatian islands that will make your family holidays memorable. Croatia has been always child friendly destination, and it's one of the safest family destinations in Europe.
Traveling with children doesn't need to be a hassle if you plan in advance what to do and see. Just make sure to consult this list of activities before you go.
You have kids and wonder what to do with them in Split? Great news, Split is the perfect city with young kids!
Before you go find the best family hotels or self-catering apartments in Split neighborhood, considering beach access and child-friendly activities.
Depending of your child (children) age it's important to make your Split or Dalmatian islands holiday activities as much as possible  amusing, simple and learning that will keep the little ones busy and animated.
No matter where you travel in Croatia, your kids will find something cool to do but here are some recommended highlights to motivate young imaginations and I'm sure you won't hear your kinds saying 'I'm bored to death'.
Choose the best time to go
Keep in mind that in high season from mid July to mid August,  Split and Dalmatian islands are facing the period of the greatest tourist rush, the highest prices and sometimes with unbearable heat.
or your sake check the weather forecast in that period and what is going on in Split in July and August. If possible plan your family holidays in period from June to the July or from end of August to mid September.
Family-friendly Split kids activities
Walking tours
Visiting Split Diocletian palace city center is one of must do kids activities to explore this 1700 years old town. If the kids are not too small, take them to the top of Cathedral of St.Duje bell tower.
Take them to the statue of Grgur Ninski and rubbing his thumb and making a wish.
Cycling
Renting a bike in Split is the best solution to enjoy beautiful sight in old town (Diocletian palace), visit Marjan hill or take a ride to one of the favorite  Split beaches.
For small kinds you ca ask for additional children seat or renting an electric bike so you won't be tired at the end of ride. Ask local Split bike rent agency for prices and more information.
For families with children above four years old you can book city and Marjan hill three hours biking tour from € 48,00. More info you can find on this page!
Segway Tours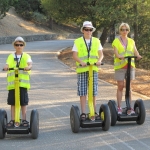 Although riding a Segway is relatively easy to do and learn, the local Segway tour agency requires that all riders have to be at least 15 years of age.
They organize four types of tours, Grand tour, Special tour, Private tour and Short tour stating from € 30,00 to € 65,00. The best deal is Split private tour that lasts two hours visiting not only historical locations and sights but the locations such as Bene beach, wine-shops and many others.
Visit Klis fortress
When deciding what kind of kids activities will be the best for children and whole family than visiting nearby famous Klis fortress is interesting place to go. Find more about fortress history!
I know that kids will be delighted to visit this historic military structure with museum where they can see a series of arms, armor and traditional uniforms.
It's only 5 km from Split in direction of Sinj town if you are driving. You can reach this fortress from where you can take some beautiful panorama pictures of Split and islands, taking local bus n° 22 leaving from the National Theater bus station and numbers 35 and 36 leaving from the bus station Sukoisanska.
The fortress is open every day, except on Monday, from 10 till 16 and the entrance fee is 10 kn for children and 20 kn for adults.
Marjan Hill Park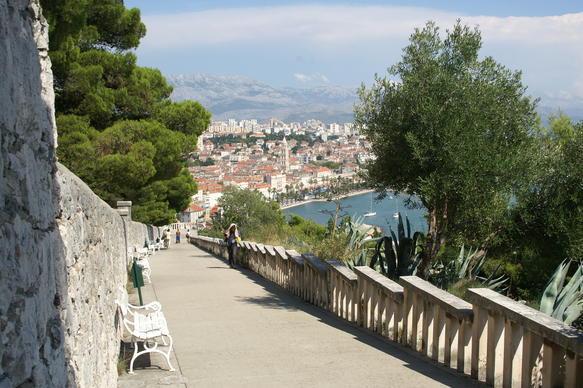 Getting in Split for the first time you will see a green hill in the distance, dominating the old city. It's Marjan hill a green city lungs, inevitable place for kids activities.
The park offers promenades, vista views,  nature paths, playgrounds, bird and rare plants watching and the Split zoo. I don't recommend to visit this tiny zoo as could be disappointed for kids to see animal in inhuman conditions.
It is absolutely shocking the way the animals are treated.  So take my advice, keep your children away from this horrible zoo.
How to get to Marjan? How to find Marjan vidilica (the famous view point)?
There are different ways and paths to get to top of the hill. The problem is that you will find few signposts indicating the way to follow.  Even if you take a tourist map at tourist office at Riva promenade, it will be rather difficult to find the shortest way to Marjan hill.
The best way to get to Marjan from the city climbing the stairs to Vidilica is from the Varos neighborhood, west of Riva promenade.
You can also hop on bus 12 from Riva and get off at the last stop, directly to Bene beach. Alternatively, take a little choo choo train that departs every hour in front of the National Theatre of Split but only in summer period. It runs from 8 AM to 8 PM and it will be a great fun for your kids. Tickets cost only 10 Kuna.
Visit Split's Magic City – Carobni Grad
Carobni Grad (Magical City), a huge indoor playroom located at the Poljud Stadium. The best place to go especially when the weather is not great.
After registering, your kid can choose from so many kids activities, each one in a big playroom decorated according to its own theme: pirate attack, soccer place, dolls house, kitchen area, huge legos, climbing house,… 2 levels of real fun for kids!
Znjan beach
Another place where kids and whole family can have a great fun is Znjan, the newest built beach in Split and so far largest location for enjoy in sea and sun.
Znjan district (next to Trstenik) is about 5 km from city center and you can reach it by bus number 15 or bus number 8. (if you go with bus number 8 you will need to walk about 10 minutes).
Everything there is made for fun and all kinds kids activities like jumping on the trampoline or on the bouncy castles, funny paddle boats with slide, looking like a Ferrari ride a small electric scooter (60 kn for 12 rides).
They also have a sandy area with toys for the youngest kids, and also an indoor game area with arcade games just close to the trampolines.
Day trip from Split to island Vis – Blue Cave
To enrich your kids activities I propose this one day boat excursion to island Vis and famous Blue Cave. This trip is not possible by regular ferry connection from Split, but only taking organized boat excursion including also Hvar island.
For more details such as prices and trip itinerary see this Blue Cave day trip offer.
Blue Cave is situated on the Bisevo island (5.8 sq. kilometers) about five km south west from Vis island. The central part is fertile field while the rest of the island is covered with macchia or rocks.
On the north of the island there is a dense pine forest. The settlements on the island are: Potok, Polje, Nevaja, Mezuporat and Salbunara.
There are a few caves on the island, out of which Modra Spilja (name in Croatian) is the most famous.
Around noon, when the sea is calm, sunbeams that penetrate through the submarine opening in the Cave, reflect from the white bottom floor and color the cave in blue and objects in the water in silver.
The cave is accessible since 1884, and approach is possible only by boat. The coastal sea belt is rich fishing area.
The island of Bisevo is famous excursion site: one-day excursions are organized from Komiza and Vis, but also from other islands in vicinity.
First you visit the Blue Cave, then comes the swimming in one of the coves, and it is all followed by the exquisite fish lunch.
Picigin game
The Bacvice beach  is a favorite beach in Split, awarded with a Blue flag. Families will be fascinated with a leisure park which is equipped with many kids activities like slides, trampoline, and a rubber castle.
The beach is safe and family friendly place. It's also the nearest beach to the city center and Split ferry port.
This sandy beach is the only place where kids can watch famous picigin game or even practice themselves as the water is shallow and they don't need jelly shoes! The rules of the are very simple.
This game is the traditional game played all the years around, sometimes even on New Years Eve.
Looking for Bacvice beach apartments? Here are some best ones:
Sweeten your stay with Nadaline chocolate!
After all kids activities you and your children deserve something sweet. In a small Nadaline shop inside the ancient walls of Diocletian palace, Dioklecijanova 6 street, you can taste exclusive brand of dark chocolates mixed with typical Mediterranean ingredients such as dried figs, carob, almonds, prosek (sweet wine), cinnamon, lavender, olive oil and more.
The owner, Marinko Biskic was the first punk rocker in this Split city. More than three decades later, the mustached 50-year old has found a way to combine his first love, music, with a thriving chocolate business.
Rafting
For something new but fun for all the family, why not try rafting on river Cetina, only 30 km from Split. It's ideal even for people without prior experience in canoeing to go exploring.
It's one of my recommended kids activities for whole family and children above 6 years. This trip is a lovely effortless way for the whole family to experience the wild life and nature of this area.
For more info and booking you can check out this rafting offer departing from Split.
Hiking on Biokovo mountain
During hot days in Split it's a good idea to take your kids for a day excursion to Biokovo Nature Park, only 61 km from Split in Makarska town direction following D8 road along the Adriatic coast.
The mountain slope Biokovo dominates the whole Makarska Riviera. Biokovo is the largest and highest mountain in Dalmatia.
The views from Biokovo are spectacular – on the clear day one can see all Dalmatian islands as well as large part of Dalmatian coast to the south, and to the north, towns of Vrgorac and Imotski and their surrounding villages.
The coastal town of Makarska, that lies on the very south edge of Biokovo is seen from Biokovo as a amazing bay with tiny little houses placed in the rows around it.
Submarine Undersea Kids Activities
This year, Split kids activities are enriched with a new tour. Split always has something new for families with children. Recently, from Split waterfront 'Riva promenade' has been introduced a new tour with a small red semi submarine.
Marijeta submarine company organizes a day tours that last about 45 minutes and night tours last 30 minutes. This unique vessel offers a pleasant and safe tour and is ideal for adults and children of all ages.
It remains above sea level at all times, while its hull, the underwater observatory, is 1.5 meters (5 feet) below the surface. Through your own personal viewing window, you can watch abundance of marine life.
Since you can leave the cabin and walk on the deck at any time, you can also enjoy the spectacular view of the historical complex of Split with the Palace of Diocletian.
Price for a single person is $15, and there may be bulk discounts for whole families. Read more about this submarine trip here!
Don't skip reading our comprehensive list of Split day trips to give you even more ideas on how to spend your days in my city!