If you're traveling to Split, knowing a few places where you can get a drink and knowing what you're drinking can be beneficial. Some places are overly expensive as well, and many tourists are looking to avoid spending too much of their budget on drinks.
Here is a quick overview of what are people drinking in Split and what kind of drinks a visitor can expect. You'll discover a varied selection of local beverages that Splicani (Croatian word for Split inhabitants) usually drink. Find out how it happened that Croatia even beat UK in something as important like beer drinking.
Is tap water safe to drink in Split?
Many visitors also asked me if tap water is safe to drink in Split. You don't have to worry about drinking tap water in Split. Though it comes from aqueducts built 1700 years ago by Diocletian emperor, the water quality is frequently checked and it's mostly perfectly safe as long as there wasn't heavy rain days before.
In fact Split has one of the best water quality in Croatia. When you're sightseeing across the town you can rest assured than drinking water from many local fountains across the city is fine, and I'm sure you will even remember the good taste of Split's water.
Don't spend money on bottled water, when you can quench the thirst by drinking water from numerous fountains in Split. You can see the Split drinking water fountains on the map below, be sure to bookmark it since it can come in handy during long sightseeing tours in summer.
Coffee Drinking In Split
But let's start from the number one social ritual in Split city – drinking coffee. You may think this ritual has a strong Italian influence, but in fact it's quite the opposite.
Drinking coffee with Croats is a social event, and spending our free time meeting in bars is almost a tradition. If someone asks you to grab coffee with them, don't assume you need to drink coffee: it can be a glass of beer, wine, or even popular rakija (brandy).
The point is to meet up, socialize with someone, just hang out and talk. Drinks you're having is completely unimportant.
Prices of coffee in Split depend on the place and its popularity. On Riva, the Split waterfront, which is one of the most popular places to go out and socialize in the city, prices range between 1.5 and 2 €.
In some popular coffee bars, like Fro, St Riva and Cakula price is 10 Kuna. If you move beyond the waterfront the price falls to €1.5. There are a few popular bars like Congo and Moon where coffee will cost you less than €2.
Beer Drinking in Split
Considering Dalmatia is a known wine country, it may be surprising to know that beer is pretty popular in Croatia. There are numerous beers in Split Croatia that you can try while you are on your holidays.
Beer recommendation:

Among beers brands in Croatia, I recommend, Karlovacko pivo (beer = pivo in Croatian) but particularly, their Karlovacko Royal Pilsener style, brewed with two types of malt and aromatic hops.
Personally I'm not a beer fan, but I'll still give you a bit of advice on most popular beers which are prevalently drinking in Split. The three most popular and known Croatian beers are Karlovacko (brewed in Karlovac), Ožujsko (pronounced as Ozooysko) and Pan beer.
If you prefer sticking with popular foreign beers brand, in Split you can find all famous brands like Heineken, Bavaria, Becks, Budweiser, Carling, Corona, Desperados, Carlsberg, Erdinger, Hoegaarden, Holsten, Franzberg, and many others.
Prices of those foreign brands start (for a 0,5l can in local shops, not bar) from €0.8 to €2. My favorite beers are Heineken – €1.5 and Beck's – €1.2 in local supermarkets.
In bars you can expect prices to be at least doubled for the same quantity. For many tourists (especially from Scandinavia or Canada and such) this may come as a shock, as our bars aren't as expensive. Still, for those traveling on a tight budget who want to drink beer or any other alcohol for the cheapest possible prices, visit the nearest grocery store and enjoy your drinks at home.
Among other local beer brands, you can try Osjecko beer (in fact, the oldest beer in Croatia – first brewed in 1697), the dark beer Tomislav, and even the Slovenian Lasko beer.
Beer drinking in Split is rather cheap, particularly if you are buying it at many small local shops. The one I suggest is Konzum chain, present on practically every corner of the city.
If you are a beer lover, I have good news for you. You can buy a giant 2-liter plastic bottle of beer at the grocery store for less then a 2 Euro.
Another beer called Hajduk has a close link with Split's football club 'Hajduk'. If you opt for beer drinking in Split you're welcome to give it a try, and at the same time give your support to this famous club. The retail price in the stores is around €1 for 0,5 can.
Hajduk club courage and bravery are the pride of the local people. These characteristics are poured in beer full of flavor, distinctive aroma and specific gold color.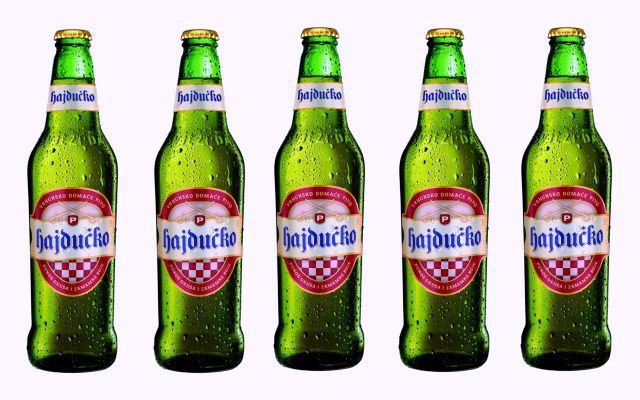 Feel the power of refreshment with Hajducko beer! It's brewed by Carlsberg beer brand.
Booze in Split – Focus On The Wine
Want my advice with regards to booze in Split Croatia? Focus on the wine, skip the beers. It's an advice from wine connoisseur.
When talking about eating in Split, the first thing that comes to mind are sea dishes and fish.
There is a saying that the fish swim 3 times: "the first time in the sea, the second in oil, and the third in wine".
When you come to Split Croatia, my sincere advice is to try some of the local wine, no doubt you'll enjoy it.
Some of the most famous Croatian wines include the red Plavac Mali from the Peljesac Peninsula, and the whites Posip (Korcula/Peljesac Peninsula), Grk (Korcula), Malvazija (Istria) and Grasevina white wine.
If you are looking for the best wine bars in Split, then find one that combines red wine with its natural soul mate – cheese. That divine combination of Island of Pag cheese trilogy with red wine will make for a fantastic gastronomic evening.
I personally drink wine without mixing it with water, but in Croatia there is a habit to use it with mineral, tap water, or baking soda.
Depending of which part of Croatia you are, you may hear people ordering three kinds of water-wine combinations:
Spritzer – usually used in Northern Croatia (Zagreb), it's an alcoholic beverage – cocktail, which is a real mixture of white or rose wine and soda water. The name itself comes from the German verb "spritz", which means a spray or injection.
Gemist – very similar to 'spritzer' but instead of soda water, the white wine is mixed (half and half) with mineral water. This beverage is used in Split with popular marenda meal.
Bevanda – simple a mixture of red wine and tap water but usually not in half and half proportions. It's used with less water.
Another drink which definitely deserves a mention is Bambus (Bamboo in English, though it really has nothing to do with the tree). It's red wine mixed with Coca-Cola, and it's extremely popular among young people.
Many foreigners never even tried this combination or even heard of it, so you may be surprised to hear that you can order a bambus at almost any bar in Croatia and everyone will know exactly what you want.
Prices of Drinking in Split
Drink prices can vary a lot depending on which restaurant or bar you visit, and its location. It's much more convenient to buy drinks in numerous small shops and big shopping centers.
If you want to know where to find the cheapest alcohol prices, simply visit any local supermarket such as Konzum, Lidl, Kaufland, Spar, Studenac, or others.
Prices always vary depending on brand or current discounts, but you will surely find something cheap. Find out the best shops for doing shopping in Split.
Soft drinks are relatively expensive if you order it in restaurants or bars. Coca Cola will cost over €2 in caffe bars for a 0.25l bottle. If you want to save some money buy a 1,5 liter bottle of Coke at Konzum for €1.5.
Alternatively you can consider the popular "radler" beers available in different flavors: it's sort of like a mixture of beer and soft drink with only around 2.5% alcohol, and costs the same as normal beer for 0.5l bottle.
Split also has a local beverage that can be found in many of the cafes and restaurants around town.
Pipi – "Like Fanta, but better!"
Spend your summer with Pipi juice! Quench your thirst and drink this popular Croatian juice. It's called "Pipi" and has a cute little blonde on the bottle. It's similar to Fanta, but it's much better.
Since the 80's Pipi is among the most popular soft beverage drinks in Split. This iconic drink now also carries the Hajduk Split emblem, with the club also benefiting from sales of the drink.
I also highly recommend trying Cockta. This Slovenian brand soft drink is similar to Coke, but its different yet delicious taste may surprise you!
Water
If you still don't trust drinking Split tap water then you have a wide choice of bottled mineral waters. The most popular are Radenska, Rogaska, Jana, Mivela, Jamnica; carbonated or non-carbonated.
Drinking in Split – Fire Water (Rakija)
Before you order a glass of fire water, be careful as this stuff is strong. If you don't know what I'm talking about, just to remind you, it's a rakija (brandy) family. Think of it as our local moonshine.
It's served in small glasses from 0,3 to 0,5 (300 ml to 500 ml). It's also served like an aperitif (before the meal) or digestive (after a meal). Good restaurants will sometimes offer a glass of this hard stuff at the end of a meal.
The most famous rakijas are usually homemade, a kind of fruit brandy (rakija), like sljivovica (plum brandy), travarica (herbal brandy), kruskovac (pear brandy), orahovac (walnut brandy), lozovaca (grape brandy), viliamovka (special kind of pear beady), dunjevaca (quince brandy).
Prices of these brandies start from €3 and above at most bars. The most expensive is viliamovka as the most precious kind.
My friendly advice is to drink it slowly and always after the meals. Never mix it with beer or wine unless you want to get drunk in 10 minutes. Most rakija have around 40% alcohol so be cautious with it.
Where to drink in Split?
There are many places in Split where you can start your drinking in Split tour, meet new friends or just socialize. If you want to know where to drink in Split then check out the map and my advice below!
Usually people will start right after dinner from Riva, Split promenade and ST-Riva bar. Located on the waterfront of the Diocletian palace, this is the most common meetup place for anyone looking to socialize.
The real appeal of ST Riva bar is to get a seat on the balcony on the first floor where you have a Riva in front of you, sipping a cold beer or after dinner rakija digestive.
After 10 PM it's time to move to the heart of Diocletian palace. The right place is Luxor (Peristyle Square). Sipping a glass of wine while listening to some of the best musicians in Split, Luxor is a must-visit for anyone looking for a nice night out.
Another alternative can be Gaga located in one of the small streets leading from the piazza (People's Square).
Keep in mind that Gaga is not very big, but extremely popular in the summer season. If you want to grab a seat at the outdoor bar and enjoy a cocktail, you should come here before 23.00.
It's not a difficult task to find a good place for drinking in Split. Less than 100 meters from the promenade is probably the most popular place for the early evening, where you can find three bars one after the other: Puls, Fluid and Ghetto. During the summer season these bars are full of people of all ages.
Puls is the first one in the row, probably the most charming place with small tables and chairs that are placed on the stairs in front of the coffee bar.
It would be unforgivable for me to miss mentioning the 'legendary' Bacvice Beach, a popular hangout place for spending pleasant evenings. You can also explore some bars between Ovcice and Firule beaches (see all Split beaches).
Lastly I'll also mention one of the most exclusive clubs in Split – Hemingway nightclub. Located by the sea, Hemingway has been completely renovated a few years ago and now includes outside VIP lounges and the most versatile drinking in Split bars.
Check out their choice of cocktails at affordable prices of 5 Euro like apple martini, raspberry or blackberry martini. Don't miss trying crocktail (Croatian cocktail) at the same price.
During the summer months you can also listen to many international artists (bands and DJ) several times a week in Hemingway.
If you're into partying and nightlife, don't forget to read my guide on nightclubs and party beaches in Split.