Many of the best Trogir beaches are located in vicinity of Trogir town, along the Trogir Riviera, on Ciovo island and Drvenik islands (Veliki and Mali Drvenik). You don't have to travel far for a quality beach experience!
If you are looking for best beaches for you vacation along Trogir Riviera, here is a selection of the most popular ones. Beaches located near Trogir are suitable for everyone from families with children, those who like to have a drink on a beach or jump right in the sea from bars, nightlife lovers or naturist fans.
My Top Trogir beach: Pantan Beach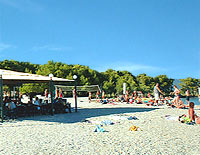 This beautiful beach is located 1,5 km East of Trogir Center, on the mouth of the Pantan River. It's a 500 meters long gravel and sand beach with pine-tree wood on eastern side providing nice shade during hot summers.
To reach this beach take bus No.37 from Trogir bus station to Split and exit on second station, walk for 200m and turn right where you will see the sign.
There is a popular Beach Bar "Mosquito" placed directly on the seashore with cold drinks, ice-cream and light food. The area around is a protected natural resort with wonderful Pantan Mills on the north side of the beach.
Okrug beach (Ciovo island)
The Okrug Beach is most popular beach on Trogir riviera. It is 5km from Trogir center, easy reachable by road which follows south side of Island of Ciovo, to Okrug Gornji.
Okrug is a two kilometers long gravel beach also called "Trogir Copacabana" because of its beauty and popularity. The vast number of beach bars and few restaurants keeps this place alive through the night.
There is a water-sport center "MAX" with complete water sports offer for your active summer day.
Kava sandy beach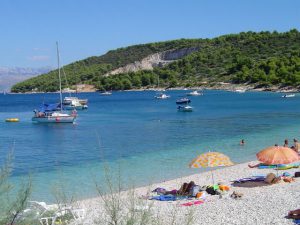 Kava beach is placed on the far east corner of the Ciovo Island, in the beautiful inlet near the old fishermen village of Slatine.
Only 12km away from Trogir center, Kava Beach is one of the real natural beauties because it is not polluted by any buildings, hotels or houses in the area.
To reach it you will have to pass through Slatine village and drive further for 4km to the east. Road to Kava beach is mostly gravel and at times very rough, but it's worth taking.
There are no beach facilities like bars, so it is wise to bring some personal drinks and snacks if you plan a longer stay.
Medena Beach
Medena Beach lies along the Seget Riviera, micro-location on the south side of Trogir, 4km from Trogir center. This 3km long gravel beach is surrounded by old pine-woods and features various sport facilities: Water Sport Center, tennis courts, football & basketball courts, beach volleyball and water-slide.
Medena beach is part of Medena Hotel Resort with 650 rooms and 200 apartments in the area.
To reach Medena Beach, take the bus from Trogir Bus Station for Medena Hotel, drive for 4 km to the west from Trogir, or take a walk (30min) on the wonderful "Lungomare" from Seget village to "Medena".
More Trogir beaches: Krknjasi lagoon
Krknjasi bay is located just 7 NM from old town Trogir, on Drvenik Veliki island. Amazing turquoise blue color of the sea and wild nature makes this place a tropical paradise.
Krknjaši bay is protected with two small islands, large and small Krknjasi. With shallow sandy seabed, this beautiful pebble beach a true tropical paradise of our coast.
Several other small sandy beaches can be found along the coast which provide intimacy and are suitable for families with small children.
On Krknjasi there is a cult Dalmatian tavern, "The Communists", with an excellent selection of fresh seafood and authentic Dalmatian dishes. The coast is easily accessible by boat you can rent in Trogir.
Okrug Gornji Beaches
Situated in Okrug Gornji, popular accommodation spot Villa Sunrise is located within easy driving distance of Trogir.
Some of the premium facilities at this modern 4-star hotel include outdoor tennis courts, free Wi-Fi and a fitness center.
Split Airport is less than a 20-minute drive from the Apartments Villa Sunrise (9 km). Shops, restaurants and entertainment are all within easy walking distance from the hotel. Local bus stop is 200m away, with main Trogir bus station 4.5km.
There are many fantastic beaches nearby, from Bušinci tourist resort on south side of Ciovo island, to Milicevo beach, so take your pick.
Marina Seget beaches
Marina village is situated in the bay of Trogir, 8km from the Trogir center. Its most distinctive monument is old fortress "Kula" in the village center, used in the past for defense from Turks, now renovated in nice hotel. Marina is a charming coastal village with a yacht marina.
This Hotel Marinska Kula is ideally positioned in peaceful surroundings in Marina, just a short drive from the Trogir Cathedral. Split airport is 25-minute drive from the hotel.
Trogir beaches – Slatine (Ciovo)
On the eastern side of Ciovo island there is a beautiful Slatine beach, very popular even among Split inhabitants.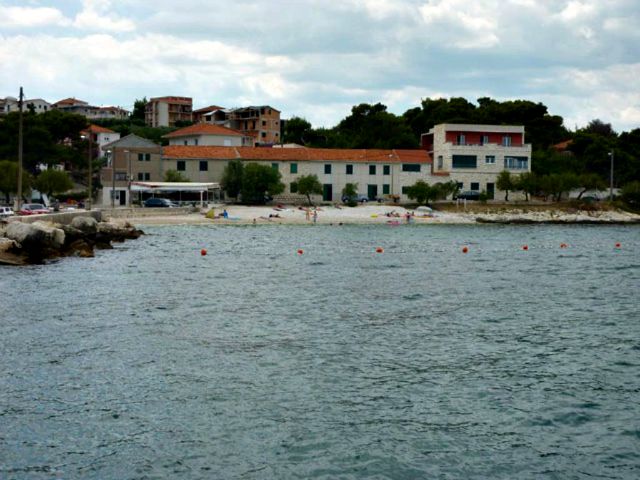 It's a rather long drive from Split to Trogir to reach Slatine village. More convenient way to get here is by sea, as during the summer season Bura company keeps daily fast boat connections from Split to Slatine and Trogir.
See my getting to Trogir page to find a timetable and price list of this popular day tour.
Small village Slatina offers many private apartment accommodation at very reasonable prices. In Slatine I recommend Vila Tina Hotel which offers very good babysitting services and fitness and beauty center, making it very suitable for families with small kids.
---
Trogir town and riviera with Ciovo island has numerous fabulous and private beaches which aren't always packed with tourists even in high season.
I do hope my list of best Trogir beaches is helpful, and I'm certain you'll find your perfect place under the sun.