Looking for pet friendly lodging in Split? Don't leave your best friend at home! Split is a friendly destination when traveling with dogs.
As a dog owner I know that each year we have always the same problem to find holiday destination, hotel or a beach.
My male puppy "Easy" is very happy to go to Split, knowing that there is a beach even for him. He's very fond of some beaches on the western side of Marjan hill.
There are a lot of locations along the Croatian coast where it's possible for your best friend to go swimming.  There is also a website for promotion of pet-friendly-tourism in Croatia with useful map with the exact location of all beaches and lodging offers.
Split's pet friendly hotels and beaches
Split recent years has made important steps towards solving the problem of tourist traveling with their pets. Each day more and more hotels open their door to our best friends, dogs and cats.
Today no longer we can justify that cruel act by saying that they cannot go anywhere with us in Croatia.
Some hotels like Hotel Atrium, Hotel Globo and Hotel President will accept your pet only on request and additional charge will be applied.
When booking those hotels, do not forget to let them know the size of your dog as sometimes it can be a reason not to be accepted.
Fortunately there are some three stars hotels located in the very center of Split town that are truly friendly and not only the pets are allowed, but without extra charge.
If you don't like to stay in the urban environment I recommend some hotels in nearby Split vicinity like 8 km Podstrana village  where some hotels have a friendly behavior for your pets.  In these hotels below pets are allowed but it might be applied additional charge.
Split Pet Friendly Beach
The only beach where you can take your dog swimming is Kasuni beach. It is situated on the south side of Marjan hill. I must remind you that only one part of the beach is dedicated to dogs owners. There is a coffee bar there.
You can reach the beach taking a bus (number 12) or you take a 20 minute walk by the sea side. On Split city map you will find more information how to move around Split town!
From May  2014 a new  dog beach at Duilovo has been promoted. With a car parking place the beach has all facilities primarily for your pets, but also for owners. It's located on the space called Lumbarda below Pasdigrad settlement.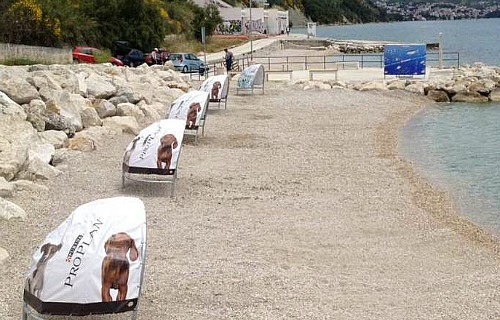 The Split Mayor Ivo Baldasar officially announced to be only a beach for dogs and their owners.
There are showers, changing rooms, booths / tents were to set up stands with bags for waste and water bowls. Find this beach on the map! The area of Duilovo has also some nudist and gay beaches.
Taken from Dalmacija News:
Are you traveling by car or camper?. If yes, the best place for your family and your pets is Camping Site at Stobrec. (see it on the map).

Dogs are allowed at the campsite but you have to keep your dog on a leash and to keep it tied up at the camp pitch. Dogs are allowed only on one part of the beach, near the river mouth.

Camping Stobreč Split won the prize for the best middle sized campsite in Croatia in 2013.

CAMPING STOBREČ SPLIT
Sv. Lovre 6, 21311 Stobreč
Fax: + 385 21 325 452
Tel: + 385 21 325 426
[email protected]
Split Four Summer Nights dog shows
Next year 2014 Four Summer Night Dog Show will be held from 23 to 26 July.2015 on a new location not far from Hajduk's football team stadium. It's an auxiliary field of Hajduk team.
More than a thousand dogs will take place in competition each day with four times as many people as they are usually accompanied by entire families.