So, is it worth visiting Split in winter period? One thing is certain, Split is much more peaceful in the winter.
While the most of the guidebooks recommend visiting Dalmatia only in the summer, Split has enough things to do and places to see to deserve a winter visit too.
Winter in Croatia has two aspects. Continental Croatia is characterized by cold and snowy weather, while along the Adriatic coast the weather is rather mild but rainy.
Split has a mild climate and the weather is generally good throughout the year, although winters can be fairly unstable or unpredictable. It snows sometimes but not so often.
As you see from the weather conditions map above, winter in Split is rather mild but the wettest season with average 12 to 15 rainy days in December while in January and February from  9 to 12 days.
Snow is rare but it could happen to have a day or two snowy day during the whole winter season.
Split has a bad experience with snow. People here are always surprised when it is snowing heavily as it happened on February 2012.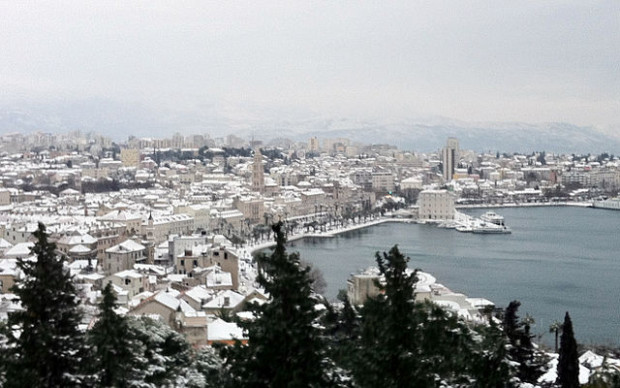 Split in winter can be rather cold during the BURA wind, the north wind that brings some snow but also a nice weather. On coast winds page I have explained two types of BURA wind.
Split In Winter – Pros And Cons
There are some pros and cons factors when visiting Split in winter period between the beginning of December to the end of March. The most of cons are related to how to get to Split. The most of flights in winter period will be significantly reduced from European destinations.
But still some companies will keep international air connections throughout the winter like Croatia Airline flights to Frankfurt, Munich and Rome, or Germanwings' to Cologne and Stuttgart, or Lufthansa's to Munich.
Unfortunately Easyjet has no scheduled flights for Split Croatia in winter season from United Kingdom so the only way will be flying through Munich, Frankfurt, Cologne, Rome or Stuttgart.
Winter ferry connections have switched to a winter timetable with only international ferry line from Ancona (Italy) to Split. A new updated winter schedule will be available on this website from January 2015.
If you decide to travel to Spit in winter prices will be considerable lower. Unlike the hotels on the Dalmatian islands that are mostly closed during the period December Mart, all Split hotels will be opened.
Besides hotels,  many privately owned rooms and apartments will offer a great discount prices.
Whether you're looking for a cheap winter holiday, Split will surprise you with low winter prices.
Split In Winter – What To Do
To get the best of your time at Split in winter period, whether you decide to stay three or seven days in Split, I propose you a visit itinerary.
Explore Diocletian's Palace and all Split attractions.
Take a public bus to see the ruins at Solin (Salona)
A day to Trogir by regular bus is an unforgettable experience
Take in consideration, a day trip to Imotski to see the lakes.
A day trip to Mostar is worth considering at any time of year (by bus from Split)
A day to the islands of Hvar or Brac (islands are in deep winter sleep)
Visit Split days tours ideas to get more info!
One of the most important traditional event is the New Year celebration with thousands rushing to the streets of the old town, Diocletian Palace and Riva promenade.
City authorities have officially announced  opening of New Year Fair on December 1 and it will stay opened till January 10, 2015.
Like last year (2013/14) Riva in December 2014 will be packed with people, visiting those white tents lined up along the most popular Split promenade.
Riva especially revives at night when thousands people start strolling among  these stalls tasting mulled wine (kuhano vino) and hot brandy (topla rakija).
The whole atmosphere is really festive with many restaurants and bars that stay open late. The whole Riva is turned into open market offering traditional products, souvenirs, food and drinks, and all accompanied with the music, concerts, folklore performances and parties every night.
Important events:
St. Nicholas Day December 6th.
Christmas Day on the 25th.
During the communist period celebration of Christmas was forbidden. The time when Christmas was celebrating secretly has gone forever. Today everyone can celebrate customs and traditions during Christmas time.
Christmas Eve starts with people going to church to confess. That day people don't eat meat but it is a tradition to prepare fish.
One of the traditional fish meals is dry codfish (bakalar) prepared in two ways 'in bianco' or 'brudet' (fish stew). As a traditional desert people prepare 'fritule'. At midnight starts holly mass and many people go to one of Split's churches.
Two churches are particularly important in Christmas time:
St Frane (Saint Francis) on the west end of the Riva promenade waterfront.
Cathedral of Saint Dominus (Sveti Duje) within the Diocletian palace walls.
In December the streets of the old tow are transformed into Christmas market, a good opportunity to buy some traditional Croatian handicrafts and gifts.
10 days of Split Carnival
The traditional winter carnival is celebrated all the way through the streets of Split with colorful processions and live music from local bands. A number of masked balls also take place in the evening.
The main carnival is proceeded a few days before by a children's carnival in which the little ones take part in their own procession.
This year (2015) traditional Split carnival will be held from February 7th to February 17th. Like every year it will be a lot of fun. The theme of this year carnival will be dance and love. The opening of the carnival will be at 12,00 at Bacvice beach with Zumba Beach Party.
On Riva promenade on Saturday February 14.02 will be the main program:
11.00h: Carnival for children, 12.00h: Carnival procession, 14.00h: Dog carnival, 16.00h: Salsa carnival, 18.00h: Funky town.