Among all island Brac beaches, the first one that strikes the eye is undeniably, a Golden Cape (Zlatni Rat) in Bol Croatia town.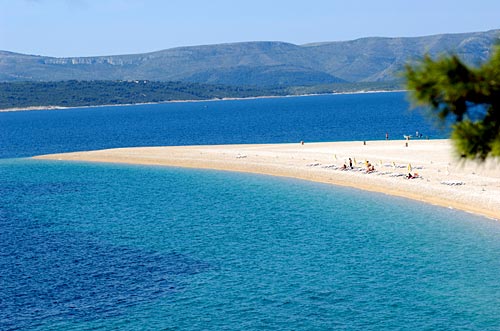 Nobody can contradict this beach to be one of the most fascinating not only in Croatia but also across the globe.
This 530 miters (580 yards) long beach, stretched just in front of Bol town like a white tongue into the sea, changing the shape and position, is the most visited beach on Brac island.
The beach scenery is simply sublime, the mountain Vidova Gore over the beach, the bluest clear sea water on the both sides, the sounds of the waves on the white pebbles and the gentle breeze.
This pebble beach is absolutely, the most ideal vacation spot on Brac island. This beach is popular destination from Split reachable by daily catamaran connections or taking one of day tours.
This beach is the perfect friendly young people and family with children destination with all kinds of activities from water sports (paddle boats, jet-ski, banana boat ride, trampoline, sailing, diving) with children's amusement park and  Inflatable iceberg sea playground to sports like tennis, mini golf, table tennis, badminton.
Sandy Island Brac Beaches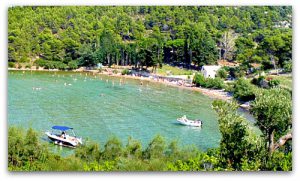 Frankly speaking Brac island can't boast having many sandy beaches. On the northern part of the island only 4 km from Postira village, there is a beautiful sandy beach with a pine forest, providing the pleasant shade during hot months.
The beach Lovrecina is located in a deeply carved bay, which can be reached by road. Don't miss to visit a restaurant where you can enjoy the specialties of the island.
This beach is only 10 km from Supetar, the island's capital. Find out more about getting to and around the island bu your own car or by regular local bus connections. Check my partners apartments, houses and rooms offers near this beach and Postira village.
Supetar Island Brac Beaches
Getting to Brac by ferry from Split to Supetar you can find many beaches from pebble and sandy ones all scattered around the island Brac capital.
Nearby Hotels
Some of them are very suitable for families with children and non-swimmers and the most of them surrounded by pine forest. The most popular is Vela Luka place with two beaches with sandy seabed, ideal for kids.
Tourist Resort Velaris is located in Vela Luka bay, only 1 km from Supetar, known as family with children friendly summer resort.
Another one is Banj bay with several beaches, with sandy beach, situated in the heart of Supetar, a favorite place for all generations.
Vrilo is a lovely pebble beach on the eastern exit of the ferry port. This beach is popular among the local inhabitants.
Naturist Island Brac Beaches
Brac naturist beaches are not so numerous like those on Hvar Island. Croatia has a long tradition in naturist tourism with high tolerance to all lovers of nude bathing.
Nudist beaches are practically everywhere but still you have to respect some rules not to disturb those places strictly only 'textile beach'.
Next to  the famous Zlatni Rat beach in Bol there are some naturist island Brac beaches like Paklina FKK beach located at the western end of the famous "Golden Horn".
This beach is combination of textile beach and the naturist mostly visited in the high season.
Naturist section is pebbled but if you are looking for more private places, it's possible to take a short walk to the west where you can find some nice small pebble and rocky coves. Keep in mind not to annoy others that don't share your way of nude bathing style.
On the northern side of Brac island, between Postira and Sutivan villages (see the island map), you can find dozens of small bays and coves with beautiful scenery and natural beaches.
One of them, little and hidden cove called "Mutnik", not far from a small village Mirca, is reserved for naturist sunbathers and it is a authentic tourist pearl. It is easy accessible by car since it's on the road  between these two villages.
Not faraway from Supetar, about 1,4 KM west of the Vela Luka bay you'll came across the small peninsula with pedestrian path to the naturist beach with a pine wood above the beach.
It's very peaceful and beautiful naturist paradise. Ask for Punta beach as it's known under this name.