Find out all you need to know when traveling to Split airport (SPU). This is your  guide to arriving, connecting or transfers to/from Split town.
Getting to Split by air, this airport will be your entrance gate to Croatia and Dalmatian islands.
After Split was declared the champion of tourism in Croatia in 2012, this airport has become the most important along the Croatian coast.
Last year this airport handled more passengers within 24 hours than any other airport in Croatia, reaching millionth passenger, beating Dubrovnik airport in the south and Zadar airport on the north of Dalmatia.
Your vacation will start the moment your airplane lands on sometimes called Resnik or Kastela airport as it is only 2 km from Kastela riviera, 6 km from Trogir and 24 km to Split center.
The airport is mostly used during the summer months when  in peak season  reaches to 120 landings particularly on  Saturdays.
It is a rather long the list of companies flying to Resnik airport from Croatian national company Croatia Airline, German Wings, Easyjet, Thomas Cook Airlines, Norwegian and many other charter companies.
During the winter period the only companies flying to the airport is Croatia Airlines and German Wings.
Visiting airport official web site you can find all detailed information about airport services. On the web you can find also web check-in for all departures from the airport and the list of all airlines as well minimum and maximum time to register your flight.
This will save you time and all you need is ether, name and surname, electronic card number, frequent flier card, or reservation code.
When you disembark your thoughts will be how to find the means of transfer to Split city or in nearby holiday destinations like Trogir, Makarska, Brela, Tucepi, Baska Voda or Dubrovnik.
Distance from the airport to main towns
From airport to Trogir – 5 km, about 7 minutes.
From airport to Omis – 40 km, about 50 minutes.
From airport to Makarska – 80 km about 1 hour and 30 minutes.
From airport to Dubrovnik – 240 km about 3 hours.
From airport to Zadar – 130 km about 1 hour and 45 minutes.
From airport to Sibenik – 60 km about 1 hour.
From airport to Plitvice lakes – 215 km about 2 hours and 20 minutes.
From airport to Krka National Park – 60 km about 1 hour.
From airport to Ciovo island – 11 km about 20 minutes.
Split Airport bus transfers and prices
It's important to point out that official buses leave approximately 90 minutes before scheduled flight time but in high season (July ans August) I seriously recommend to show up 2 hours before scheduled departure time.(from my personal experience)
To get to/from Split airport to Split center or Split ferry port you can use several transfers options:
Direct bus line – This is a regular bus transfer for passengers to/from Split organized by Croatia Airline with Pleso Prijevoz Company. One way ticket costs 30 Kuna while for round trip you have to pay 40 Kuna (valid only for arrivals/departure in the same day).
Public Transport – The local bus no. 37 that takes you to Split or Trogir has a stop right outside the airport. I remind you that it will leave you at  Sukoisanska bus hub (not at main bus station) which is 1,5 km walking from the city center.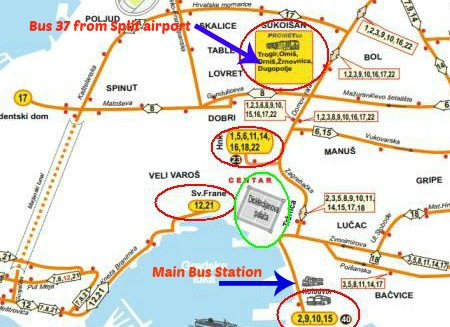 There is another public bus n° 38 from Split airport leaving from the same point as n° 37 but running through Kastela's riviera villages. It takes more time than bus 37.  Current ticket price (one way) for both buses is 21 kunas. Both lines are run by Promet bus company (yellow buses). For your convenience you might find useful Split city bus lines map, you can download from here.
By taxi – Taxi is available during airport operating hours. Before taking one, first ask for the price and beware of fakes taxi drivers operating as unofficial taxis…use them at own risk. One way taxi drive should be around 40 to 50 € (euros). I personally advise you to take shared arrival/departure transfers booked in advance!
By boat – During the summer season there is a possibility to take a boat or ferry from Trogir/Split/Trogir. Bura line operates a boat route with a sailing time of about 1 hour. It's much more popular as a boat trip from Split to Trogir. Consult the Bura line operator for more info.