Are looking for Split romantic restaurants to share a special moment with your loved one? If yes, look no further.
Follow the list below where I've gathered the most idyllic restaurants around Split town.
Most people are looking for great settings for their dinners. The best are those with a terrace and a great sea view.
Split offers several very unforgettable terraces in some of city's premium restaurants. In combination with  great food and local wines, it is a night you won't forget!
It is hard to choose the most romantic as many of them have a different ambiance. You'll probably need to find an restaurant with both an excellent food and drink menu in addition to a special romantic atmosphere.
Nothing complements a meal quite like a spectacular view. Who can resist high quality fish menu at a restaurant that overlooks the sea, or a good red wine at a restaurant in the heart of Diocletian Palace?
Split is the city facing the sea and your first wish will be to find a Mediterranean setting and quite  restaurants, surrounded by pine trees and a romantic view of the sea and islands.
Split Romantic Restaurants With A Great Sea View
My first recommendation is Kadena restaurant located in eastern part of Split, at Zenta bay. It's considered as the best Split restaurant.
I've chosen this restaurant mainly because of his position and if you go there, ask for a table on the terrace, overlooking the Brac and Solta islands.
The food is a typical Croatian and Mediterranean. They have an extensive wine list and an excellent menu.
Prices are reasonable maybe even little less then on the other restaurants of this kind in Split, but its highly romantic impact makes overall impression very good and this place is worth visiting.
Web: www.restorankadena.com.
Re di Mare Spinut Marina
This is one of the most popular local restaurant among local families and local business people. It will be hard to find it as it's located on the other side of Marjan Hill, in the quiet settings of Spinut Marina.
This restaurant is right by the sea, overlooking the Kozjak mountain and Kastela bay. On their menu you can find local classic dishes as famous meat platters and exquisite grilled fish.
Summer nights on restaurant's terrace makes it one of the most Split romantic restaurants.
Re Di Mare
–
Google Map
Address:
Lucica ulica 4, 21000, Split, Croatia
Phone:
+385 21 386 789
Split Romantic Restaurants – Bacvice Beach
Stellon restaurant located on one of Split's most beautiful and popular city beaches, Bacvice beach is only a walking distance from the old town.
It's a favorite meeting place for young citizens of Split, artists, sportsmen, artists and tourist, ideal for romantic spring and summer dinners.
The restaurant with a large summer terrace overlooks the sandy beach and has a pleasingly modern and elegant ambiance, creating relaxed surroundings with fantastic views of the sea and islands, for enjoying a good meal. Be sure to reserve your seat during the summer!
Reading TripAdvisor reviews "Beautiful view, great food, nice service, great location very close to beach, acceptable prices and cleanness…..", I highly recommend this restaurant.
Open: 12:00 – 23:30, Fri, Sat 12:00 – 24:30.
Address:  Bacvice Bay
Phone: (+385-21) 48 92 00
Web: www.restaurant-stellon.com
F-Marina: Wonderful Dinner In A Gorgeous Setting
Among the new opened Split romantic restaurants, it's worth mentioning, F-Marina, a new pearl on the western part of Split waterfront promenade.
F-Marine is owned and operated by the local tourist giant, the "F-Group", and their slogan is there is no compromise when it comes to quality.
With fabulous waterfront views to the marina, open sea and old town is a great place for a romantic dinner or lunch.
Professional staff is at your service and will be glad to recommend you the best from the menu and wine card.
Address:
Obala Kneza Branimira, 21000 Split.
Map
–
F-Marina
The Caper Grill – Luxury Romantic Escape
If you are looking for Split romantic restaurants with the most beautiful view of the sea, in a luxurious settings and delicious local cuisine, than the Caper Grill restaurant, incorporated in an ultra-modern Radisson Blu resort, is the the best what Split can offer!
Located just a few steps from the beautiful pebble beaches of the Adriatic coastline (Trstenik area), the stylishly designed Radisson Blu Resort is situated a 3km journey from the city center.
Split's premier accommodation: Radisson Blu
Book your room at Radisson Blu hotel and resort in Split and enjoy fantastic views over any meal, all day long!
The Caper Grill serves à la carte menu items in a warm, relaxing atmosphere, offering stunning views. Indulge in a unique selection of fine wines from Croatia and all around the world, a perfect accompaniment to any grilled Mediterranean dish.
TripAdvisor reviews 'Excellent quality food served with a smile. Perfect setting, very relaxing. Could easily spend hours here without any pressure to vacate the table.'
Address:
Put Trstenika 19 – Split –
Phone:
+385 (21) 30 3030.
Map:
Radisson Blu
.
Paradigma: Best choice in Split
Note: this restaurant is permanently closed!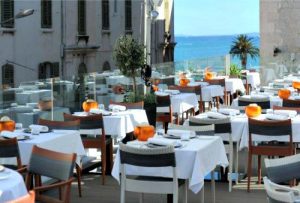 Paradigma, with a beautiful terrace is a new among Split romantic restaurants, opened in July 2014.
Ivana S says 'I visited restaurant a few times and this is definitely one of the best choices in Split. Food is delicious, staff professional, terrace beautiful with a great view.'
Reading TripAdvisor reviews, from 71 visitors, 51 gave excellent vote, to the food, staff and its location, overlooking Riva promenade.
Address: Ulica Bana J. Jelacica 3
Tel: +385 21 645 103
Web: https://www.facebook.com/restoranparadigma/
Dining in prestigious ACI Marina
There are two restaurants in this prestigious ACI Marina. The fist one is Zrno Soli and Adriatic Graso.
Zrno Soli
During the hot Split nights with a full moon, especially when you are in a company with your beloved, take a pleasant walk from Riva promenade to prestigious ACI Marina, where a fine dining restaurant Zrno Soli ('a grain of salt') is located.
It's a nice and pleasant 20 minutes walk. Just follow the route on this map!
Restaurant has a beautiful terrace overlooking the sea, boats in the marina and the town.
All meals are prepared in an imaginative, creative and professional manner using top quality ingredients.
The menu and wine list give the impression that the restaurant wants to be essentially different from the classic Split restaurant offers.
Address: Uvala baluni 8, Split. Phone: +385 21 399 333.
Adriatic Graso
Probably the most beautiful terrace on the coast! The view of Brac island, ferries coming and going from Split harbor, sailing boats and yachts, makes this terrace one of the best  places for romantic dinners. Find it on the map!