To eat good in Split, you should pick up one of local konoba(s). My favorite is Hvaranin or Tinel.
Each time you see this name, strolling the Split streets or any island destination, your first thought is – it's a kind of a restaurant.
You are not wrong, as today the most of these places are transformed in small restaurants.
Analyzing the purpose of these places, we have to distinguish two kinds of taverns. The first one (recently grown like mushrooms) is typical Dalmatian style furnished restaurants, similar to Spanish tapas bars serving local specialties. Wooden tables, benches are typical Dalmatia taverns furniture.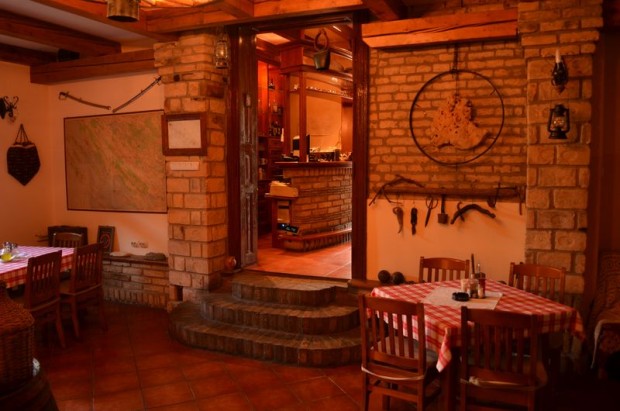 Cuisine offered in the taverns is a typical Mediterranean that has a unique taste and is the healthiest and most delicious. Even the prices are much more convenient than traditional restaurants.
The second type are those taverns that are not used in commercial purposes but have a particular meaning in everyday life in Dalmatia.
What The Word Konoba Means?
The meaning of this word is usually translated as a tavern, cellar (podrum) or wine cellars. In the past only a few places where used as restaurants.  Actually it is a place where the wine is produced and held.  All tools and equipment necessary to cultivate vineyards are kept in this place (podrum  – cellar).
It is actually a  basement or underground part of a home where one can get a piece of homemade products (salted anchovies, a piece of ham or cheese) and inevitably  a glass of good homemade red or white local wine.
However, this was not a profit-making place but a typical sign of Dalmatian friendly tradition.
Indeed tavern or cellar is all that and much more. It is the starting point of small farmers in Dalmatia and their refuge after the hard working day on their fields.
This place is actually a mirror of Dalmatian man personality and talking about this cellars, is like narrating story about people and their hard work.
The word derives from the latin canaba, meaning a hovel, hut or shed. In the plural, canabae, it meant  a settlement outside a Roman military camp of traders or discharged soldiers.

The same word canaba has given us the word cabin, cabano in Spanish, cabina in Italian. Not to be confused with the latin word cannabum, meaning hemp, which they took from the Greek word cannabis!
The best example of these privately owned cellars is a story about Miki Bratanić's cellar from Vrbanj (Hvar island) that has received the status of a protected cultural heritage site.
Highly recommended wine and food cellar with a special feeling of the past in the heart of Split is Konoba Matejuska. You can read more about the places to eat great food in Split at reasonable prices here.