Croatia romantic cruise is the best way to enjoy your first important voyage together. There is no better way to explore romantic destinations but cruising by one of sailing boats or gullets.
Discover the Mediterranean you've always dreamed about: ancient stone houses framed by vineyards and olive trees, natural waterfront cafes where tourists can interact with local fishermen and seawater so clear you hardly need a mask to snorkel.
Spend your vacation on a wooden sailing ship cruising the Adriatic and get to know Croatia's top destinations. The Croatian coast and islands with their natural beauty will make your cruise unforgettable.
Build your own world of dreams with many activities, socializing and meeting new people.
Imagine sailing through the thousands of islands on a private sailing charter, perfect weather, magnificent boat, trustworthy crew, fabulous food…
If you chose romantic cruise as your honeymoon venue, it will be a spectacular adventure filled with sailing, swimming, sleeping, sunning, eating and love.
And can you imagine a more romantic evening than being on the deck of a boat under a starlit sky, surrounded by luminescent plankton?
Have you ever try to swim with your loved one at night? Try it and you will be pleasantly surprised.
Perhaps you will even be lucky enough to swim with the dolphins that frequently follow sailing boats. If you haven't been on any of gullets sailing charters I assure you without hesitation this is the best way to share your romantic moments and you will wish to come again.
The Adriatic (the "Mediterranean as it once was") is an ideal place for sailing. It is safe, with plenty of wind and sun and over 1000 islands, islets and cliffs to explore.
The climate is warm and Mediterranean, with an average 25°C sea temperature in summer. This is also a unique area in Europe for enjoying the underwater world.
Why cruising is so romantic?
Feeling the heat of the sun and the wind blowing on your skin.
Watching the extraordinary sight of dolphins playing and dancing around the boat.
Diversity and spontaneity. Visiting every day to a different place, with a new splendor behind every promontory.
Lying on the deck while sailing during the day, swimming at night in shimmering plankton under glittering sky.
One way romantic cruise
Usually the most of cruises have round trip itineraries, starting and finishing from the same port.
However if you prefer to see more that I have proposed one way cruises that might be a perfect solution.
Below I've added some interesting one way cruises from one destination to other offering some romantic cruise itineraries from North to South of Adriatic coast.
One way Adriatic Explorer cruises from Dubrovnik to Opatija
From:  Dubrovnik
From South Dalmatia to Opatija Kvarner riviera
Cruise Types:  One way
Duration : 7 days
Price: from 635 €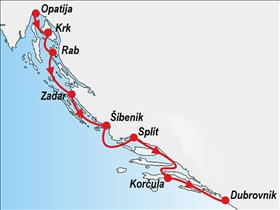 From :  Opatija
From North to South to Dubrovnik
Cruise Types:  One way
Duration : 7 days
Price: from 895 €
One way Adriatic explorer cruises from Split to Opatija
From:  Split
Middle Dalmatia  Split and Trogir riviera, Zadar, Rab and Krk islands
Cruise Types:  One way
Duration : 7 days
Price: from 825 €
From: Opatija
Kvarner  Opatija riviera
Cruise Types:  One way
Duration : 7 days
One way Southern Pearls from Dubrovnik to Split
From :  Split
Middle Dalmatia  Split and Trogir riviera
Cruise Types:  One way
Duration : 7 days
Price: from 590 €
Southern Pearls from Dubrovnik
From:  Dubrovnik
South Dalmatia  Dubrovnik riviera
Cruise Types:  One way
Duration : 7 days
Price: from 590 €
Cheap Dubrovnik & Dalmatian Islands Cruises
almatian Coastal cruises are an exhilarating way to see this unique country, visiting picturesque harbors, scenic villages and watch dramatic scenery unfold before you. Everyday brings the opportunity for unique experiences and new sights.
Cruise Highlights – Dubrovnik & Islands Cruise (8 days) or  Dubrovnik & Islands Cruise (15 days). From £1,041 per person.  More details!
Dubrovnik
Korcula
Hvar
Trstenik
Mljet
Sipan
Gems of Croatia Cruise
Admire the green islands, secluded bays and stone towns of the Dalmatia coast on this relaxed small ship cruise, sailing between beautiful Dubrovnik and magnificent Split.