If you decide to get to/from Split by bus, I assure you have chosen the easiest and cheapest method of transport. Bus is the most used form of public transportation in Croatia. It is safe and comfortable.
The bus service in Croatia is excellent. Everybody is using the bus in Croatia as even any small village can be reached by bus. Another reason of bus's popularity is – they are cheap.
For first time visitors, buses are particularly convenient as a great alternative between the larger cities like e.g. Zagreb and Split, Zagreb and Dubrovnik, Split to Dubrovnik, Zadar to Split and so on.
There are several advantages when getting to Split by coach. You are avoiding the stress of driving in unknown places or warring how to find a parking place. Split can not boast as the city where it is easy to find parking place.
Traveling by bus you will be more relaxed enjoying the splendid scenery and getting to know Croatia better.
On the other side bus travel offers the possibility of traveling together with a group of friends, family, colleagues regardless of their number and will reduce your travel costs as bus in Croatia is the cheapest means of transport.
I will not exaggerate if I say that the bus services are excellent and prices quite affordable.
In same cases you can take advantage as some bus routes (usually internal) are served by more than one bus company, sometimes with significant price differences. Lately many privately owned bus companies have improved the quality of bus service in Croatia.
Just when buying a bus ticket ask for all bus carriers that run on the same route.
Important
For any piece of luggage inside the bus trunk you may get charged an additional 7 to 10 kn!
If you travel to/from Split by bus I suggest you to buy your tickets well in advance and reserve a seat as in some period buses are rather crowded.
If you are traveling by bus from Split and you arrive in advance you can always deposit your baggage at left-luggage office at Split bus station, paying 5 kn for first hour and additional 1,5 kn for every next hour.
The buses in Croatia are generally in good conditions and almost all air-conditioned during the hot summer season. My advice on longer routes is, to bring enough water or a sandwich or some fruit.
On night bus connection to bring a small pillow can be a wise idea. On the longer routes buses have a planned stop at a restaurant on the way. Check this out when you buy the ticket.
Finally, for pastime, it is a good idea to bring a book or have some music to listen to.
Split by Bus Tips
Read carefully the list of destinations posted above each bus ticket counter.
Be careful on signs like: 'vozi svaki dan' (it means – every day),  'ne vozi nedjeljom i blagdanom' (it means – it's not running on Sundays and holidays'.
Pay attention not to go too far during driving breaks (usually every two hours) or you might lose your seat.
Buy your bus tickets at the bus station counter, not from the bus driver.
Most buses operate overnight but sometimes you won't be able to sleep as internal bus lights are always on and stereo music is too loud.
International bus connections
Split has good bus connections with all major European countries. All buses are new and fully equipped with all facilities from air condition to toilets on board.
To/From Italy – Trieste
Split is connected with daily bus service from Trieste to Split passing through Istria peninsula and Rijeka, via Zadar and Sibenik all the way to Split bus station. Companies on this routs are Autotrans from Rijeka and Autotransport from Sibenik.
It is a rather long ride (almost 11 hours) but the most scenery one. You can decide on one overnight or one daily bus.
All detailed information you can check on Autostazione di Trieste (Trieste bus station) website. See schedule.
To/From Austria – Vienna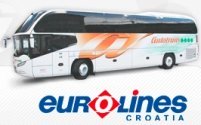 Eurolines keeps bus connection to Split from Vienna. There are two trips a week and it takes 11 hours to reach Split. It costs € 57 one way.
Split by bus – To/From Germany
Bus services between Germany and Split are very good and the prices are cheaper than by rail.
Deutsche Touring GmbH operates these connections on daily bases from Köln, Dortmund, Frankfurt, Mannheim, Munch, Nuremberg and Stuttgart. Check their website.
To/From Slovenia
From Ljubljana capital of Slovenia, there is once a day bus connection to Split. It costs about 320 kn and it takes 11 hour to reach Split bus station.
To/From Serbia – Belgrade
There are few buses to/from Belgrade to Split, an overnight and one daily. Two bus companies are operating on this route, "Otisak Putovanja" from Makarska and "Lasta" from Belgrade.
It takes around 12 hours to reach Split or Belgrade. In alternative you can use buses from Zagreb as Zagreb has quite a few connections to Belgrade.
Use Split Bus Station Timetable Search on links below to check all departures or arrivals.
To/From Bosnia and Herzegovina – Sarajevo
From Sarajevo there is a bus (twice a day) that keeps connection with Split (via Mostar). This seven hours ride costs around € 28. There are two bus companies on this route: Autoprevoz from Mostar and Autopoduzece from Imotski.
Budapest to Split by bus
How to reach Split from Budapest? Is there a bus from Hungary? I have been asked many times this question by my clients but for the moment I am still checking to provide you with the right answer.
Montenegro to Split
Many visitors have been asking how to get from Montenegro (Kotor, Hrceg Novi, Budva and Ulcinj) to Split. From TRN timetable there are buses three times a week. Two bus companies keep this route, Panoramabus from Zagreb and Bozur from Podgorica. All buses to Montenegro stop to Dubrovnik.
Domestic bus connections
After Split ferry port, the bus station is the most bustling place in the city.It is easy to moving from Split by bus to any nearby destination.
Bellow is the short list of the most frequent bus connections. I have added also a distance between Split and popular destinations. The price range depends of local bus carriers. When buying a ticket, check out the price.
Some prices have to be rechecked as they refer to the period of May 2015.
Popular Excursions From Split By Bus