Here is the list of beaches in Dubrovnik throughout its districts from Old Town, Ploce, Babin Kuk, Lapad bay, Lokrum and nearby Elaphiti islands.
This beach guide will help you enjoy your Dubrovnik summer holidays more, though lovers of sandy beaches will be disappointed as the beaches are mostly rocky and pebble.
Dubrovnik county also offers a few nudist or naturist beaches as well some family beaches with rather shallow waters and a lot of entertainment for children.
The good news is the perfect quality of the sea water on the beaches regardless if they're centrally located, closer to the old town, or near more distant Lapad bay (Uvala Lapad) or nearby islands.
Beaches In Dubrovnik Within The City Walls
If you happen to be in Dubrovnik just on a one day trip, there are two great places to have a quick bath for all visitors wishing to take a swim during the hot summer days.
The first one is old town's pier beach under the St. John tower, while the second one is just within the walls, not clearly marked. Both beaches are rocky.
Porporela beach – a small quay with the Red Feral (warning light) is an ideal place for quick refreshment in the hot Dubrovnik summers, located under St. John Fort that protects the southern part of the City. Porporela is one of the most popular beaches among the locals, and a romantic place where lovers finish their promenade through the city.
Buza beach – While scrolling the city walls, don't miss two unique hidden holes on the exteriors of the walls, not clearly marked, but not difficult to find, which will take you to bathing spots on the rocks below the walls. This beach is usually used as a tanning spot and it's recommended for experienced swimmers as the water is deep and waves can sometimes be high. Buza beach can be easily reached by using any of the streets behind the Dubrovnik cathedral.
Dubrovnik Tour: Life of King's Landing
Discover where the Lannisters schemed, where Joffrey met his end, or visit the Littlefinger's brothel... This is a must-see tour for any serious Game of Thrones fan where you get to discover filming locations used in Seasons 2-5.
Party, Wedding and Family Beaches In Dubrovnik
If you are looking for party beaches in Dubrovnik, than the most famous one is Banje Beach, a trendy Saint Tropez-style location, a pebble beach with a beautiful views over Dubrovnik Old Town.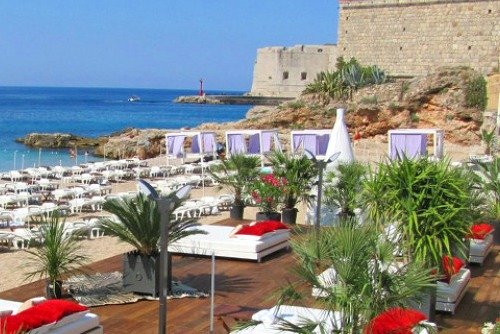 Set at the beachfront overlooking the Old City of Dubrovnik it offers all the luxuries a visitor could ever dream of: private sandy beach, trendy bar and stylish restaurant, where you can chill in the afternoon or spend the nighty partying in the nightclub. The EastWest Beach Club is a "must" visit when you're in Dubrovnik.
Eastwest Beach Club Banje Video
It is located in front of the eastern entrance (Ploce Gate) to Dubrovnik Old Town bellow luxurious Dubrovnik hotels Excelsior and Argentina.
Kopakabana (Copacabana) Beach in Babin Kuk district is not centrally located, but nevertheless a very popular beach especially among the locals who cannot afford the wealthy and fashionable Banje Beach.
Copacabana is a long pebble beach located at area called Solitudo on Lapad peninsula. The easiest way to reach this beach is to take bus no.6 to Lapad from Pile bus station.
It's also popular among family beaches in Dubrovnik, because it includes a restaurant and cafe bar, fruit and ice cream shops, sport equipment, canoe and windsurfing rentals. The beach is equipped with changing cabins and showers.
Next to Copocabana beach there is Cava naturist beach located on Babin Kuk peninsula, about 6 km northwest of Dubrovnik's old town. The beach is rocky with mainly large pebbles and stones between the rocks.
It's a very narrow beach and about 300 meters long with a small nearby bar. You can reach the beach taking the bus N° 6 from Pile Gate in front of the old town, and exit at the last station near the President hotel.
Just follow the path in front of the hotel where you will notice the sign for Cava and Copacabana beach.
Lapad Bay Hotel Beaches In Dubrovnik
Lapad beaches are located in Lapad bay (Uvala Lapad), very close to the Lapad walking zone and in the close neighborhood of several hotels, many restaurants, cafe bars, tennis courts, and children playgrounds.
Lapad peninsula is regarded as one of the most beautiful parts of Dubrovnik.
Lapad bay includes several beaches in Dubrovnik, as a part of popular hotels:
Adriatic beach – suitable for those who don't like sand or pebbles, because it is made of concrete. It is very pleasant and truly romantic small beach.
Beach Vis – next to the Adriatic beach. It is a pebble beach with a beach restaurant that organize almost daily cocktail parties. Those who like kayaking, there are kayaks and canoes for rent. From there you can row around and visit all beaches in Lapad Bay.
Splendid beach – a very small and attractive beach that consists of two beaches, the rock and pebble one.
Hotel Neptune beach – located on the north of the Lapad Bay beach, is a small and isolated beach ideal for romantics who like to watch the sunset, with beautiful view to Elaphiti Islands.
Island Beaches In Dubrovnik
This title refers to the closest island to the old town – Lokrum. The Lokrum island is a nature park with exotic tropical and subtropical plants and a unique botanical garden.
There are two beaches on the island, Portoc and Bijele Stijene (White rocks). Lokrum is known also as a home of some premier nudist beaches on the easternmost point of the island.
Lokrum is easily reachable by regular taxi boat from old Dubrovnik port. It's only a ten minute ride, and the boat departs every 30 minutes from 09:00 AM to 06:00 PM in period May/October.
The boat tickets can be bought in front of the boat. The return ticket costs 40 Kuna for adults while children pay 15 Kuna.
The island is at the same time exotic, mysterious, a place with many legends and stories. When arriving on the island don't miss visiting a fortress (summer residence of Maximilian of Habsburg from 19th century) at the highest point of the island.
From fortress lookout you can enjoy a beautiful view of the island and the city of Dubrovnik. One of the special attractions of the island is a lake called the "dead sea". If you travel with children, the lake is suitable for them and non-swimmers.
Dubrovnik "Karaka" ship romantic sunset cruise
Get a feel for our rich history by cruising around Dubrovnik in a traditional karaka (carrack) ship replica. Romantic dinner while sailing next to one of Adriatic's most beautiful destinations will be an evening to remember.
Less Known Beaches in Dubrovnik
The coast around Dubrovnik hides many beaches that are less known and infrequently visited by tourist masses. These attractive beaches are the most popular among the local population and they deserve your attention.
Beach St. Jakov, a sandy-pebble beach located in the privileged part of Dubrovnik, in the cove under the cliffs of St. Jacob church. The beach offers a spectacular view of the old town, city walls and on the island Lokrum.
The beach is easy to find. Just take a walk from Old Town of Ploce Gate in direction of Hotel Argentina. Passing this luxury hotel, you will notice the church of St. James and behind the church you will find stairs leading down to the beach.
The stairs are rather steep, so elderly people and small children will have to be more careful.
If swimming and sunbathing is not the only thing you are looking for, this beach offers different activities from including volleyball or kayaking, or for those more adventurous jet-skis. Families with children will find the right place for their holiday.
Beach Dance is located at the foot of the St. Mary monastery and church, below the park Gradac.
This rocky beach is well known among the locals. The sea is deep and more cooler than at other beaches. It faces the open sea and sometimes the waves are very high, so it is not recommended for children and less experienced swimmers.
This is one of the most famous beaches in Dubrovnik and the cradle of water polo sport, and the headquarters of Dubrovnik's water polo club "Jug" (en. "South").
Dance beach is easy to find. It's about 200 meters from the old town, from the Pile Gate exit. If you are not sure, just ask the locals for Gradac Park direction.
Nudist Beaches
For naturist lovers who think only two nudist beaches in Dubrovnik aren't enough, here are some more beaches for them, close to Dubrovnik, either north or south of the city.
Betirina, Mlini-Srebreno – naturist beach
This naturist beach is located near the charming fishing village Mlini and neighboring resort of Srebreno, between Dubrovnik and Cavtat. The naturist beach has its own restaurant, and is in a secluded bay five minutes by boat from Mlini.
Supetar, Cavtat
Supetar is another nudist beach, located on a small island in front of Cavtat town south of Dubrovnik, exclusively dedicated to naturists.
To get to the island, the only way is a small boat from Cavtat harbor. It's only a 15 minutes ride to this nudist paradise island.
As you can see from the above image (the first island), it's a very small island with a rocky beach.
Plat – naturist beach
This beach is in Plat village situated between Cavtat and Mlini, some 12 km south of Dubrovnik.
If you are driving, just follow the sign to Villas Plat. After turning left follow the sign for "Tavern Plat". You will notice the FKK sign.
The beach is pebbly, with a few large rocks and very clean. It's mostly used by guests staying at the nearby hotels Orphee and Villas Plat.
Hotel Croatia – Cavtat naturist beach
This naturist beach is located in Cavtat, just below the Hotel Croatia, a five stars hotel.
It is a rocky beach paved with concrete, gets plenty of sunshine during the day, and is suitable for quick tanning.
Being near Croatia hotel, the beach has all the basic facilities like showers, changing rooms, toilets and restaurant. Certainly one of the first-class naturist beaches.
Veliki Potok, Orasac – naturist beach
Among all beaches in Dubrovnik, this is the only nudist beach located 12 km north of Dubrovnik in a picturesque little village, Orasac.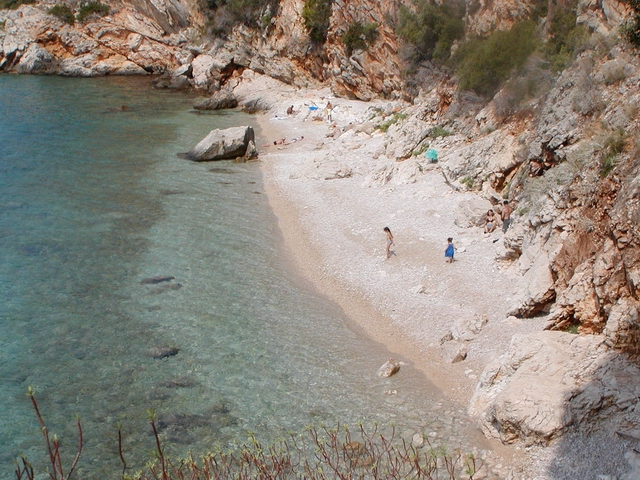 Veliki Potok beach is a fine pebble textile beach within the auto-camp "Rudine", and next to it there are several small beaches dedicated to naturists.