It's hard to imagine Split Croatia without Emperor's palace, almost as hard as imagining Rome without Roman Coliseum or Cairo without Great Pyramid of Giza. If a city has its heart than Diocletian's Palace is Split's vital life spot. It is more like a city within a city.
There are not many cities in the world that can as proud as Split to have almost two millennium of history. The difference is that this history is not just in some scribbled notes, but fully evident in today's Split. Read more about Diocletian on Wikipedia!
Common Facts about The White House and Diocletian Palace by Victor Tribunsky

Do you know one common fact for the White House, that was built in 1800, and the Palace of Emperor Diocletian in the Croatian Split, grounded in the distant 305? Read more here!
Inside this rectangular Roman castrum (a military camp) measuring 175 by 216 meters and mainly build by limestone from Brac island quarry, Gaius Aurelius Valerius Diocletianus has built an ideal residence for his retirement days. It took him nine years and 20,000 slaves to build it.
How to Start your voyage though the Split history!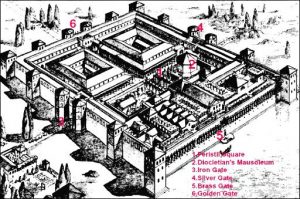 There are many ways describing how to start visiting Diocletian palace. It does not matter how you are arriving in Split, by bus, train, ferry or plain, of even if you're just passing through on your way to some nearby islands. If you (as I hope you do) decide to stay in Split for a couple of days, the first place you will likely find yourself in will be Split's Riva, front shore promenade.
Start in the morning…
Let me take you on my favorite tour within the palace walls! Spend your morning, starting from Bronze Gate (the gate you enter from Riva promenade, once sea access to the palace). It is the entrance to Diocletian underground cellars, open daily where you can stroll around exhibitions, craft or souvenirs stands.
On the other side of the cellars, take stairs to the palace's central piazza, called Peristil. This is the core of the Diocletian's palace framed by two colonnades with the sphinxes, vestibule, the imposing Cathedral of St. Domnius and Diocletian's mausoleum.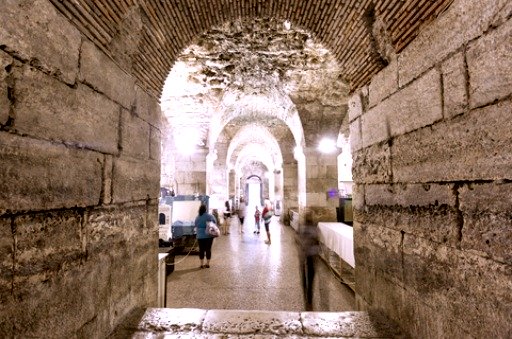 This is a right place to take some excellent photos or even better climb the Bell Tower to witness the fantastic panoramic views from the top.
If you need some refreshments, grab a good 'kava' (eng. coffee) or pastries at Luxor café bar. Its name refers to one of two remaining Egyptian granite sphinxes. You can sit outside on the stairs, where you can also find many major international newspapers.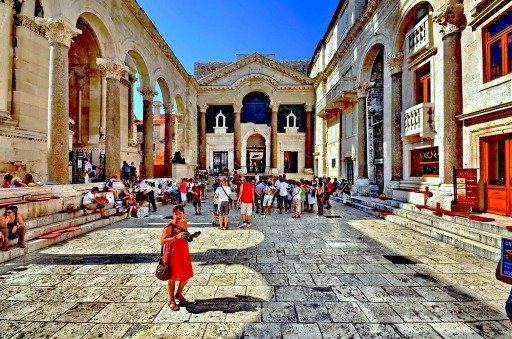 Don't miss passing through the narrowest street in the world, one person at a time, called 'Let me pass street'.
Dine in…
By the time you visit all these Diocletian highlights it will be a lunch time. Strolling around palace's narrow streets, certain pleasant and inviting aromas will be reason enough to take a break at one of the old city restaurants, pizzeria or taverns (konobe).
Inside the palace walls there are plenty of choices where you can eat very good with normal and acceptable prices. I can suggest only few of restaurants I know personally:
Apetit (Appetite) restaurant in Subiceva  street n° 5.
Konoba (tavern) Bajamonte in Bajamonte street n° 3.
Tifani restaurant, Poljana Kraljice Jelene, n° 5. It is right on Peristil. Highly recommended!
Don't forget to read my overview of cheap Split restaurants with excellent food!
Keep on strolling…
Keep on following Diocletian trails, visit City Museum in Papaliceva street n°1 situated in a medieval house 'The Papalić Palace'. This museum is well set out in a chronological order starting with the Roman period to the after the second world war. Three floor museum shows the Roman, Venetian, French and Austro-Hungarian period. Entrance is 20 kuna.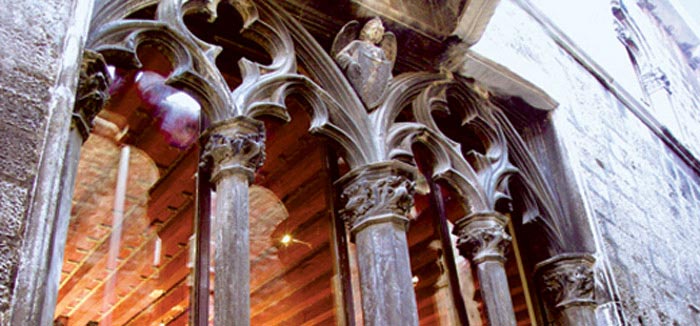 Don't forget to visit Narodni Trg, a Piazza just outside the Western wall, Iron Gate. It is outside the city wall but one of the most popular places, a meeting point for young generation.
Back to Riva promenade…
Walk all the way from Golden Gate to Bronze Gate, back to palm-lined Riva promenade, sit in one of many bars along the Riva or take 3 minutes walk from the Riva to another downtown location I recommend – Teraca Bamba (Babma Terrace) on Matejuska (old fishing port). It is a great place for a mug of beer, local brand or any international one.
Sleep where Diocletian slept…
Looking for a place to spend the night within the walls of Diocletian palace? If you want to sleep as emperors do, Hotel Vestibul Palace is the most luxurious hotel between those found within the walls of the palace. Hotel has seven options, between elegant rooms and suites, all with views of ancient stone walls, wooden furniture. Find more here!
The next choice is Peristil hotel, exclusive with only 12 rooms, overlooking the Peristil Piazza. Ask for the 204 or 304 room that have small alcoves where you can see the ancient walls of the Diocletian Mausoleum.
Prices for accommodation inside Diocletian's Palace can be rather steep so it's not for everyone, but if you want to stay at the very heart of Split it will be worth it. You can check for some current discounts on the widget above.
Take a guided tour
You can easily find your own way around Diocletian's Palace, but if you want to learn about its history and visit other nearby attractions worth seeing, consider taking a guided tour such as this.
You can have your own professional local guide explaining everything along the way and taking you through Split's rich history.
---
Need more ideas? Learn how to discover split by walking, or find where the must see attractions are!
See you next time for a new walking experience, this time, outside of Diocletian palace.