It is not hard to find where to eat or drink in Split. It depends on what kind of food you are looking for, but eating good in Split usually means you should go where locals go.
But if you don't know where to go than just stay on this page and get all tips on where to go and eat in and around Split. If you don't know, discover what makes Dalmatian cuisine special, or find out the full meaning of Dalmatian konoba!
Have you heard about marenda in Split (a brunch in English). It's a great meal for little money, and if you don't want to spend too much on food this is the best way!
But let's move on. When talking about eating while traveling, I distinguish three traveler types.
The first ones are those that have no time to enjoy local food, the second ones prefer to eat only fast food junk, and third types (I am one of them) that like to eat only traditional local food to better learn the customs of the local people and country.
Fortunately Split has plenty to offer for all types of travelers, but particularly for third ones who will discover Dalmatian food as an unique combination of local fresh ingredients, historical influences and the hidden treasures that will forever remain as an unforgettable foodie's enjoyment.
All you need is to know where the locals eat, and you'll surely discover the secrets of Croatian cuisine.
Fast food eaters
In the past few years Split has become one of the most popular destinations in Croatia where fast food has a tendency to grow day by day. Even Split has its inevitable McDonald's.
Personally I prefer a plate of green chard with few salted anchovies and a glass of local red wine.
I am not against fast food services as it's certainly convenient and inexpensive, but Split also offers healthy fast food with vegetarian, sugar free, organic, and low-fat alternatives.
Be sure to also visit a new shop in Bosanska street n° 4 suitable for fast food lovers, but quite different as it is offering traditional snacks that are rare to find.
Dalmatian cuisine
Split's Dalmatian cuisine is typically Mediterranean due to its ingredients and preparation, and meets all medical and nutritional recommendations for a healthy and well-balanced diet.
Traditional Dalmatian ingredients are various types of fish, shells, crabs, octopus, squid, lamb meat, beef, olives, olive oil, vegetables, blitva (green chard) wild herbs, almonds, figs, pomegranate, grapes, honey, raisins and citrus fruits.
Learn more in my article about What to expect from Dalmatian food!
Where To Eat In Split
I try not to follow travel guides to find the best restaurant no matter where I travel. When looking for a good place to eat in Split I prefer to follow my friends advice.
I never care what Tripadvisor recommends as most travelers go to centrally located restaurants. I prefer to rely on information from friends or locals, ensuring I always find the most delicious food and cheaper prices.
Below are a few of my favorite restaurants and taverns where I like to eat.
Konoba Hvaranin
Few travelers know the old Varos district I mentioned on my apartments rentals page where in typical Dalmatian surroundings you can find some unique restaurants with traditional Dalmatian and island dishes.
The one I prefer is Hvaranin restaurant (Konoba – Cellar) located in Varos, old Split district only a step away from the Split waterfront promenade Riva. It is not a big restaurant but the owners originated from Jelsa (Hvar island), and have created the atmosphere of Dalmatia as it used to be. Find it on the map!
They have excellent risottos, fish broth and white fish. I prefer pasticada and some people came only for exquisite tomatoe salsa. The have home-made dumplings and they bake home-made bread every day. If you don't know where to eat in Split, this is a place for you.
Konoba Matejuska
Wine cellar (Konoba) Matejuska is placed in a ground floor of Villa Matejuska – an old dalmatian stone house built in 19th century that contains 6 apartments.
Complete object has been renovated in 2003 and with bare stone walls, light wood furniture and old and rustic ambient, wine cellar Matejuska will give you that special feeling of the past. You ca find out more on their website, or find the restaurant on this map!
Kadena restaurant
This restaurant located in Zenta bay in Ivana pl. Zajca 4 street has been recommended by Andy Gavin on his blog.
"Kadena was probably the best place we found in Split and is quite good. The view and outside patio was absolutely delightful too."
Konoba Nevera
This was Gavin's first restaurant where he tasted the Croatian cuisine for the first time. It also happens to be one of the best places to eat in Split. Find it on the map!
Here are his words about Konoba (Cellar) Nevera (Storm) restaurant:
This was a great first taste of Croatian cuisine. I found it flavorful, yet light. There isn't a lot of butter or animal fat in most of these dishes. They lean toward seafood and olive oil. Somewhere between Italy and Greece, literally and a culinary way. I'm liking it so far.
Fife restaurant – Eating on a budget
"When asking anyone about restaurant recommendations in Split, Fife was always among them so we had quite high expectations when we went there. It looks really cozy and was packed with people every evening we walked past."
These are words taken from Scan Delights blog titled 'Dinner at Fife, Split, Croatia'.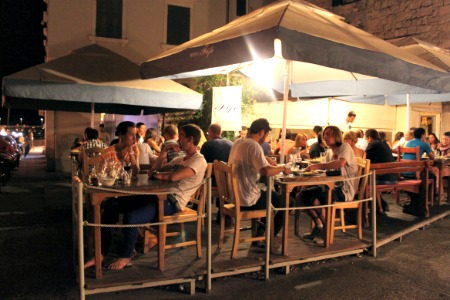 If you want to taste traditional Dalmatian cuisine then I personally don't recommend this restaurant, but it's perfectly okay if you are traveling on a budget.
Eating Pizza in Split
For pizza fans, the restaurant Galija is my top recommendation. Considered the best pizza place in Split for decades, Galija's pizzas start at 40 kuna (€ 5.5).
This is a rather rustic place with wooden benches. My favorite pizza which I recommend trying is 'quattro stagioni' or four seasons.
This pizzeria is located in Tonciceva street n° 12. Here it is on the map!
Those who can not do without pizza on their vacation can also visit a new pizza place with very apt name Gust (in Italian Gusto or Tasty). This new entry is located in Slaviceva n° 1 street. Find it here!
Hidden gems
Maslina Restaurant
Maslina (olive) restaurant is a little gem to eat in Split, just hidden in a courtyard off the main shopping street, Marmontova street, so it is not often visited by tourists.
To help you find it just click on the map. It won't be easy to find it but it's well worth it. To book your table in advance call +385 21 314 988 (though there's usually seats available). It is located in Teutina 1A street.
They mostly offer fresh seafood, pasta dishes, and tasty pizza.
Konoba Kod Joze
Another place to eat in Split and yet another hidden gem is Konoba Kod Joze (At Joze) in Sredmanuska stret n° 4. It's not easy to find this small restaurant, but you can let the aromas of local Dalmatian cuisine guide you through the narrow streets of Split to this traditional restaurant.
Trying to find this restaurant is worth it, especially for visitors who know the importance of delicious food and good wine. Dalmatian specialties prepared exclusively with local and trusted food will enchant you with its rich flavor and very friendly staff. And prices are for every budget!
If you come there in winter time you can occasionally taste game plates as the owner is a passionate hunter.
Rising Stars To Eat In Split
Two new gastronomic addresses deserve special attention. New stars are Bokeria and Pikulece. Both are only recently opened for all those who want to try something different.
Bokeria
La Boqueria is a famous market in Barcelona, and that's where the name "Bokeria" comes from.
The food that is served has nothing to do with Spain, and is generally inspired by the Mediterranean and the ingredients of local farmers and fish markets.
The restaurant is beautifully decorated and is one of the largest in the center of the town with up to 150 seats.
Pikulece
In local dialect the word Pikulece means small dishes. This centrally located restaurant offers a type of "Spanish tapas" and a wide variety of small plates, whether delicious snacks, finger foods, appetizers, or just a small portion of a special dish.
It's ideal for visitors wanting small dishes in sequences or to have an excuse for a glass of wine.
For Split town Pikulece is a new culinary design of local traditional dishes, with explosive flavors you can't remain indifferent about.
Pikulece menu is constantly changing and you'll find different gastronomic specialties in autumn and winter, and during the summer. You can find the location of this restaurant here.
Bepa – Fast Seafood Goodness
You can't miss this small restaurant in the middle of Split Pijaca Square, near the clock tower, opened only few months ago.
In this outdoor setting in a picturesque square, all food is served on paper, so it's also a great place to grab food to eat on the go.
While everything on Riva promenade is overpriced, Beba has great fast food with sandwiches and lots of fried seafood goodness! It's something like fish&chips.
Excellent food, very friendly staff and what's more important reasonable prices make Bepa a great place to eat in Split, right on the city's main square.
Split Culinary Walking Tour
Get to know Split's gastronomy with a delicious tour with lunch included. Visit green markets to learn about ingredients and taste traditional delicacies, and end your tour with a gourmet lunch.
International Steak And Fish House
Is there a place to eat in Split with an international touch? Among many Split restaurants offering typical local food, Chops&Grill Steak&Seafood located in the center of Split can offer you a taste of something different.
Chops&Grill has 55 tables on a spacious outdoor courtyard with a space for 107 people at once. The particularity of this restaurant is the open grill, arranged in a way that you can see your juicy steaks being made.
It's an ideal combination of the best food and the best atmosphere. Chops&Grill offers both Croatian and international food from breakfast to dinner.
With a rich range of international salads, pasta, risotto and seafood dishes, there is plenty to attract meat lovers but also vegetarians.
With reasonable prices Chop will be open in winter period from Monday to Saturday from 14:00 to 22:00. Chops duet for 2 people is 235kn (approximately €31 or $36). This is definitely the best place in Split for quality meat served with home-style potatoes and grilled vegetables.
NoStress Bistro
NoStress Bistro is located on Split's central square Pjaca (Narodni Trg). They have a professional but laid back service and are always looking to offer the best food.
Since beginning they are working with top chefs who will satisfy even the most demanding taste buds. Their menu includes local dishes and a variety of Mediterranean and French dishes.
NoStress is open from the earlier hours in the morning and until midnight, and is equally visited by both locals and tourists. You can find more information on NoStress Bistro on their Facebook page.
Eat in Split in the sky
Eating in Split 65 meters above the city can be significantly different from any other dining experience.
Dinner in the Sky is in the Split city again like last year. This time from July 9 until August 23 in Zvoncac, considered a location with the best view of the city. See this location on the map!
You can choose between 3 different packages, depending on the menu and how long you want to enjoy the experience.
You can try two short packages, 30 and 20 minutes stay, starting from 35 to 39 Euro. Book your seat here! The best one is a dinner package:
Dinner in the sky – 69 EUR includes:
3 course dinner menu
Soft drinks
Sparkling wine
White wine
Red wine
Beer
During the dinners, in the evening session, the "chef of the day" will personally join the guests at the height of 50 meters to serve and talk about his food and menu.
Time in the sky 60 min
Arrival 30 min before
An Evening in Split: Croatian Food and Wine With Friends
Photos available by courtesy permission of Two Oregonians. Please click on the image to enlarge it.
---
More food and cuisine guides: