Adrenaline adventures are a great way to enhance your holidays in Croatia, when simply sunbathing and swimming is no longer enough.
For most travelers the word 'holidays' is a synonym for relaxing on a beach with a refreshing drink, and cooling yourself off with an occasional swim.
For those who prefer to add a dose of adrenaline to their sluggish holiday vacations, I have prepared some daily or a week tours with unforgettable experiences in a unique natural setting.
When staying in Split, you are less than an hour's away from the most unique natural destinations and exciting outdoor activities.
If you decide to escape for a day into the intact nature of nearby mountains, islands and rivers that encircle the city of Split, than just follow my adventure suggestions:
Go rafting on your vacation
Experience the thrill of adrenaline adventures on whitewater rafting tours only 30 km south of Split near Omis, on the river Cetina. Cetina river rafting is one of the most exciting outdoors adventures for everyone from 7-77 years of age.
Cetina is one of the most beautiful places in Central Dalmatia where you can experience the excitement of rafting. It is situated in the peaceful countryside of Dalmatinska Zagora region and it slowly passes through numerous canyons, spots and hills rising above it.
River comes out of 5 strong wells at 380 m above the sea, under two mountains, Dinara and Gnjat, few km north from the town Vrlika, from where it flows south-east through the fields of Sinj, town Trilj to Zadvarje, where it turns west to Omis where it joins the Adriatic Sea.
Rafting on river Cetina, near the town of Omis, has in the last few years become the favorite recreation of tourists and adrenaline adventure enthusiasts spending their vacations at the Adriatic coast. In between swimming and sunbathing, many travel agencies organize rafting adventure on river Cetina for its guests.
This river has found it's way through fields and cliffs creating rapids, waterfalls, lakes surrounded by wild vegetation and canyons. The natural harmony in and around this river is still unchanged.
Rafting has really become one of the most popular adrenaline day tours, and it's very convenient to book it from Split.
Prices generally start at €55 per person, and the whole trip typically lasts about 8 hours. Best price I've found is on Happytovisit, where you can book your rafting day drip for less than €55. Tour organizers can pick you up at any hotel in Split, or general locations like Riva or the port. You can also get picked up if you're staying in Podstrana.
The trip lasts a total of 8 hours, and includes a 4-hour long rafting trip of Cetina river. All the necessary safety equipment will be provided to you, and you'll also be accompanied by a trained guide who will give you the basic tutorial about rafting.
All you need to bring with you is a swimming suit, some shoes suitable for water, and dry clothes. If you want to take pictures, it is highly recommended to bring a waterproof camera.
Cetina River Rafting Adventure from Split
Navigate the rushing rapids of Cetina River on a full-day white-water rafting experience! Jump aboard an inflatable raft and paddle for roughly 7 miles (11km) along the naturally flowing river with an onboard skipper, passing through stretches of secluded countryside.
Rock Climbing Adrenaline Adventures
When you ask what's the most interesting place for free climbing in Croatia, many climbers will answer, Omis. Actually a day trip to this rock climbing locale has the possibility to combine a tour of the sea, Cetina River and rocks climbing.
The most distanced climbing location is only 5 min drive far from city center and the nearest one is just above the roofs of the old town.
It is possible to reach many climbing locations by road which is a significant advantage, especially for small and bigger groups.
The number of forty directions at seven locations guaranties interesting and exciting holiday. Climbing locations go from easy, for beginners to the hardest locations for experienced climbers.
More info:
If you want to try canyon climbing but don't want to travel far from Split, you can also consider this tour on Marjan Hill. Includes transport from Split and a climbing instructor who will teach and explain everything you need to know about rock climbing.
These tours are perfect even for beginners, and your guides are experienced climbers who will keep you safe at all times. If you want to try something different (with a great view!), then rock climbing is definitely one of the best options.
Paintball Adrenaline Adventures
Raise your adrenaline in a game where physical fitness and intelligence are equally important. Paintball is an irresistible adventure for people eager for some harmless fun and sports. Shooting balls that leave a trace of paint provides simultaneous relaxation and oblivion from the daily stress.
This particular paintball trip takes place on Ciovo island, the perfect Mediterranean setting for a shootout with your friends. You'll be provided with all necessary equipment, and once you're done blasting you can easily take a swim in a beach just a few meters away.
More info:
Split deep-water soloing adrenaline adventures
Deep-water soloing is a form of solo rock climbing, practiced on sea cliffs at high tide that relies solely upon the presence of water at the base of a climb to protect against injury from falling from the generally high difficulty routes.
Split area has three location for this form of rock climbing. The first one and the oldest deep water solo area is Sustipan, located in Split near the city center. It makes part of Marjan hill park.
Sustipan is a small hill with nice shady park on the top, where once was a city cemetery. More info here if you're interested!
The second one is Kasjuni area in Split with very friendly approach for deep water soloing. Not too many routes, but great for beginners.
The third one is Katalinica Brig (Hill) a small deep water solo area with just a dozen routes, but very popular since it's very easy to reach by foot in 10 min from the city port.
All these information are taken from Dalmatia Climbing website where you can find all detailed information about all types of rock or mountains climbing.
Omis River Canyon Zip Line
I would never suggest any adrenaline adventure day tours that are not 100% safe. These can be high adrenalin filled adventures, but the safety is alawys on the first place.
One of the newer experiences offered and an adventure you will never forget takes place in Omis town neighborhood, where besides having a great entertainment you will be fascinated by the beauty of the river Cetina canyon. What's more important it's safe.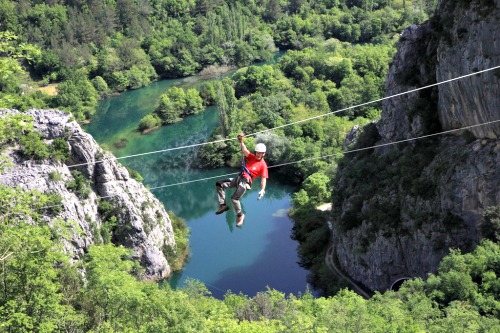 If you ever wanted to ride a Zip Line (called also aerial runway, aerial rope slide or flying fox) than the Zip Line in Omis is a right place for you. The Zip-Line company has 8 zip lines which cross the Cetina River Canyon, 3 km out of Omis town.
Can you imagine crossing the canyon at the speed of 65 km/h, 150 meters above the ground?  If your adrenaline rises at very thought of this thrilling zipline, visit their website and book a day tour, including transfers from Split.
The total length of all wires is 2100m. The longest wire is 700m long and it is situated 150m above the ground. Both tours below also include brief instructions to ensure your safety.
More info:
Canyoning on Cetina river
Deep green pools and showering waterfalls are just some of the amazing sights you'll pass through while canyoning in Cetina river!
Experience walking through the river, swimming and sliding down the rapids and crystal clear pools, jumping from rock to rock, and exciting cliff jumping.
You don't need any previous experience nor special equipment: grab your neoprene suit from your guide and get ready for a thrilling adventure. The only thing you need to bring is an adventurous spirit and some good will.
More info:
Room Escape: Bunker & Prison Escape
This is an extremely fun adventure, and once the clock starts ticking closer and closer you'll definitely feel the pressure yourself.
Roomescape is an exciting live game designed for small groups of 2-5 people. You're locked in a room and given 60 minutes to escape.
By solving mysteries and using logic, your group will have to work together to figure out how to escape before your time is up.
More info and booking here: Room Escape Split: Bunker & Prison Escape.
This is a truly unique experience and a great way to spend a rainy day or whenever you're tired of the unbearable heat.
ATV Quad Safari
Kilometers of wild nature is ready to be explored in your ATV rides. You don't need any previous experience, but make sure you bring a valid driver's license if you're the main driver of your vehicle.
This tour will first take you to the village of Rumin and over the river Cetina. You'll continue to Vrdovo hill on Dinara mountain, with short stops on several scenic locations (bring a camera!). You'll make your stop at St. Jakov mountain lodge (1001m), and after a short break pass through village Bitelic, continuing on wild roads perfect for exploration in your vehicles.
Breathtaking panoramic views over Cetina river, Perucko lake, and town of Sinj will leave you in awe.
More info:
More tours!
Here are a few additional ideas on how to spend your days in or near Split!
While not as adventurous or exhilarating, there's also plenty of other activities to choose from: hiking, kayaking, diving, cycling… Croatia is an excellent destination for swimming and relaxing on the beach, but the most important thing is to sprinkle your holiday with different activities and experience something new.
That's how you make great memories!