Vis Island, a small and the most remote of all the Central Dalmatian islands is the last natural paradise in the eastern Mediterranean, a perfect summer gateway.
It's one of the last havens that for almost 50 years was a military base, and until 1989 was off limits.
Getting to Vis – ferry timetables:
The island of Vis has been for a long time isolated and cut off from foreign visitors. Also Lastovo island had the same destiny.
The only benefit of island's almost 50 years total isolation, is its untouched and pristine nature what makes this island really  "the Mediterranean as it once was".
Vis' lack of development has become an invitation  as a new tourist destination for local and international travelers, seeking for genuineness, unspoiled nature, gourmet delights and above all the tranquility.
If you are a kind of traveler looking for a peaceful place without crowds than Vis will be a perfect island. The only period when it loses its 'tranquility' is during three weeks of August each year when Italian tourists invade the island.
Introducing Vis Island
The island has an area over 90.3 km and it rises 587 meters above sea level (Hum is the highest peak). It is located in the mid-Dalmatian archipelago, 30 nautical miles from Split (two and half hours by ferry).
The whole island is divided between two beautiful small towns, both positioned at the foot of two large bays. The first one on the northeast side is Vis town, island's capital and Komiza town, on the southwest.
There is a friendly competition between them (similar rivalry is also on Hvar island between Hvar town and Stari Grad) as Vis town was richer and associated with upper-class nobility and Komiza was always related to working-class, mostly fishermen and farmers.
The rugged coast around the island is spotted with stunning coves, caves and a couple of sandy and pebble beaches.
History of Vis Island
Many Hellenistic archaeological remains on the island proves  the theory of Vis  as the oldest urban settlement on the Croatian territory which has existed for 2400 years. (Stari Grad on the nearby island of Hvar claims this facts).
The island was inhabited already during the prehistoric times. The history of Vis dates far back to the 4th century B.C. when it was founded as a Greek colony by Dorians from Syracuse under the name of Issa.
The Greek domination was one of the most flourishing periods in its history when Issa island had its own money, well-made laws, and accurate urban regulations concerning urban development. Today visible at Martvilo and Vlaska Njiva necropolises (cemeteries).
Issa island preserved its independence up to  1st century B.C. when it became a part of the Roman Empire, under the name of  Lissa.
From this period Issa island had lost its importance and  was only occasionally mentioned in medieval period.
Through the Vis' history, the island has changed many rulers from Venetians, the French, Austro-Hungarian monarchy and Italy.
There are local travel agencies which organize military tours around the island, visiting military tunnels, rocket base, Tito's cave.
After the dissolution of Austria Hungary, Vis was occupied by Italy (1918 – 1921) and the second time again by Italy in 1941. After the capitulation of Italian fascist in 1943, the island was liberated by Tito's Partisans where an allied military airport was built.
The period of real stagnation and isolation lasted almost 50 years in socialist Yugoslavia, when the whole island was turned into a large military stronghold.
In this sad period the much of the population were forced to leave the island in search of work, leaving some areas completely deserted for many years.
The Yugoslav army left the island on May 30th, 1992, six months after the international recognition of Croatia. This is a year when Vis island, has born again!
Vis Island Natural Wonders
Of all the Croatian islands, Vis island is the most mysterious – even to locals. Island is famous for numerous beaches, secluded bays and undersea caves.
Sandy Beaches – Stoncica and Zaglavfa
One of the most beautiful is Stoncica bay, often called Vis' Hawaii, situated 6 km from Vis town on the northeastern coast of the island. It is a beautiful sandy bay with an interesting restaurant and vacation rentals with home atmosphere.
Some owners offer a taxi boat service to Vis town. This is a perfect place to anyone seeking peace and quiet vacation rentals away from civilization. Stoncica also has a good mooring for nautical tourists.
Another sandy beach is located 10 km south of Vis town, near small village Milna. This beach Zaglav can't be reached by car.
You have to leave your car in Milna and then walk for about 10 minutes along the coastline path. You can also use a taxi boat from Milna.
In Zaglav there is a restaurant with a beautiful terrace and few houses offering apartments. It's a real paradise for those looking for peace and isolation.
Stiniva – Secluded bay
On of the most beautiful hidden and picturesque bays is Stiniva. The Stiniva Bay is located in the south part of the island and characterized by a very narrow entrance behind which the bay spreads and ends with a 30 meters  wide beautiful pebble beach.
The bay is surrounded by 35 meters high steep cliffs. There is no road that leads to the bay so the only way is to get there by boat. You can hire one in Milna village.
The turquoise caves and volcanic archipelago of Vis
As the best preserved island in this part of the  Mediterranean sea, Vis island visitors will be fascinated by exploration of the magical island's caves.
The Green cave (Zelena) on the small island of Ravnik
The Blue cave (Plava) on Bisevo island.
On the small island of Bisevo placed in the southwest of Vis island, the most valuable tourist attraction is the Blue Cave. The island is 5 nautical miles away from Komiza or 15 minutes drive by speed boat. You can easily find a quick day trip from Vis to Blue Cave here, available from Komiza town or other places on Vis island. From Split you can also take one of daily tours in high season.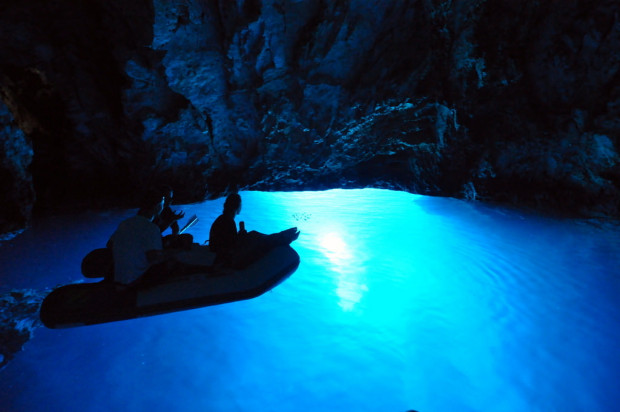 Blue Cave (Plava spilja) has two entrances.  One is smaller, artificially deepened, through which a paddle boat may pass.  The other entrance is on the south side of the cave, below sea level, and the sunlight penetrates through it.
Around noon, while the sea is calm, the sun-rays enter through an undersea opening into the Blue Cave and illuminate the cave with blue and objects in water with silver color.
Due to the cave's shallow depth and underwater opening, it is suitable for all kinds of divers.  It is 3 – 20 meters deep. The cave is an example of a typical limestone formation.
Vis Island – Things To Do And See
Visiting Vis and Komiza towns, two museums are worth visiting. Both museums reflect a deep connection  with Vis island traditions and its Hellenistic history.
Archaeological Museum
The island's history is best displayed in this museum in Vis town. Beside archaeological exhibitions, this museum also features a rich ethnographic collection, including the island's fishing, wine-making, shipbuilding and recent history.
The 2nd floor has the largest collection of Hellenistic relics, with Greek pottery, jewelers and sculpture, including a lovely 4th-century bronze head of a Greek goddess.
A large number of well preserved amphorae collection is shown in this  museum.
The Museum remains open from 1st June until 1st October from 10 am until 1 pm and from 5 pm until 9 pm and on Saturdays from 10 am until 1 pm. On Sundays the museum remains closed. Entrance fee is 20 KN
Fisherman's Museum
Komiza town has always been proud of the fisherman's history. This long history has been displayed in the Fisherman's museum located at the Kastel, a sixteenth century Venetian fortress built in the Renaissance style, on the harbor promenade (riva).
The museum contains a large collection of nets and knots as well as a model of a falkusa fishing boat, in Komiza known as gajeta.
A copy of the Komiza fishing boat gajeta represented the Croatian maritime heritage at the world fair EXPO 1998 in Lisbon.
Each year on December the 6th, a day of Komiza town, during the celebration of St. Nikola, a famous ship funeral is held.
A model of gajeta boat is burned every year in front of the parish church of St. Nikola, celebrating St. Nicholas, the patron of travelers, seamen and fishermen.
Vis Island Undersea World
Vis is one of the most attractive Croatian islands famed by its intact nature, clear blue sea, pebble and sand beaches, hidden picturesque bays, and spectacular undersea world.
Thanks to its distance from the mainland, Vis sea area was never intensively fished, where you can still find a spectacular marine flora and fauna.
The seabed around the island keeps many secrets of numerous shipwrecks and cargo ships as a witness of island's trading activity.
The underwater world surrounding the island of Vis is famous for a large number of archaeological sites where many relics like amphorae, bronze cannons and various items, now lie on the bottom of the Vis sea bottom.
If you are looking for diving vacations, on Vis you can find several experienced diving clubs. They offer courses on all levels for amateur to professional divers. They are highly qualified with international licenses and have permission to design custom tours to all available spots for any tourist.
Here are some diving clubs that organize diving tours like:
Bisevo Blue Cave diving – Due to the cave's shallow depth and underwater opening, it is suitable for all kinds of divers. It is 3 – 20 meters deep. Contact Issa Diving Center in Komiza town or call 00385 21 713 651 or visit their website – Issa Diving.
A wreck of an Italian ship dating from the 1866 naval battle between Austria and Italy – ANMA diving center, Vis town, Street: Apolonia Zanelle 2 Tel. 00385 91 521 3944. Website – Anma.hr
Manta Diving center from Komiza organizes two types of diving, wreck diving (Wrack Teti, Wrack Vassilios, Wrack Fortunal and many others spots and flora&Fauna diving (Monk-seal cave, Green cave, Outer rock, Inner rock). Particularly interesting is so called Host diving spot with numerous amphorae.
Four Day Vis Island Discovery
Split, Croatia Kayaking & Canoeing
Just 60 miles off the Italian coast, is a kayakers paradise-Vis! Wait until you experience stunning Stiniva Bay, the charm of Komiza, the island's legendary fishing village; the rocky cliffs, hidden coves and wild nature…
Starting at 659 Per Person
>> Click For Details & Pictures
Vis Island Gastronomy
Island of Vis is for foodies! It's a gastronomic hotspot where's serving the best and freshest fish in Croatia.
Once you visit this island, it isn't hard to notice that you are in a fresh sea fish paradise, prepared on the grill, cooked or marinated.
Visit this island to find out why it's called the island of lobsters. Furthermore, there are molluscs (squid, cuttlefish and octopus), crabs (scampi, lobsters) and seashells (mussel, oyster and Noah's ark) cooked in fish soup or as a risotto.
Vis Island salted anchovy's pie
The most famous and original specialty of the island of Vis is a pie known as a Vis pogaca (pie). On the island this delicious pie (pastry) is prepared in different variants depending if you are in Vis or in Komiza town.
It's a sardine pie, a kind of Vis pastry which is similar to pizza known from ancient Greek period.
It's not a secret that almost every house has its own way of making it. Vis and Komiza, as the two rival cities, are always in conflict even in preparing this traditional island meal.
Vis town pie variant is simpler as they consider using only fried chopped onion with salted anchovy, while in Komiza locals, advice to add tomato sauce or sliced tomatoes (see the above image).
Wine-making has a long history on Vis Island, dating back to the Greeks, and it's very much alive today. Vis produces some of Croatia's best-known wines – vugava (white) and plavac (red) – and you'll see miles of vineyards across the island.
The most famous brandies from Vis are carob brandy and brandies made of wild May roses, sage, fennel, and especially grape brandy.
Vis Island Restaurants
If you are looking for the best places to eat on Vis island, here are some most recommended restaurants or konobe (taverns).
Restaurant "Konoba Bako" – Komiza town, Guduliceve str.1, tel.021/713008. If happen to visit this restaurant, ask a table on the terrace. They offer beside fresh fish also mixed grilled meat.
Restaurant "Jastozera" – Komiza town, Gunduliceva str.6 tel.021/713859 Famous actor John Malkovich was a guest there. If you want to enjoy the excellent grilled fish don't forget to make a reservation at least few days before.
Restaurant "Stoncica" – Stončica 1, tel. +385 21 711 669. Opening hours:
noon to 2 AM daily. It's located in a sand bay with a few tables placed randomly outside. You should try the usual plate – fresh sardines grilled on an open grill. The photo above shows the way sardines are prepared.
Restaurant "Val" – Vis town, tel. +385 21 711 763). This palm-shaded restaurant with a terrace overlooking the bay offers outstanding cooking. Its specialties are seashells  and crustacea (crabs, lobsters, shrimps) including a memorable caponata (capers).
Lola Konoba & Bar Garden – Vis town, tel.+385958497932, address Matije Gupca 12. This restaurant is N1 among Tripadvisor's recommended places.  A great cooking in fantastic romantic setting. Prices go from 4 € – 54 €.