So, is it worth to be in Split in spring period? This period covers three months, from April to June, usually described as a low season.
Most of the tourists  don't  include this period as a part of their holidays planning. In this period, the school year is in full flow and families with school children,  can't plan their holidays before mid-June.
In spite of those facts, there is still a conviction that summer is the best season to be in Split. I do agree with this opinion but only partly as spring can offer a lot of benefits in Split.
Each year I'm more and more convinced that Split offers plenty of things to do and places to see to deserve a visit in spring. Here are some top reasons to opt for planning your holiday in low season.
Top Reasons To Be In Split In Spring
1. Great weather
Weather in Split during spring period is not too cold, not too hot. In one word, it's just perfect.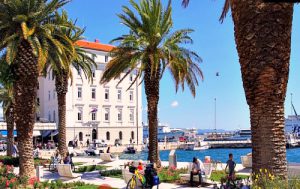 Spring brings rapid warming, and the average lowest temperature in May exceeds 15 ° C, while the maximums are regularly above 20 ° C. There is a plenty of sun and the rainfall is during this period rather rare.
Average Sea temperature is 17°C (63°F) in May and 21°C (70°F) in June with 8.30 sunny hours in May and 10.05 in June.
April is the coolest spring month with average temperature of 14°C (57°F) and sea temperature around 14°C (57°F).
Spring may bring occasional rain, but it's usually only for one half of the day and it's still plenty warm to enjoy the outdoors activities. From my personal experience the swimming season is usually inaugurated on 1st of May and always on the most popular Split beach – Bacvice.
2. Split Half Marathon
Split is going to host many athletes and recreation runners on April 26th. The track a bit over 21 km long takes you from Riva, the main promenade across the whole city, around Marjan Hill and back to the starting point. More info can be found here!
3. Hands festival April 16 to 19
The second HANDS (Heritage Art-craft Nature Domestic Split) festival will be held on Riva promenade. It present a wealth of heritage, traditional trades, indigenous products and healthy foods with a a number of presentations, promotions and product samplings and  workshops.
4. Stunning nature!
With spring arrives a warm weather and the nature around Split brings every year new and incredible signs of new flowers and plants. Split parks and Marjan Hill are dressed with new colors and fragrance.
If you like to watch the fictional Mother of Dragons premiered on Game of Thrones, then it's also worthwhile visiting Split in spring and it's nearby Klis fortress, just one of the filming locations. Find more info about this tour!
5. Far from summer bustle
Have you ever been in Split ferry harbor in period between mid-July and mid-August. You're lucky if you haven't because you don't know what hustle and bustle look like.
Split in spring has completely different aspects. The city is much less crowded than in high season.
Besides school excursions that are frequent in spring, you can leisurely find your way through the zigzag streets of the old town or the main shopping avenue (Marmont street). It's easy find a place on the Riva promenade to sip your coffee or a glass of good wine, in the sun.
On Bacvice beach you can easily find a room to stretch out to catch the first warm sun rays of the season or to try Picigin game.
Less crowds makes the city much more enjoyable, local transportation is less stressing, less time waiting your turn in the restaurants, local tours and visits to museums are much more enjoyable.
6. Lower prices
With increasing number of accommodations and restaurants, it is natural to expect lower prices in spring period. Many smaller and private accommodation properties were closed  during the winter period and in spring, must cut prices in order to compete within large hotels.
With a little patience, Split in spring, can be the best travel bargain on Adriatic coast.
I know that not many of you  will follow my advice to visit Split in this period but for those who want to take advantage of the perfect weather, incredible nature, fewer crowds, lower prices and interesting events, spring in Split can be a pleasant surprise.