Exploring Split by walking is the best way to discover all beauties of the city. Split is an ideal city to encourage walking, and few cities are so suitable for walking like Split Croatia.
To walk around the city is the best way to experience its true spirit and its typical Mediterranean soul.
But what is it exactly that makes Split a perfect city for walking or better to say for strolling?
Because of Split's pedestrian friendly design, it can be easily experienced on foot. To help you wondering around its streets, you might find this free downloadable map useful to have it and print it before you go.
If you're intending to visit Split, a car really isn't necessary and could be more trouble, money and time waste.
Is it a certain city design? Perhaps Split's distinctive historic architecture and city must-see attractions?
Maybe the climate with its 2700 annual sunny hours? The bustle and hustle of old Diocletian palace streets?
Sometimes, some less trifling details that make walking through the old parts of Split individually fascinating. Like the smells of baking bread or aroma of 'Pasticada' meal from a typical konoba (tavern) restaurant.
I would say Split hides much more than that. For those visiting Split in a day, walking is the best way to discover the city.
Split walking promenades – Riva & Matejuska
No doubt your day will start and it will probably end up on Riva, a large, spacious promenade in the city center, in front of the everlasting palace, filled with cafes, trees, palms, benches, flowers and people of all ages, locals and tourists.
The Riva waterfront is the Split cult and the most important area of Split.
From early morning until late night here's a thriving life, a parade of young and old citizens, tourist mecca for visitors from all over the world.
Everything happens on Riva, evening concerts of all types of music, from jazz, rock and roll to techno, turning Riva into a huge, disco dancing.
This is the place to be and to be seen. This is the place of many Split events.
Walk along the Riva waterfront to the west, you'll come across to a small cove, known as Matejuska, a meeting place for the local fishermen.
Watch this live cam to see how Riva and Matejuska looks in real time, forming an integral part of Split waterfront.
Spend some time there listening the sounds of the seagulls, watching the sunset.
If you wish to be a part of locals you should spend at least one night at Matejuska.
Sit on the wall and drink a couple of beers  you can buy at a nearby store in company of Split youths. In the morning Matejuska belongs to fishermen, in the evening to everyone.
A Split walking day on Marjan hill
It has always been a favorite place for walking, running, jogging, climbing or riding a bike.  I heartily recommend to take some time to visit this magnificent natural park.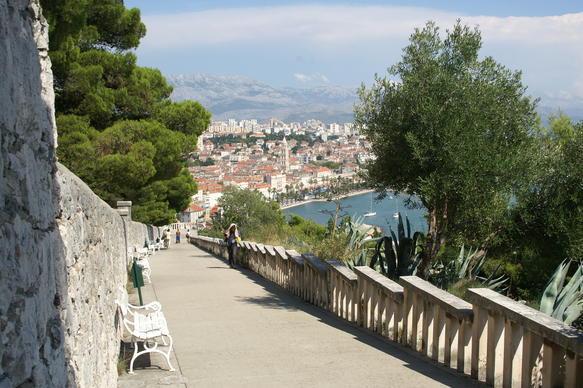 Believe or not as soon you see the signs for 'Marjan hill' just a few streets later, you will find a completely different word.
You have two possibilities to visit Marjan hill walking:
Walk the northern slopes of Marjan park
Walk the southern slopes of Marjan park
The second one is the usual tourist route. It takes only 15 minutes of pleasant walking to reach Marjan from the historical core of Split through the old quarter Varos.
The other way is from the church St.Frane, keep going on the left and follow the Trubiceva Obala street (Matejuska) and at the end you will find a staircase.
Take those stairs uphill and you will end up at the Vidilica (lookout) where you can have a drink in the Café Vidilica and enjoy the great views over the city center.
Marjan hill has several 'vidilica' (lookout points). Each of them offers a breathtaking view of the Split town, islands and mountains.
Throughout Marjan hill you will find roads, trails and paths, so you can reach easily every corner of this park. See the map below: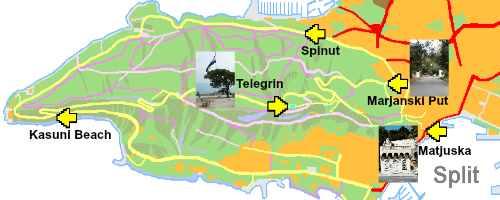 Is there a better end of Split walking day than watching the sun set from high up on a hill overlooking the city and the sea?! Walk and explore Marjan hill all the way up to Telegrin.
Situated on the top of peninsula, it provides the most amazing view of Split as well as its surroundings. And don't forget to bring your camera as these are the moments you'll remember and share.
Walking to Bacvice and Firule beaches
There are not many cities that have so long promenades by the sea as Split does.
Practically you can take a stroll from western point of Marjan peninsula and the Oceanographic institute along the sea all to the eastern beaches like: Bacvice, Ovcice, Firule, Zenta, Trstenik, Duilovo (almost 20 km long).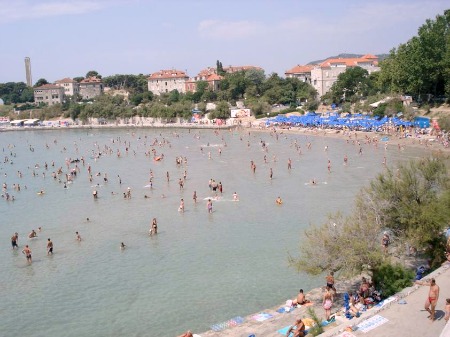 Bacvice today represents a best known promenade for all generations, particularly for those looking for nightlife entertainments as Bacvice has become the favorite center of nightlife.
Because of its fine sand and natural shelter Firule have always been especially interesting for mothers with young children.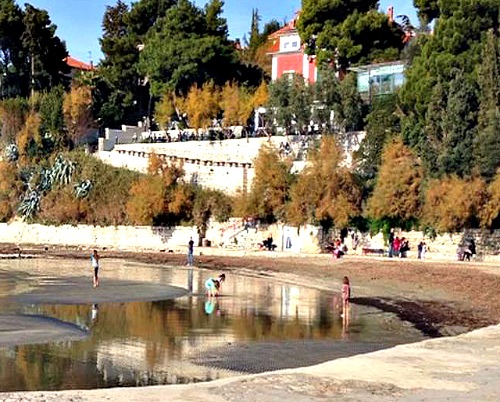 It's also famous as the tennis center where tennis players like Nikola Pilic, Zeljko Franulovic, and Goran Ivanisevic learned their first serves here.
Take a look at my overview of Split beaches here!
Split walking through the history
On either side the historic core of Split you will find two charming neighborhoods with each their personal history to tell. They are known as the oldest suburbs of Split. Here's an excerpt from now a now removed website Croatia Total Split:
Veli Varos (Varos) is located above Trumbiceva obala street just west of Riva, on the southern slopes of Marjan. You can venture into Varos through many winding roads that lead you into this labyrinthine neighborhood. Easy access points include, next to St. Francis church, beyond Prokurative, or via stairs at the western end of Trumbićeva obala.

Radunica is located east of the city across the street from the vegetable market built in a medieval urban style. Radunica was the central street of the Lucac suburb that was settled 500 years ago by the arrivals from the Republic of Poljica, an autonomous community of "peasants" from Omis. Although Radunica is in essence a street name, the whole neighborhood is referred to as such today.
Walking on Split's Marmont street
This pedestrian street that goes from Riva promenade all the way to National Theatre Square is one of the most important shopping streets in the city.
After Napoleon conquered Dalmatia in the 19h century, his general Auguste Marmont, Split's administrator, has introduced some important changes in infrastructural developments of Split by bringing electricity to Split for the first time and creating a more viable street network.
In honor of these improvements, the city gave his name to one of its most visited streets of the city.