Ston Croatia is a small town on Peljesac Peninsula, about 54 km north-west of Dubrovnik. It is about 115 miles from Split on D8 coastal road.
If you are driving to Dubrovnik, only 14 miles (21 km) after the Neum Corridor (Croatia and Bosnia crossing), you have to turn right onto D414 (near Zaton Doli), passing the INA gas station.
You will notice the orange sign, indicating Korcula and Ston direction (see the map below).
I remind all travelers that following D414 road, they can reach Orebic (Peljesac peninsula) to take  a car ferry to Korcula island or a nearby Prapratno bay to reach Mljet island by car ferry (Prapratno – Sobra (Mljet).
Check the Google map to get more accurate info!
The area of Ston is not famous summer resort with luxury hotels for a beach holiday (except a sandy beach in nearby Propratna cove) but it is known as the gourmet paradise.
Whenever I think of Mali Ston, I think of its oysters and personal stories related to them. From archeological traces the waters of Mali Ston bay from ancient times, cultivated oysters and ate in honor of Aphrodite, the goddess of beauty born from shells.
About Ston Croatia
The town was founded in 14th century as part of Dubrovnik Republic territory. The town was then fortified by Dubrovnik Republic with mighty walls, forming an irregular shape of pentagon, with larger towers on the corners of this irregular shape. It took about 200 years to build these walls.
From the north-western corner the walls lead to the top of Pozvizd hil, where they aggregate with Podzvizd Fortress.
The
Ston Wall Marathon
is held annually in September. The event attracts runners from around the world.
Read more…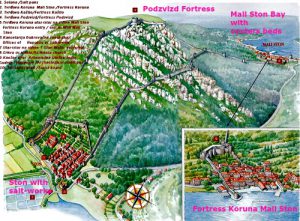 From the north-eastern corner they follow a narrow strip of land with sea to join together with the walls of Mali Ston (Little Stone).
The whole wall is fortified with ten round and thirty rectangular towers. The largest tower is Veliki Kastio and is located on south-west corner of the walls.
Ston Croatia is the larger village than Mali Ston (Little), both connected with this wonderful wall, more than 5 km long, considered the longest fortifications in Europe.
Visiting Mali Ston port, you will notice resemblance to more famous  Dubrovnik old port, with three arsenals.
The Ston is famous for salt works in the near vicinity that produce sea salt for centuries.
The best time to visit Ston is during the annual salt harvest which takes place every July and August. Even today the salt is still harvested by hand.
Salt production has been the most important product since the Middle Ages and the salt-works of Ston are among the oldest and best preserved in Europe.
Mali Ston Croatia (Little Ston)
Distance from Ston and Mali Ston is less than 2 km. Mali Ston is a little fishing village, known for the best seafood in Croatia. Mali Ston bay is famous for oysters (Croatian: Kamenice) and mussel beds.
Mali Ston was founded in 1335 as part of the Republic of Ragusa (Dubrovnik) as  a defensive town, Its purpose was to protect the rich Ragusa, with an impressive arrangement of walls and towers. The most outstanding mark is the fortress of Koruna, rising over the village.
Best seafood restaurants!
RESTORAN BOTA SARE – MALI STON Address: Marina Držića 1, Ston, 20000, Croatia. Phone:+385 20 754 482.
VILA KORUNA Mali Ston, Tel: +385 (0)20 754 999.
RESTAURANT KAPETANOVA KUCA Address: Obala Dr. A. Starcevica Mali Ston, 20230. Phone: +385 20 754 555.
Where to stay?
I have already mentioned that Ston Croatia is not famous tourist destination, but still you can find a lot of private apartments and some hotels.
Find out
all accommodation
offers in this area. One of the best hotel is
Hotel Ostrea
. If you are looking for camping sites, Ston offers six camping sites, for quests who prefer camping in the beautiful untouched nature with clean sea. One of the most popular is
Prapratno camping
.