Catamaran from Split to one of Central Dalmatian islands is the fastest way for foot passengers to reach their vacation destination.
This is an ideal way for day trip from Split to Hvar or Bol or from Korcula to Hvar, as well as to reach Korcula from Split Airport.
If you are arriving from Split airport by regular bus transfer or by taxi, than you will stop at Obala Lazareta where all foot passengers can take a fast catamaran to one of the islands.
See the schedule table on this page. Click to this link to see where is Obala Lazarete in Split port. Find out how to plan your island hoping tour from Split – Vis – Hvar – Korcula – Dubrovnik!
Download catamaran from Split schedules:
Split district map with ferry&catamaran connections:
Jadrolinija Timetable from Split to Bol and Jelsa
High season schedule:
Low season schedule:
One-way catamaran tariffs:
Jadrolinija Catamaran Timetable Split to Hvar via Milna (Brac island)
Running only in High Season:
One-way tariffs:
Jadrolinija Catamaran Split to Korcula and Lastovo island
Low Season Schedule Line 9608:
High Season Schedule Line 9608:
High Season Schedule Split-Hvar-Korcula-Lastovo Line 9604:
Low Season Schedule Split-Hvar-Korcula-Lastovo Line 9604:
One way tariffs:
Catamaran from Split by Kapetan Luka Company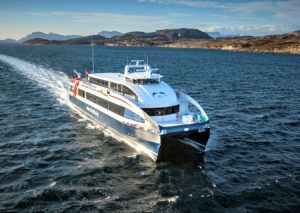 Kapetan Luka / Krilo is a Croatian shipping operator with its head office based in Krilo Jesenice, near Split.
The company was established in 1889 as small cargo ship carrier. Since 1970 it has become a cruising, excursions, and day trip company with high speed catamarans.
Catamaran line Split – Milna (Brac) – Hvar – Korcula – Mljet – Dubrovnik
There is a tourist high speed line Split-Brac (Milna)-Hvar-Korcula-Mljet-Dubrovnik. Booking online available!
Kapetan Luka Catamaran Line 9602 Split – Hvar – Vis – Split
Check all buying points for catamarans, managed by Kapetan Luka company:
Split – Travel Agency Jadrolinija, Riva, Split tel: 021 / 338 216
Hvar – Travel Agency Pelegrini, Riva, Hvar tel: 021 / 742 743
Korcula – Kiosk Marko Polo, Riva, Korcula tel: 098 / 980 36 69
Prigradica – Travel Agency Blato Tours, Prigradica tel: 020 / 815 226
Krilo runs a few catamaran connections that are not available by other ferry companies. It's worth checking their available routes to see if they can easily take you to your desired destination.
Find out how to get to Hvar island by fast catamarans from Split harbor!