To find the best Split city attractions such as the Diocletian's palace with its cathedral and bell tower of St. Domnius, Peristyle square, Procurativa, Split's waterfront and many others, take a look below at Split travel guide's list of everything to see in my home town.
Read more about UNESCO Complex of Split with the Palace of Diocletian.
No matter, if you're here for only couple of hours before embarking your ferry or planning to stay a day or two and want to consider just the top, must-to-see Split's highlights, go straight to my list of the top Split tourist attractions.
To make the most of your time here, check out my recommended places of interest. I have added also Marjan hill as inseparable part of Split attractions.
1. N° 1 Split attractions – Diocletian Palace and Peristyle
Overlooking the Split harbor, the 1700 years old palace is one of the most important architectural heritage of the Roman Empire, where you will spend the most of your time in Split.
2. Cathedral of St.Duje (Saint Domnius)
The symbol of Split town. Sv. Dujam was the first bishop of Salona, and in his honor was erected magnificent cathedral with a bell tower 57 meters high, built in the 13th century. It's one of Split attractions commonly present on local postcards.
If you are in good shape, I recommend that you climb to the top of the bell tower which offers a unique view of the entire city and the central Dalmatian islands.
3. Peristyle Square
In front of the cathedral is the Peristyle square, the most popular among Split attractions, surrounded by columns that is the center of cultural life in Split, where the extraordinary acoustics maintained traditional cultural and musical events of Split Summer Festival.
4. Jupiter's temple
From Peristyle Square take the narrowest street called (Let me pass, please), in Croatian (Pusti me da prodjem) and you'll find yourself below Jupiter's temple.
It was one of the three temples at the Peristyle, where the other two was dedicated to Venus and Cybele. It was built on a raised podium in front of him today is an old Egyptian sphinx.
5. Statue of Grgur Ninski
Do not miss to visit the monument to Gregory of Nin (Grgur Ninski in Croatian), created by the most famous Croatian sculptor Ivan Mestrovic. The statue is an imposing 6 feet tall. It is believed that touching his thumb brings happiness and the realization of desires.
So whether you're superstitious or not, don't miss to touch it and make a wish!
In June 2014 this Mestrovic statue was closed due to renovations. Finally, as it was promised, on March 17th 2015, Split's much-loved statue, a new restored Bishop Gregory of Nin, is back in its full splendor.
It's a good news for all tourists ready to rub the bishop's luck toe. So anyone who is in search for some good luck, Grgur is back again. Happy rubbing!
6. Prokurativa – Republic Square
Republic Square is one of the most beautiful squares in Split. This beautiful Neo Renaissance square decorated by three sides columns while the fourth side is open to the sea. In the summer months are held various cultural and musical events.
This popular spot is one of the Split attractions, that comes alive in the summer with concerts and cultural events. This year Split Festival 2014 will take place from Jul 04 – Jul 07.
Art market

A manifestation under the title Art Market is being held on Split Prokurative (Republic square) on Saturday. The manifestation begins at 9am and lasts till 3pm and it is going to be held throughout the year, each Saturday at the same time and at the same place.

The goal? To include all cultural associations and creative individuals working in the City of Split to enhance the cultural-touristic presentation of the City and the region of Dalmatia with their works. Check all Split's events on this page!
7. Riva – Split waterfront
Riva, a Split waterfront is a iconic place and a favorite meeting point. The best place to see the best of Split and to be seen. Everything is going on here from summer or New Eve celebrations, sport events, protests, strikes.
Riva is completely renovated a few years ago. Cafes on the waterfront is a popular gathering place for young people from Split before a night out on Bacvice or other parts of the city.  Find more about Split nightlife and party beaches!
8. Piazza – People's Square
This centrally located square is one of the most popular piazzas in the city and one of the main Split attractions.
Surrounded by stunning buildings: the Renaissance clock erected on the ruins of a Roman tower, the first town hall and Renaissance palace of aristocratic family Karepic with the exceptional coat of arm on its facade. This is a place of the legendary City Café (Gradska kafana).
9. Poljud Stadium
The city stadium at Poljud, popular among the citizens as "The Beauty of Poljud", built in the form of shell, completely fits into the surrounding. The stadium is the soccer field of the oldest Croatian soccer team "Hajduk".
10. Bacvice beach and Picigin Game
Split's main beach is Bacvice, mostly sandy beach famous for Picigin game, a game played with a small ball in shallow water. It is urban, central city beach, situated few minutes walk south of the railway station.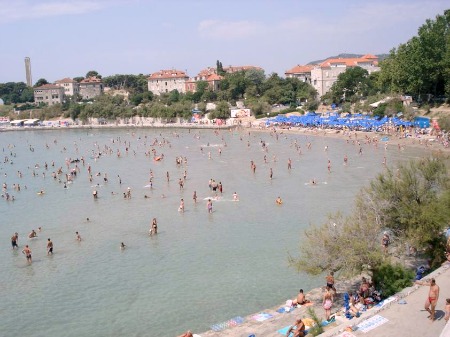 It's the most popular party beach with few restaurants, café bars and nightclubs all lined up and easy to walk to.
11. Split Croatia National Theater
If you are looking for opera, drama, concerts or ballet in Split? Then this theater is the right place, once the biggest theater in southern Europe, the Croatian National Theater in Split.
12. Varos – Old Split's suburb
Varos or Veli (big) Varos is one of the oldest parts of Split. Once it was the old part of the city inhabited only by farmers and fishermen.  It is located west of the city, at the foot of the celebrated Marjan hill.
It's known for its farmers' stone houses, with small and tight streets, a witness of poor and hard life. Don't miss to take a stroll among these streets. You can even reach the top of Marjan hill from there, but you should ask the locals or you might get lost.
Varos is a place of some most famous restaurants like the one I like the most, Hvaranin konoba (tavern).
13. Cindro Palace
Cindro Palace (17th century), the most beautiful Baroque palace in Split, lies on the right of Kresimirova street few steps from the Iron Gate and in vicinity of Narodni Trg (Piaca) square.
The palace Cindro is one of the Split attractions, a typical example of baroque housing architecture in Split.
In palace basement there is spatial atrium, and facade is decomposed by a rows of balcony entrances and balconies with baroque stone fence.
The family Cindro belongs to oldest Split families and they have actively contributed in all wars against Turks.
The interesting fact is that Napoleon's Marshall Marmoset has chosen exactly this palace as his residency during his stay in Split at the beginning of 19th century.
You can even sleep in this palace at Inchy Rooms hostel, a secure,clean and quality accommodation.
14. Split Attractions – Mestrovic Gallery
Ivan Mestrovic, the Croatian Michelangelo is the greatest Croatian sculptor, whose works are visible in every corner of the city. (Grgur Ninski, Marko Marulic) and many others. Find more about this sculptor, painter and writer.
His gallery is an art museum founded in 1952 dedicated to the work of this 20th century sculptor located in the south slopes of Marjan hill. It is one of the prominent Split attractions sights.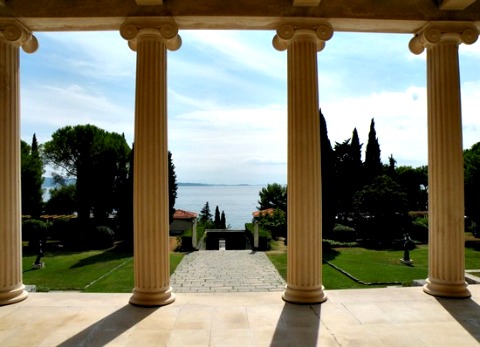 Where: Setaliste Ivana Mestrovica 46, Tel: 385/21/340-800
Opening Hours: Summer (1 May to 30 September): Tuesday to Sunday 9 a.m. to 7 p.m.
Winter (1 October – 30 April): Tuesday to Saturday 9 a.m. to 4 p.m.; Sunday 10 a.m. to 3 p.m.
Closed: Monday, public holiday
Admission fees:
Adults: 30 HRK
Children and students: 15 HRK
Getting there: Buses N° 12, 7 and 8
Professional guided tours organized if booked in advance. Call the number above!
Gallery is close to both Jezinac beach and Zvoncac Beach on the southern side of the Marjan Hill. Reading this Bobby's and Kelly's family blog during their 2013 visit to the gallery, I recommend this place for families with kids. Read about all Split beaches!
15. Split attractions – Vocni Trg (Fruit Square)
Walking from Pjaca Square to Riva promenade following narrow Split streets you'll come across of the small square, officially called 'Rodic Square' but locally known as Fruit Square (Vocni Trg).
Today there are no signs of fruit stands but the name is still commonly used by local people.
On the west side of the square rises, the octagonal tower, built by the Venetians who feared the local revolts and the Turkish raids.
On the opposite side of the tower there is a spectacular palace Milesi with a fascinating Baroque facade the witnesses of the traditional Dalmatian architecture.
In front of the palace stands the statue of Marko Marulic, father of the Croatian literature from the 15th century, carved in bronze by the hand of Ivan Mestrovic, the greatest Croatian sculptor.
16. Split Attractions – Four Gates of Diocletian's Palace
Visiting Split, your first target will be Diocletian's palace, which can be entered through four gates, all named after four different metals.
Bronze gate
Golden gate
Silver gate
Iron gate
The most Split attractions are concentrate among palace's walls and knowing these gates will help you explore the old town by walking.
On the south of the Palace, usual starting point will be the bronze or brass gate, you can enter from the Riva, Split promenade.  Even it's a small and narrow door to the palace ground floor, in the past it was a direct exit to the sea and safe escape in the case of an attack on the place.
This gate connects the palace cellars (podrumi) to the Peristyle, Palace's main square.
To the north of the palace, Golden Gate was a main exit from the palace, connecting palace to Salona. Today Ivan Mestrovic's statue of Bishop Grgur is just in front of this gate. It has a guardhouse that contains the 9th-century Church of St. Martin.
Iron Gate (Porta Ferrea)is the western entrance to the palace.  Above the door was built the church of Our Lady of the belfry, whose bell tower from the 11th century is the oldest preserved bell tower on the Adriatic coast.
In the Middle Ages this gate was called "free port" because it was the only one that was not closed when the city expanded westward. Iron Gate leads to Pjaca (People's Square), which is a favorite meting place of the locals and tourists.
Silver Gate (Porta argentea) is the eastern entrance to the palace. It's the most crowded entrance to the palace, connected with Split green market 'Pazar' and numerous stalls of all kinds of goods.
The Silver Gate leads directly to Decumanus, the original east-west street that leads to People's Square.
17. Froggyland – The Best Children Split Attraction
This unusual place is more appropriate to be classified as a museum but as kids and parents will be delighted to visit it, I've decided to place it among top Split attractions.
If you want to see something different in Split, probably this small museum is really unusual place. I'm sure most of you have visited many aquariums around the world but never a Froggyland.
I'm sure you won't be able to imagine seeing a frog doing things in everyday life situations.
The collection consists of 507 stuffed frogs of a common European frog species. It's so amusing to see hundreds of stuffed frogs positioned in "human" poses.
Address
: Kralja Tomislava street 5, Split, Croatia. Find it
on the map
!
The collection is made by Ferenc Mere, an eccentric to whom people were not that different from frogs. The collection was created in the period between 1910 and 1920. You can read more about it visiting museum's website.
Museum displays frogs through the everyday people professions like blacksmith, carpenter, tailor, school master, circus and numerous life scene.
This small museum, just one big room with some steps going to the higher level is a unique museum but certainly worth visiting (family with kids won't  be disappointed).  Entrance is free for kids and adults pay 25 kuna. The opening hours are from 10,00 to 22,00.
18. Marjan hill attractions
Marjan hill is an irresistible part of Split city. This wooded hill dominating the city center and waterfront promenade, deserves to be visited.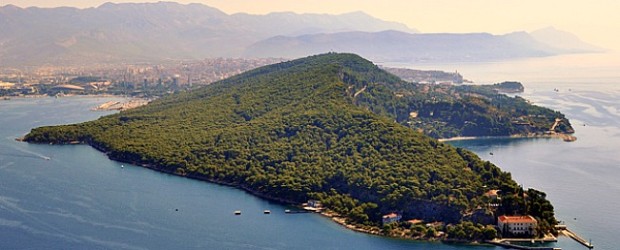 To see all Marjan hill attractions, one day waking tour will be an unforgettable adventure. This relatively small geographical area (length of 3.5 km and a width of 1 to 1.5 km), is important both in terms of diversity of plant species as well as for its cultural monuments.
Nicknamed, the lungs of the city, is the only place where you can find, little refreshment during hot summer days. Take my advice and after all Split attractions, Marjan hill will be relaxing experience.
Marjan Hill Churches
Marjan hill hides several important churches you can easily visit on on day tour of the hill.
Where to eat and drink?