It might be strange that Marjan hill is not on my top Split attractions list. The reason is very simple. This famous hill deserves a special place in the life of this city. It's a symbol of Split.
I still remember the old and for many Split's inhabitants detested ex Yugoslav flag that flew over the city. Finally a new Croatian flag proudly stands on the highest peak of Split hill.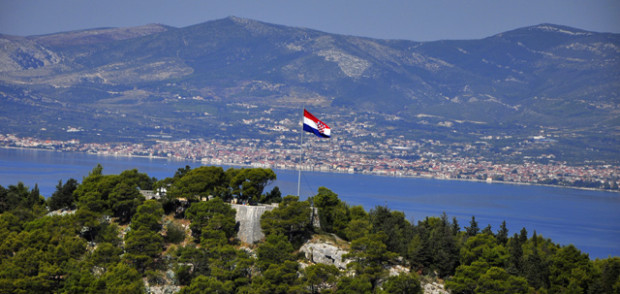 Every time you want to take a break from the hectic lifestyle of the city is enough to take a little walk and head towards Marjan.
Marjan is an integral part of the city center that extends from the Marmont Street and continues to the west. It's long over 3 km. In 1964 it was declared a park and since then is considered a protected part of Split.
This hills and its  forests are the lungs of the city, the most popular place to escape from the city bustling and chaotic pace of life during the high season in July and August.
Marjan Hill Activities
It has always been a favorite place for walking, running, jogging, climbing or riding a bike.  I heartily recommend to take some time to visit this magnificent natural park. Believe or not as soon you see the signs for 'Marjan hill' just a few streets later, you will find a completely different world.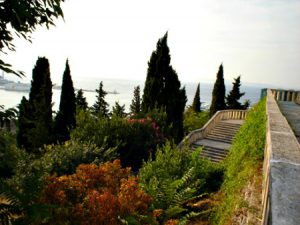 The highest peak called Telegrin, which name derives from Napoleonic era where here it was a telegraph station, is 178 meters high with 314 steps to reach the highest point.
Actually it  is a short five minute walk to the beginning of the trail but it can take you hours to explore all of the hidden corners of the park.
You will be surprised to see dozens and dozens of park benches, scattered in different places  with only  target, to enjoy the best  view on the city.
You can hardly find  better sight of Split's harbor and old city.
Marjan hiking trails
The best way to enjoy this natural oasis in Split is hiking. Below you can try this hill trail map. It will take you two hours and half for this trail of moderate difficulty.
If you prefer to do it by bicycle you can rent a quality mountain bike and do the same trail with or without a guide. Contact this rent agency in Split for more info!
Marjan park will be for every visitor the only relaxation place after the vibrant and crowded Split center. It's a perfect place to emerge to perfect combination of pristine nature and cultural heritage like the Museum of Croatian Archaeological Monuments and Mestrovic Gallery.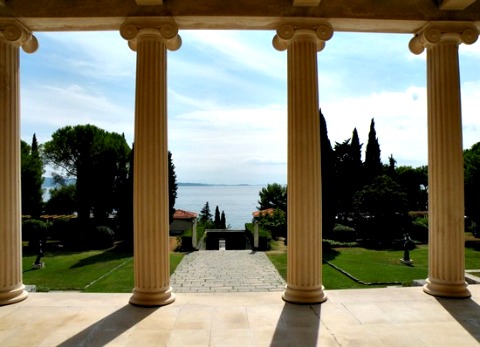 This urban district is proud of some famous residents, first of all of the greatest Croatian sculptor, Ivan Mestrovic, who had built the palace where his family lived for over 10 years before they moved to Zagreb.
The palace today is dedicated to the famous sculptor, and it contains the Ivan Mestrovic Gallery, as part of the Museum of Ivan Mestrovic.
Meje Split neighborhood
When you ask locals what is Split's elite district the answer will be, Meje neighborhood. Marjan park makes the part of this district which boasts a long coastline, with three sides surrounded by the sea shore.
This Split area is rich with a variety of beaches that are situated on the south side of Marjan peninsula.
Bene, a stone beach on the south side of Marjan. Accessible by public transport (car only with a special pass). There are showers and changing rooms. It's one of the most popular Split beaches in this part of the city.
Jezinac a pebble beach, with concrete and roofed over. There are showers and changing rooms. Bar, restaurant and kiosk nearby.
Kasjuni, a stone and gravel beache on the south side. Car access possible.
Kastelet, a pebble beach on the south side. Car access possible. There are showers and changing rooms. Restaurants nearby.
Zvoncac, a pebble beach on the south side of Marjan, is the nearest to the city town.
You can use Zvoncac-Bene-Zvoncac bus line number 12 urban public transport. On my Split city map you can find more info on how to move around Split using local public transportation net.