Italy and Croatia are connected by multiple ferry lines. When looking for Italy to Croatia ferries you may come across several different companies, several of which are connecting the same departure and destination ports.
Italy to Croatia ferry lines include the following routes:
Quick reminder: ferries are for vehicles and passengers, while catamarans only take passengers.
Not all of these connections are available through the entire year. Most ferry lines are running in July and August, which is the height of Croatian tourist season.
Below we'll take a look at these ferry connections to provide a more detailed overview of all routes. You can also read more about ferry companies running connections between Croatia and Italy, and learn how to easily book ferries and search availability and pricing.
Note: any prices listed are average, per adult person, one-way, and always subject to change.
Ancona to Split ferries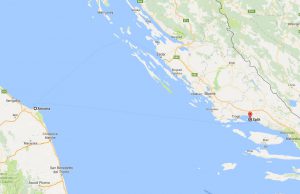 I have a dedicated article for Italy to Split ferries, so you can go ahead and read it for more information about this route.
You can get from Ancona to Split during the whole year, with up 6 weekly departures in high season. Average prices are from €190 to €250 depending on when you travel.
Sailing duration from Split to Ancona and vice versa is 9 hours. If you want to travel directly to Split by ferry your only choice is from Ancona, which is located about 280 km (174 miles) northeast of Rome.
Two companies are running this route, Jadrolinija and SNAV. You can view current departure schedules on these links provided.
Ancona to Stari Grad ferries
Stari Grad is located on Hvar Island, and both SNAV and Jadrolinija run one ferry per week. Your trip to Hvar from Ancona will last 9 hours with SNAV, or 14 hours with Jadrolinija.
From Ancona to Stari Grad you can only travel in July and August. Jadrolinija will take you for €382 in July and €363 in August, while SNAV is considerably cheaper costing €264 in July and €280 in August.
Hvar Island is considered one of the most expensive destinations in Croatia, and ferry prices definitely reflect it.
Ancona to Zadar ferries
Ancona to Zadar ferry line is only run by Jadrolinija. There are departures every day of the week, and getting to Zadar from Ancona will take 6 hours.
Ancona and Zadar are only connected in June, July, August and September, and you can't travel between these two cities in other months.
Prices are €242 in June, €303 in July, €306 in August, and €273 in September.
Zadar to Venice 10-day Cruise
10 day tour package with stops in fantastic destinations all along the Adriatic coast. Start in Zadar and explore the culture and history with an expert guide while you make your way to Venice, Italy.
Bari to Dubrovnik ferries
Bari and Dubrovnik are only connecting each other via ferries. If you plan to travel from Italy to Dubrovnik then Bari is your only option.
This route's average price is from €233 to €320, depending on which month you travel. July and August are of course the most expensive, and April is cheapest.
Bari to Dubrovnik ferry does not run from November to March. Trip to Dubrovnik from Bari lasts about 10 hours, and there are 4 weekly trips in July and 5 in August.
You can view the current schedule on Jadrolinija's website here!
Venice to Croatia ferries
Venezia Lines and Atlas Kompas are the two companies with routes from Venice to Croatia, available from June to September. From Venice port you can depart for Pula, Poreč, Rabac, Rovinj, or Umag.
Venice to Pula ferry lasts just over 3 hours, and there are four weekly sailings available from June to September. Prices are around €124 in June, €145 in July, €108 in August, and €78 in September.
Atlas runs three weekly sailings, and VeneziaLines four. Overall Atlas Kompas is slightly cheaper than Venezia Lines.
Venice to Porec ferry runs 5 times per week by Atlas Kompas, and every day of the week by Venezia Lines. Trip lasts 3 hours, and is available from April to October by both companies.
Prices range from €64 in October to €156 in July, with Atlas Kompas once again being only slightly less expensive.
Venice to Rabac ferry is only run by Venezia Lines. Trip to Rabac from Venice lasts 4 hours and is available once per week on Thursdays from July to September. Prices are from €84 to €95.
Venice to Rovinj ferries are available 3 times per week by Atlas Kompas, and every day by Venezia Lines. Trip to Rovinj from Venice lasts around 3.5 hours, and are available from April to October from €70 in low season to €150 in high.
Venice to Umag is also available by both companies, and each has only one weekly departure. Atlas Kompas runs catamarans from June to September with prices from €70 in these months, and €112 and €202 in July and August respectively.
Venezia Lines can get you to Umag from Venice only in July for €74 and August for €122. Trip duration for both ferry companies is just under three hours.
You can read more about Venice to Croatia ferry routes here, or find current timetables on VeneziaLines' website here, or Atlas Kompas here.
Venice to Croatia Cruises
You know what they say: it's the journey, not the destination. But why not both?
Consider taking a longer sailing trip and visit many different destinations all along the Adriatic Coast. You can book a group or private sailing tour from Venice to Split or Dubrovnik and explore the best of our coast.
Find out more:
Trieste to Croatia ferries
Trieste to Croatia ferry connections are available exclusively through Trieste Lines company. You can travel to Croatian cities Pula, Porec and Rovinj from Trieste, but these ferry routes are only run in July, August and September.
Trieste to Porec runs four times per week and only takes 1 hour. This catamaran route is available in July for €40, August for €42, and September for €27.
Trieste to Pula trip duration is around 2h 45m, with prices going from €45 in September, €57 in August, and €67 in July. Only two sailings per week are available.
Last route is from Trieste to Rovinj with up to 6 weekly trips lasting an average of 1 hour and 50 minutes. Prices are around €49 in July, €43 in August and €30 in September.
Pescara to Stari Grad ferry
Run only by SNAV, it will take you 5 hours to get from Pescara to Stari Grad on Hvar island.
Five weekly departures are available in July for €145, August for €138, and September for €69.
Pescara to Hvar ferry
Pescara to Hvar town also runs five times each week. Hvar town is located on the western part of Hvar island, and this route is convenient if you want to shorten your trip as much as possible.
Getting to Hvar from Pescara will take 5 hours and 30 minutes, and you can travel in July for €122, August for €134, and September for €96. Pescara to Hvar town route is not available in other months, and the only company running this connection is SNAV.
Cesenatico to Croatia ferries
Cesenatico to Croatia ferries have different weekly schedules and trip duration, depending on your destination. You can travel from Cesenatico to Rovinj, Mali Lošinj and Rab, and the only company running these catamaran connections is Gomo Viaggi.
If you plan to travel from Cesenatico to Croatia note that you can only do it via this company, and only in June, July, August and September.
Cesenatico to Rovinj has two trips per week, lasting 3 hours and 30 minutes. Prices are from €60 and go up to €110.
Cesenatico to Mali Losinj takes 4 hours, with 3 weekly sailings to choose from. Prices are around €90 in high season.
Lastly Cesenatico to Rab island has one weekly sail which lasts 7 hours and 15 minutes. Prices go for €80 – €100, and trips are available in June, July, August and early September.
You can visit Gomo Viaggi website here, but note it's in Italian and they don't appear to have an English version. If you can't make heads or tails of it I suggest checking dates through my partners below.
Pesaro to Croatia ferries
Pesaro to Croatia connections are also run only by Gomo Viaggi company. You can travel from Pesaro to Mali Lošinj, Rab and Novalja.
Pesaro to Mali Losinj has three weekly connections, and the trip will last 3h 30 min. It's available from early June to early September, priced at €70 to €90.
Pesaro to Rab catamaran runs twice per week and lasts 5 hours and 45 minutes. Getting to Rab island from Pesaro will cost you €80 in June, and €90 – €100 in July, August or September.
Pesaro to Novalja ferry is only available once a week, with trip duration of 5 hours and 45 minutes. This catamaran connection is available in July, August and September and costs €90 to €100.
Book Italy to Croatia ferries
To get current schedules and pricing you're welcome to visit websites of each ferry company you want to travel with, or alternatively for your convenience you can use the search form below provided by my trusted partner.
Along with available routes you can also use it to check current prices and book your ferry tickets online in advance, which I highly recommend especially if you're traveling in high season periods.
In case you come across any Italian language, here's a few tips to help you understand it:
Prenota il tou tragetto – Book your ferry
Andata – Departure date
Ritorno – Return trip date
Tratta – Route
Cerca – Select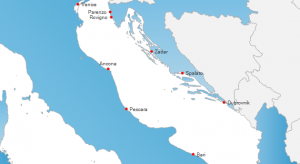 Since international ferries to Croatia are only available from Italy, many websites or other resources may show you destination names in Italian language.
Here's a list of Croatian port names from Italian to English/Croatian:
Venice – Lussino (Venice to Losinj island)
Venice – Paranzio (Porec)
Venice – Pola (Pula)
Venice – Rovigno (Rovinj)
Spalato – Split
Zara – Zadar
Fiume – Rijeka
Korkula – Korcula
Italy to Croatia Ferry Companies
There are several shipping companies that keep Italy to Croatia ferry and catamaran connections.
Jadrolinija (Croatian company) has three main international routes, daily route Ancona – Zadar – Ancona and Ancona – Stari Grad – Split – Ancona and once a week connection between Bari and Dubrovnik.
Blue Line International used to operate daily overnight service between Ancona and Split and ferries from Pescara to Stari Grad (Hvar island). They are no longer in business since 2017.
SNAV – runs several routes between Italy and Croatia and connects Italy to popular Hvar island. Prices and schedule information are available from April through September.
Venezia Lines – keeps seasonal services Croatia connections between Venice and cities in Istria region like Rovinj, Pula, Porec and Mali Losinj island. From April to September, schedule and fares with online booking are available on the ferry search widget above.
Gomo Viaggi – Italian company running connections from Cesenatico and Pesaro in Italy to Rovinj, Mali Losinj, Rab, and Novalja in Croatia.
Atlas Kompas – large tour agency in Croatia operating similar catamaran connections like Venezia Lines.
Official websites: Jadrolinija, SNAV, Venezia Lines, Gomo Viaggi, Atlas Kompas.
Please note that while I do my very best to keep prices and schedules updated, official websites of these ferry companies are always the best places to find current and up to date information.
Traveling to Croatia from Italy doesn't have to be complicated, so to save time for additional research you can search for tickets and timetables through search forms provided above. Hope it helps!