I am convinced after you visit Korcula island, you will be wowed by its beauty and pristine nature. After the island of Hvar, this island is my favorite destination.
It is not trendy as Hvar or Dubrovnik, but it is certainly reasonably priced island of the South Adriatic.
You'll really find this island charming, without the crowds, quiet and delightful.
It is definitely more convenient for families with children and seniors, more quite,  with beautiful beaches and far from excessive trendiness of Hvar or Dubrovnik.
Two islands Hvar and Korcula have completely different feeling. While Hvar, particularly the town of Hvar, has a sophisticated and fashionable sense, the island of Korcula is a perfect place for couples seeking perfect romantic getaway.
It is the greenest island in the Adriatic, called by the Romans (Korkyra Negra) for its coniferous forest, or called Korkyra Melaina by ancient Greeks during the colonization of the island.
Korcula Island Map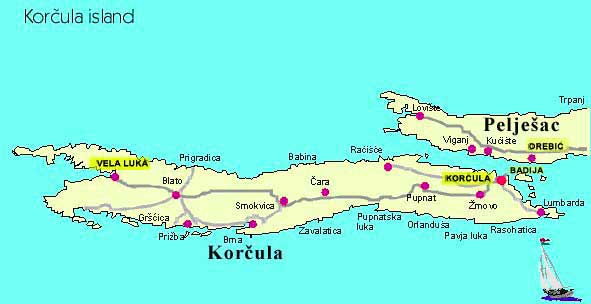 Korcula is the sixth largest island along the Croatian Adriatic coast. It is nearly 30 miles (47 kilometers) long and from  3 to 5 miles (5 to 8 km) wide.  Looking on the map bellow, the island is separated from the Peljesac peninsula by a narrow channel, Korcula channel.
Due to the thick forest that covers almost the entire island, this island by the Greek setters was called the Korkyra Melaina (Black Korcula).
The island has a large number of bays and coves. Its northern coast is rather low and easily accessible with several natural ports protected from the south and east wind like, Korcula, Banja, Racisce, Vrbovica, Babina, Prigradica.
The south shore is more indented but very steep, where in some places there are cliffs rising up to 30 m above the sea.
There are plenty of anchorages and bays in the southern coast,  sheltered from the north wind, like  Zavalatica, Rasohatica, Orlandusa, Pavja Luka, Pupnatska Luka, Prizba, Grscica.
The largest, and the best protected bay is Vela Luka on the westernmost part of the island.
The most important settlements on the island from east to west, are  Korcula (the capital), Lumbarda and Vela Luka on the western side.
In the middle of the island, Blato is the oldest settlement on the island. One of the attractions of Blato, is 1 km long avenue along the main road (Lime Alley), the second longest avenue of lime in Europe.
Getting To Korcula Island
Seaplane from Split
European Coastal Airlines (ECA; Wikipedia) started running domestic seaplane flights in Croatia in 2014. ECA had plans to connect Split and Korcula, and many other cities and islands. Unfortunately in 2016 Croatian Civil Aviation Agency suspended their license due to supposed safety concerns.
How to travel between Split and Korcula?
There are several ways to travel between Split and Korcula, either you are driving or using public transportation.  The most common way is by sea, either by car and passengers ferry or catamaran (only foot passengers).
Catamaran
Jadrolinija shipping company keeps daily catamaran between Split and Korcula Town (stops at Prigradica in summer season – see the map) for foot passengers only.
There are two catamarans to the island of Korcula running throughout the year:
Number 9604 Split – Hvar – Vela Luka (Korcula) – Ubli (Lastovo)
Number 9608 Split – Hvar  – Korcula town
Above schedules are referring to winter timetable. More connections are available in summer.
Another private company Krilo runs between Split to Korcula, only during the high season. Sailing schedules can change, especially during holiday periods, so it is advisable to check before departure.
This line runs in high season, starting from 04.05.2015. there is a new tourist high speed line Split-Brac (Milna)-Hvar-Korcula-Mljet-Dubrovnik. Booking online available!
These are Krilo's current connections to and from Korcula. You can click each link to check schedules:
See more about ferry travel on our Split ferry port guide, where you can also see where Obala Lazarete is in Split port. Find out how to plan your island hoping tour from Split – Vis – Hvar – Korcula – Dubrovnik!
Daily Car Ferry
Car ferry number 604 Split – Vele Luka (Korcula) – Ubli (Lastovo) runs throughout the year with different timetables, depending of the season. You can notice that Jadrolinija keeps this line only to Vela Luka port and not to Korcula town.
Coastal Car Ferry between Split and Korcula Town has been suspended in 2015. This seasonal line used to run twice a week from Rijeka to Split, Stari Grad (Hvar), Korcula town and Dubrovnik. For more info visit how to travel from Split to Dubrovnik.
More Ferries To Korcula Island
During the high season between 17 June to 11 September you can reach Korcula town by taking a car ferry between Drvenik and Korcula (Domince). Drvenik is less than a two hour drive from Split, located roughly halfway between Split and Dubrovnik. It makes part of Makarska Riviera.
It takes approximately 2 hours and 15 minutes from Drvenik to Domince port on Korcula island, which is about 3 km from Korcula town.
Drvenik to Domince (Korcula) (15.07 – 28.08)     Every Day Departs 7:30, 13:30 and 19:15.
Drvenik to Domince (Korcula) (17.06 – 14.07 and 29.08 – 11.09)     Every Day Departs 08:30 and 17:30.
Domince (Korcula) to Drvenik (17.07 – 28.08)     Every Days Departs 04:30, 10:30 and 16:30.
Domince (Korcula) to Drvenik (17.06 – 14.07 and 29.08 – 11.09)     Every Day Departs 05:15 and 14:30.
Sailing schedules can change so it is advisable to check before departure. Further details can be found on the LNP website.
Ferries From Orebic (Peljesac peninsula) To Korcula Island
This 20 minutes car ferry connects daily, Orebic (Peljesac peninsula) to Korcula town (Domince port). This ferry is suitable for all visitors traveling by car crossing  peninsula via Ston and Mali Ston, following road D 414 to Orebic. See the map bellow!
To use this ferry connection, there is another possibility to reach Orebic, shortening the ride by car and taking ferry from Ploce to Trpanj, line 633. This 60 minutes crossing will save you almost 120 km. From Trpanj to Orebic is only 20 km.
Getting to Korcula island by bus
Traveling by bus to island of Korcula is the cheapest way but certainly time-consuming. It isn't a distance that makes traveling rather long, but much time is lost, crossing so called 'Neum Corridor' and ferry crossing from Orebic to Korcula.
Here are some bus connections from main Croatian cities to Korcula island:
From Dubrovnik: It leaves daily from Dubrovnik's main bus station at 03 PM and arrives in Korcula town at 06,30 PM. The bus ticket from Dubrovnik to Korcula Town cost 100 Kuna. Main bus station is located in Gruz Port in Dubrovnik, about 3 km from the Old Dubrovnik Town.
From Split: every day at 01 AM (one o'clock after midnight) and arrives in Korcula 6.30 am. Bus leaves from the main bus station, right next to city harbor and railway station. The ticket price is about 150 Kuna, one way. The same bus also proceeds to Vela Luka town.  Check the timetable on their website!
From Zagreb: at 7.30 PM (every day – via Zadar, Knin, Split, Makarska, Ston, Orebic) and arrivals in Korcula town next morning at 6.30 AM. The ticket costs about 240 Kuna. This bus also continues to Vela Luka. Find out more info on Zagreb Main Bus Station!
How to travel between Dubrovnik to Korcula island?
Many would expect that Dubrovnik has better connections with the island of Korcula, but in reality not so. In fact, during the lower season (November – April), Dubrovnik has no ferry or catamaran connections, at all.
Car ferry from Dubrovnik to Korcula island
The only possibility to travel by car ferry directly from Dubrovnik to Korcula is a Jadrolinija Coastal Line. The only disadvantage is that this connection runs only from 30 May to September 28 and only twice a week.
It makes a stop at Sobra on Mljet Island before arriving in Korcula Town. The journey takes 3.5 hours. A ticket costs 92 Kuna (prices 2014) per person for foot passengers. Detailed pricing and on-line booking is available at the Jadrolinija website.
This line is convenient in case you are traveling from Italy, from Bari to Dubrovnik, as you can combine to get connection to Korcula, if this island is your destination.
Another option is driving by car along the Peljesac peninsula from Dubrovnik to Orebic and then taking the car and passenger ferry from Orebic to Domince (Korcula).
Catamarans from Dubrovnik to Korcula island
The catamaran 'Nona Ana' connects Dubrovnik with Korcula Town four times a week during July and August only. This ferry do not sail to Korcula for the rest of the year.
The catamaran leaves Dubrovnik every Monday, Tuesday, Thursday and Saturday, at 08:00 or 09:15, arriving in Korcula town at 10:45 or 11:50.
On its way it stops in Sobra and Polace on Mljet Island. The journey takes 2.5 hours and the price of a ticket is 55 kuna. Check catamaran Nona Ann Dubrovnik to Korcula timetable.
Another catamaran keeps connections on Tuesday/Thursday between Dubrovnik and Korcula Town. Even this catamaran 'Krilo Jet' sails only in high season.
Dubrovnik to Korcula (May 15 to October 18) –  Tuesday/Thursday Departs 16:30, Arrives 18:25
Korcula to Dubrovnik (May 15 to October 18) – Tuesday/Thursday Departs 10:20, Arrives 12:00
It is advisable to check the timetable before departure. Further information can be found on the Krilo website.
Dubrovnik to Korcula By Bus
In the peak season there is a bus connection from Dubrovnik to Korcula, running daily from Dubrovnik bus station. It takes approximately 3 to 3 and half hours.
You can check timetables on the Autotrans website as the timetable, varies from period of lower and higher season.
Find Dubrovnik - Korcula bus schedules
DubrovnikKorculaView schedule
What is the weather like on Korcula island?
The island has less sunshine hours than Hvar island, but still enough to describe its weather as a typical Mediterranean, hot summers and mild winters.
July and August are by the hottest months on Korcula and sometimes with peak temperature up to  40ºC. If you're looking for a beach holiday, these two months are the months for you.
June and September are the best months for those who want to save as the prices are 30 % lower. You can still get the enough sun to swim or to enjoy more outdoor activities.
During two main Spring months, April & May or the Autumn months of October & November, you can still enjoy sunny weather but sometimes more rainy and slightly cooler. These are the perfect months for people who like outdoor activities such as walking, hiking and cycling.
In the Spring the weather begins to warm up, with an average temperature of 13°C in March, 17°C in April and a pleasant 22°C in May. Autumn remains fairly warm with an average high temperature of 24°C in September, 20°C in October and 15°C in November.
November is the wettest month with 13 rainy days with average precipitations of 134 mm.
Winter on Korcula island can be quite chilly with an average low temperature of 8°C in December and 7°C in January and February. The average temperature for the Winter months are 11°C in December and a cool 10°C in January and February.
The best period to visit Korcula?
It would not be fair not to emphasize that Korcula island offers something throughout the year. When to visit to Korcula is your personal choice that usually depends on cost considerations, work or family obligations.
Let's begin with high season. July and August, the period when all the restaurants, hotels, bars & shops are open and all kinds of events are taking place in every town and village. This is a period of tourist crowds when the accommodation prices are at the highest.
Mid season is June and September. Most of the restaurants, bars & shops are open and prices for accommodation are more reasonable. The event calendar for the island is quite poor and limited.
Not many will decide to visit the island in low season, April & May and October. This is a period of some important events to enjoy or to take part, such as Easter and the Marco Polo Triathlon and when the the island wakes up or like in October, the crowds of tourists subside.
In this season, the accommodation offers are the most appealing.
Korcula Island Video