Brač island (pronounced Braach) is the highest island on Adriatic coast and the closest to Split county mainland.
The distance between the mainland and the island ranges from 12 km (less than 7 nautical miles) directly to Split, to 6 km (little more than 3 NM) from Dugi Rat village (20 km south of Split), separated by Brac channel.
To help you determine where's the island, this Google map will certainly be helpful. Click the link to enlarge it and see all island settlements.
Regardless of the island's vicinity to Split, Brac has never become a fancy destination like nearby Hvar or Korcula islands.
Brac Island's ports may not be crowded with famous celebrities or yachts of politicians or oligarchs, but instead visitors can come here to experience genuine island's life.
To know more about this island, visit my related pages: how to get to the island, all about island's beaches, how to rent an apartment. When you're done you should also learn more about Bol town!
Get to Brac island:
By clicking the links you can find more travel options including getting to Brac from Korcula, Hvar, Mljet, Dubrovnik, Makarska.
Brac Island Climate
Island of Brac has almost identical climate like Split town, but it is a rather dry island. You won't find the lush Mediterranean vegetation like on Hvar and Korcula islands.
Generally the main characteristics of island climate are mild and rainy winters, with dry and warm summers.
The north parts are exposed in winter to the cold blows of the "bura" from the mainland, especially from Biokovo Mountain.
Island of Brac has less hours of sunshine than Hvar island but you can count on an average of 134 days of clear sky and 2600 hours of sunshine.
Average air temperatures on Brac island in °C
Jan
Feb
Mar
Apr
May
Jun
Jul
Aug
Sep
Oct
Nov
Dec
8,7
9,5
11,0
14,4
18,0
22,1
24,7
24,4
17,4
17,4
13,4
10,0
Brac Island: What To See?
Upon arriving on the island there are some popular destinations you should visit. If you are arriving by ferry boat the first town will be Supetar, the island capital. On the southern part of the island, town Bol with its famous worldwide Zlatni Rat beach is a must place to be visited.
On the northern side of the island, not far from the island capital, a small tranquil village Splitska will be an ideal getaway for those looking for peaceful spot with some beautiful beaches.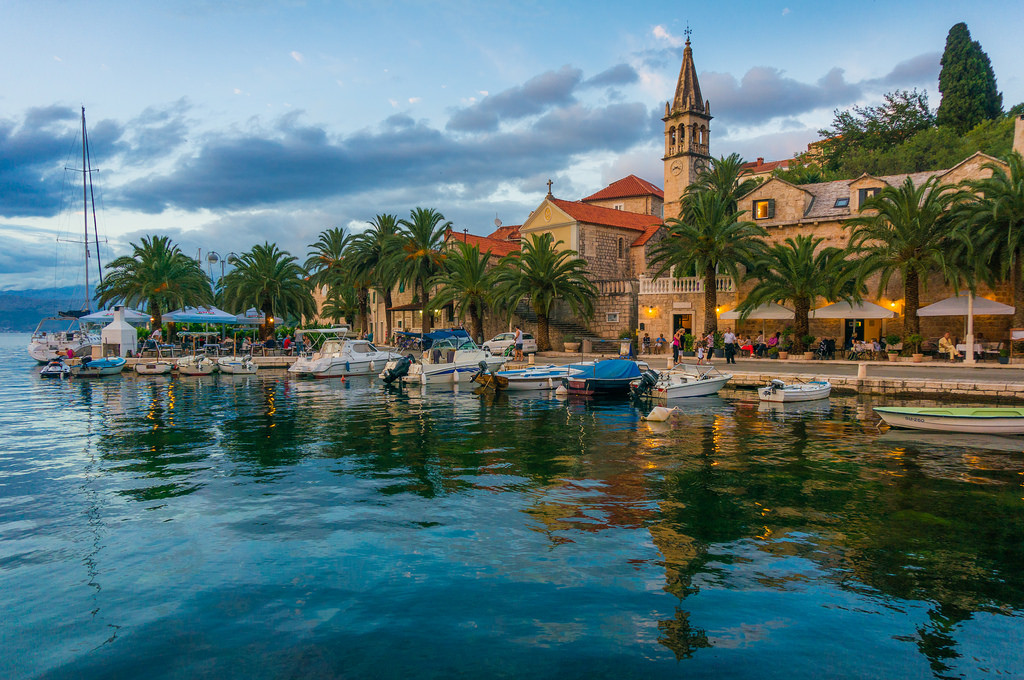 On the west coast of the island facing the nearby Solta island in the deep bay, a small fisherman village Milna is nested, offering some beautiful sandy and pebble beaches scattered on both side of the bay.
On the northern coast of the island there is a small village Pucisca, a famous center of the stone cutter tradition with three large quarries nearby. From these quarries originate the stones which whiteness and quality has made part of many famous buildings around the world.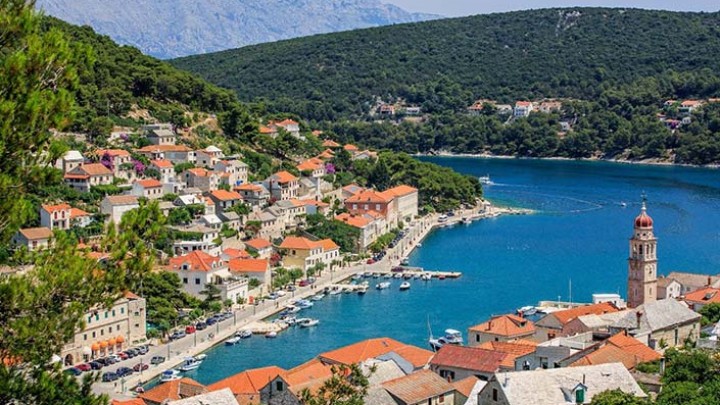 Buildings from Diocletian Palace, White House in Washington, Parliament in Vienna, some parts of Parliament in Budapest, Regent's palace in Trieste and many others are made from this stone.
The tradition of old stone masonry skill is continued at the Stone Mason School in Pucisca, which is quite a unique school for this part of Europe. The school is opened for the visitors but only in school period from September to May.
Brac Island Stone Story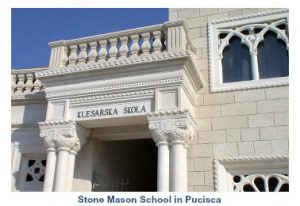 The splendor of Brac island's white stone has for centuries enriched some of the world famous building like the nearby Diocletian palace, a masterful Cathedral in Sibenik, and believe it or not White House of the President of the United States.
This white stone of Brac is one of the symbols of the island, and much of the island is made of stone. People of Brac settled on stone and fell in love with it. The stone on Brac became their roof and table, wall and floor, or sacral decoration.
The stone was cultivated by generations for centuries. It became the symbol of human persistence and skill, symbolizing the firmness and steadiness of the men of Brac in their struggle for survival on this rocky and poor island.
Why Should You Visit Brac Island?
It's definitely a more cheaper island, and it's still pristine with fascinating history as it has been inhabited since Neolithic times. It's easily reachable even as an attractive destination of a day trip from Split.
Brac Island Exploration Tour
Hop on a catamaran in Split and discover the beauty of Brac island on this fantastic day trip. See Vidova Gora, Golden Horn beach, Supetar, and many hidden bays, villages, vineyards and more.
Hospitality and simplicity of the local people will be the trilling experience of any visitor. Don't worry about the language barrier, because most (and especially young people) speak good English, German and Italian.
What To Do On Brac Island?
This unique island with its untouched nature and rich cultural and historic heritage offers different things to do to stay active and experience something new.
Here are some of most popular activities to do when planning your holidays on the island!
Windsurfing
Windsurfing – If you wish active holidays full of sports, recreation and the company of young people, come to Bol, island of Brac.
Bol is an internationally famous surfers destination and generally the most beautiful place to go surfing on the Adriatic. You can contact Big Blue Sport in Bol to get more info!
Kite Boarding
Kite Boarding – Yellow Cat kite-boarding center is situated on one of the most beautiful location on the Adriatic, near Golden Gate (Zlatni rat beach).
Ideal weather conditions (steady wind all day throughout the season – Mistral 15 – 25 knots) on a large and safe beach dedicated only for this sport is the optimal starting point.
Sea Kayaking
Sea kayaking – Paddle and explore hidden bays, beaches and small picturesque villages. Sea kayaking is really the best way to experience the island of Brac. Big Blue Sport organizes tours from Bol, while Aldura Sport from Sutivan a small town on Northwest coast of the island (only 12 km from Supetar). See the above map!
Hvar and Brac Party Catamaran
Luxury catamaran from Split will take you on a sailing adventure to Brac and Hvar islands. Food, snacks, and free drinks included!
Fishing
Fishing – Are you fishing fan? Big game fishing is not just for adrenaline lovers, it is also an experience of untouched nature and a very popular sport which can be enjoyed by all generations.
Croatian coast has been known for centuries as a habitat of one of most desired big game fish – blue-fin tuna.
At the beginning of August starts the blue-fin tuna fishing. The average weight is from 70 to 80 kg up to 500 kg. They have also a sailing school course that is a great way to enrich your holiday in Croatia. Beginners sailing course is held on a small sailing boat Laser PICO. Contact Afitat Rent-a-boat in Bol for more info!
Snorkeling and Diving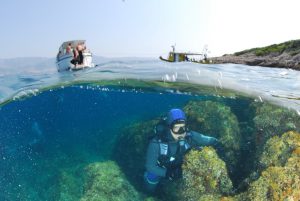 Snorkeling and Scuba Diving –  If you decide for diving on Brac island than this island offers the best conditions for professional or recreational divers. Air temperature in high season is between 34° C to 38° C with water temperature range from 22° C to 25° C.
There are five diving clubs on the island of Brac, two in Supetar, two in Bol and one in Povlja. For detailed information, visit Croatia Dive Centers database website.
There are two diving clubs in Bol. The Diving Dolphine center is very close to the Golden Cape beach below the Hotel Bretanide.
Diving-Dolphin have over 20 beautiful diving locations, steep walls, reefs, wrecks, beautiful caves, wonderful fish and other underwater life that will fascinate everyone who dives here.
The second one is Big Blue Diving club with over 25 years of experience, offering very interesting scuba diving holiday packages.
Mountain Biking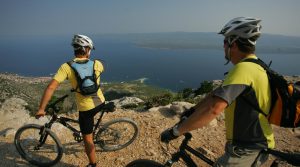 Mountain biking – Mountain biking from Bol all over the island Brac in Croatia is an unforgettable experience. Bike through the hundred year old olive groves, wine yards and thick pine woods all the way to to the highest peak of all Adriatic islands, Vidova gora. Contact Big Blue Sport in Bol.
Aldura sport offers tours starting from Supetar and Sutivan to Nerezisce and further to other typical inland villages, Donji Humac, Dracevica, Lozisce. Tracking length is about 24 km and this 3,5 hour route has an easy to moderate level of difficulty.
Cycling trail from Skrip to Pucisce. Technical difficulty – moderate, Time – One hour and 54 minutes. Distance 14 miles
Rock Climbing
Rock climbing – If you are fond of extreme adventures, Aldura Sport offers a day rock climbing at spectacular locations near Lozisce village. No previous experience is necessary.
If you have some experience, Lozisce area (South of Sutivan) is the best location to put your skill to the test before you head to more difficult sectors and routes.
Walking and Hiking
Walking and Hiking – There is no better way to learn about the nature, history and traditions of the island of Brač than hiking or walking on your own or with experienced guides.
Very nice tour (Obrsje – Blaca) on the south side of the island of Brac, passing uninhabited coastline with beautiful bays and by the famous monastery of Blaca. See the map below!
Obrsje – Blaca trail:
Sutivan Olive Oil Path Tour:
Hiking from Bol to Nerezisca – Technical difficulty: Easy – Time: 3 hours 32 minutes:
Wine Tasting
Wine tasting tours – Aldura Sport organizes a wine tasting tours, held in an authentic old wine cellar with charming atmosphere reminding of old times.
It's a tour of the cellar learning about wine production process including grape specifics, processing, fermentation, barrel specifics and bottling.
You'll have a possibility to taste five splendid wines including three reds, one white and one rose, among which is the famous Brac island Plavac Mali wine.
Brac Gourmet & Local Cuisine Tour
Starting from Supetar, this delicious Brac island tour will take you to many villages where you can enjoy traditional local food and wine.
When planning your visit to the island, you should first find out how to get there. You can get to Brac by car ferry from Split to Supetar, or by ferry from Makarska to Sumartin. If you are traveling without a car take a catamaran from Split to Bol.
Brac Island Sightseeing highlights
If you decide to explore this pristine island, there are some highlights of exceptional beauty you should visit.
The Blaca monastery was built in front of the cave "Ljubitovica" below high cliffs. Blaca carries a great heritage value. The monastery surprises its visitors in this desert wilderness and harmony delights of its original architecture.
There are a lot of things that are worth seeing when you come to Brac. And one of them is definitely Vidova Gora, the highest mountain of all Adriatic islands (778 m above the sea level). The view on famous Zlatni Rat beach is spectacular!
Donji Humac is one of the oldest settlements on the Croatian island of Brac, about 2 kilometers from Nerezisca, the previous capital of the island and home of Brac's aristocracy. You can read more about it on wikipedia.
The village is wonderfully rustic and unspoiled, surrounded by countryside, the villagers still enjoying the traditional island way of life. The village Donji Humac is about 4 km from the coast offering some luxury villas like Villa Ragazza.
Local konoba (tavern) Kopacina is the best place for lamb alla peka and octopus, local cheese or lamb steak. Excellent service, good food and reasonable prices. Visit their website!
Island Brac Unique Private Boat Tour from Split
Grab your friends and discover the beauty of Zlatni Rat beach on Brac island. Explore Bol and Milna villages, enjoy local food and wine, and chill in fantastic turquoise waters.
Gallery and stone cutter's workshop of family Jaksic
Among the numerous families dealing with the stone shaping trade in Donji Humac, the Jaksic family is one of the most famous. The tradition of stone shaping has been preserved at Brac by transferring from father to son.
This family's roots are as old as their family crest, and the first written records of their workshop are dated in 1903. Don't miss to visit this family workshop and gallery.
See all family works from villas, tombstones, sacral buildings, public buildings, monuments, sculptures, fountains, restoration.
Drazen Jaksic is a self-trained sculptor and family tradition has been enforced by Drazen's son, Lovre, an academy-trained sculptor, his daughter-in-law, Miona, an academy-trained stone restorer, and his daughter, Dina, an academy-trained painter.
The gallery on the island of Brac was opened in 2008 and in November 2014 new gallery was opened in Split. Find out where their gallery is located on my Split museums and galleries page!
Skrip Village – Brac island Museum
A small village Skrip only 9 km from Supetar, the island capital, has often been considered as the oldest settlement on the island, even though Bol town claims the same.
Skrip hosts the Native Museum of the Brac island with important traces from Illyrian, Roman and Croatian culture. This museum also preserves a rich ethnographic collection dating from former times, as well as a collection of paintings, photography, books, and monographs from the more recent past. It's located and situated in the Radojkovic fort.
It is also important to mention an old Croatian church, Holy Ghost (Sveti Duh), the castle of the Carinic family, a gazebo and a cemetery, and the Church of Saint Helen (Sveta Jelena). The whole place is surrounded by a wall built by Illyrians, the remains of which are still visible today.