What to do in one day in Split? For such a short time, the rule number one, will be to start with the most essential sights of this 1700 year old city.
It isn't a secret that all guide books describe Split as a city around the palace of the Roman Emperor Diocletian, which is, after Rome, the best kept and most remarkable evidence of the Roman epoch in Europe.
Question is, what to do and see in Split, if you plan a day visit on your own? How about Split beaches? Are they close to the harbor? Are they worth visiting?
It all depends on how much time you have available, just a few hours or more than half a day. Many people have asked me, what to do and see in Split, in their free time while waiting for the ferry to one of the islands.
Many tourist on their Mediterranean cruising tours from Venice, usually stop for a day in Split and Dubrovnik (usually for 7 to 8 hours). The cruising companies will probably offer only one excursion in Split and if you are cruising in high season, it will be fully overcrowded.
Planning One Day In Split
One Day in Split – five hours itinerary
Stroll the city's promenade Riva
Enter Diocletian Palace through Bronze Gate (On Riva promenade)
Enter the Diocletian basements (Palace's substructures)
Peristyle Square
St.Duje Cathedral
Jupiter Temple
Vestibule
Silver Gate – 'Pazar' – Split open green market
Iron Gate – Old city clock
Pjaca – Narodni Trg
Golden Gate – Grgur Ninski Statue
City Squares – Fruit an People's Square
Stroll the Marmont shopping Street and Prokurative Square.
To get a small idea of what a 24-hour trip to Split may look like, check out Cheryl Howard's blog post.
Getting to know the city, you will likely start from the Riva, the seafront promenade. Riva is a pulse of the city, the stroll along the sea, lined with vibrant cafes and pastry shops.
You should start from here your Diocletian Palace exploration, the city core on the UNESCO's World Heritage list since 1979.
Take the  Bronze Gate entrance (the gate from Riva promenade, once sea access to the palace).
As a useful help to your one day in Split tour, I recommend to drop by in one of two information centers called Tourist Boards, one on Riva promenade and second one at Peristyle square, where you can grab some brochures, city plans and other information you might need.
Sometimes, the old part of the city, may seem as a labyrinth, but don't worry as  it is really very easy to find the way.
It is the entrance to Diocletian underground basements, open daily where you can stroll around exhibitions, craft or souvenirs stands.
If you need more indications how to find this entrance, visit  Split city map to help you move around the old city.
On the other side of the basement, take stairs to the palace's central piazza, called Peristyle. There you will find the St. Duje's cathedral. If you need some refreshments, take a good  coffee or some pastries at Luxor café bar at Peristyle square.
You can go through and around the Palace to see all the little shops, cafes. When you get hungry and thirsty I suggest you explore where to find the best places to eat in Split.
For ice cream and cakes lovers, Luka Ice Cream & Cakes is based right behind Croatian National Theater.

For more precise directions, check out their Facebook page. Many locals consider Luka has the best ice cream in town.
Diocletian Palace Map
The palace occupies an area of 31000 square meters with four gates named after metals: iron, silver, gold and bronze. Like most Roman cities, old place has two main streets: Decumanus (east – west), today Kresimir street and Cardo (north – south, today Diocletian street). Read more about the palace!
Enter the Palace, like an Emperor, and visit its ancient medieval streets and squares, pass through the narrowest street of the city 'Let me pass' next to Jupiter's temple.
Don't miss the old Egyptian sphinx, with a bell tower rising right above the Cathedral of St. Dujam (St.Dominius), patron of city. Find more about morning tour within the palace.
One of the places you have to visit is the city's main marketplace also called 'Pazar', passing through the Silver gate (east) or following Kresimirova street you will reach the west, Iron Gate with the People's Square or Pjaca, passing under the old city clock.
This one day in Split Croatia tour should take you a couple of hours. If you have more time, you should include Marjan hill and, depending on the time, one of the city's beaches, Bacvice sandy beach as the nearest to the old town.
This one day in Split itinerary will be quite challenging but it will give you a chance to see some of the most important Split attractions.
Of course, if you have only few hours, you can just simply sit in one of the cafe's at the Riva, sipping coffee and watching the vividness of life passing by.
One day in Split the Other Way Around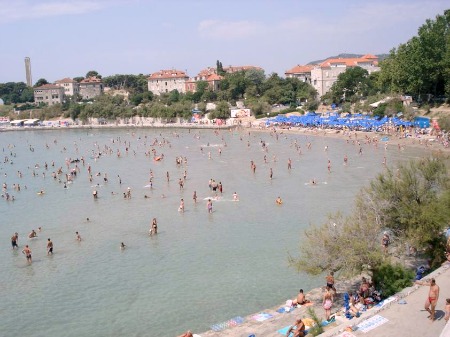 If you disagree with this itinerary, you can always choose the way around, what will depend on the period you are in Split Croatia. This is particularly evident if you are in Split during the hot summer days. (July and August).
Instead of visiting the Emperor palace as the first place, why not making a run down to Bacvice beach first. It's the best place to cool off for couple of hours and after that start exploring the old city core. The distance from the beach to city center is only 15 minutes walk.
It is urban, central city beach, situated few minutes walk south of the railway station and ferry port. It's most popular party beach with few restaurants, cafe bars and nightclubs all lined up and easy to walk to.