Omis Croatia and its Riviera is a worthwhile alternative destination for your holidays in Central Dalmatian region. It is no coincidence that I highly recommend this only 35 km long Riviera of outstanding beauty. Omis Croatia, a city of pirates, lies at the mouth of the river Cetina.
Here are some reasons to visit Omiš:
The vicinity of Split (26 km southeast taking D8 road) and very frequent local bus connections in case you wish to visit Split attractions.
Tranquility and picturesque surroundings.
Families with children friendly destination.
With a lot of small gentle sand beaches. (So hard to find in Croatia)
Cetina river a popular rafting destination.
Lower prices of any kind of accommodation, particularly apartments rentals. Check apartments deals on Omis Riviera coastline!
Omis Croatia – the city of pirates
Omis is a small, old fortified town, built originally at the foot of the rugged and steep cliffs of the western range of the Dinara mountain.
Modern Omis has expended out of the old walls, spreading to a shallow promontory which the Cetina river has formed on the left bank of its confluence.
The most distinctive feature of Omis are the enormous stone  rocks that hang over the town and river. At one time the rocks helped safeguard the pirates that made Omis one of their chief strongholds.
The Omis pirates were for centuries, a terror for Venetians ships. Read more on Wikipedia!
Omis tourist attractions include a ruined Venetian fortress on the hill over the town and a 17th century parish church in the town center.
Omis Croatia – history of pirates
Omis pirates were extremely dangerous, especially under rule of powerful Omis rulers – Kacic dukes. In that time, Omis was known as dangerous nest of the pirates, as Saracens were on Mediterranean Sea or Tatars on Black Sea.
They were attacking Crusaders too what forced  the pope Honorius III to undertook crusade against Omis' pirates.
In the first battle the Pope's forces were defeated by Omis pirates in year 1221 but in the second crusade in year 1228. pirates lost the war, what was, at the same time, the end of Kacic dukes dynasty.
After them Omis was under rule of famous and powerful Subic family, then Horvat brothers, under supreme rule of Bosnian king Tvrtko I. In 1409 after Dalmatia was sold to Venice, and Omis finally in 1444 lost its independence.
On both above images you can see the remains of their unconquerable fortress dominating the Omis town.
Modern apartment with a great view!
Amazing panoramic view of river Cetina and town of Omis. Air conditioned, wifi, parking, satellite TV and a great kitchen!
Rafting adventures on Cetina river
In between swimming and sunbathing, Omis Croatia is one of the most beautiful places in Central Dalmatia where you can experience the excitement of rafting for all ages.
River Cetina begins its course from peaceful countryside of Dalmatinska Zagora (Dalmatian hinterland)  region and it  slowly passes through numerous canyons, spots and hills rising above it.
The river comes out of 5 sources at 380 m above the sea, under two mountains, Dinara and Gnjat, few km northern from town Vrlika, from where it flows south-east through the fields of Sinj, town Trilj to Zadvarje, where it turns west to Omis where it joins the Adriatic Sea.
Take a day tour on this rafting paradise! All you need to bring with you is a swimming suite, some shoes suitable for water and dry clothes. If you want to take pictures, it is recommendable a waterproof camera.
Some adrenaline adventures can enhance your Croatia holidays, when just sunbathing and swimming is no longer enough. Read more about rock climbing adrenaline adventures in Omis.
Omis Croatia Riviera sandy beaches
If you are looking for sandy beaches, Omis Riviera is the right place. Driving from Split you'll come across some beautiful sandy beaches that stretch the length of 6 kilometers from Dugi Rat to Omis.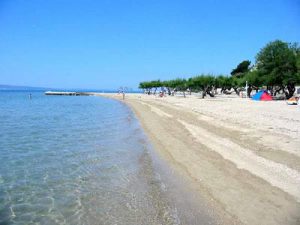 Passing through Duce village you can find some small sandy beaches that make a perfect holiday destination for families with small children. This riviera has a high number of sandy beaches.
One of the most known sandy beach is placed in the village of Duce, a small seaside resort. It is a magnificent about 4 km long, where you can enjoy lying in the sun or sitting in the shade of its pine trees.
Pisak village beaches
Pisak is a small tourist destination on the fabulous Omis Riviera, 16 kilometers south of the town of Omis, 18 km north of the town of Makarska. It is a small, peaceful settlement, once a fisherman's port and now a modern tourist destination.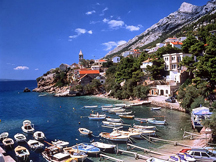 Pisak lies in a bay and has sandy, pebble and rocky beaches  recommended for families with children and water sports enthusiasts who can rent boats, go diving, sailing and surfing.
In the evening, you can relax in restaurants and konobas (local restaurants), and try traditionally prepared fish.
If in Pisak, make sure to visit Vrulje springs, where you will find refreshing, cold, drinking water.
The inhabitants of Pisak are especially proud of the beautiful, crystal clear sea, unspoiled nature and astonishing beaches.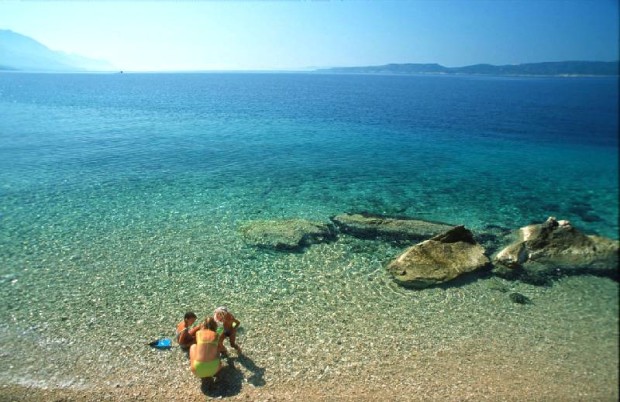 Omis sandy beaches
Don't miss reading my top Split beaches guide too!
Getting to Omiš
Cheapest way to get to Omiš town is by taking a bus from Split. Alternatively, you can consider renting a car in Split and taking the quick drive to Omis or any nearby destination.
Prices for daily rentals are affordable, especially if you're traveling with multiple family members or friends.