If you are looking for Split fast food you won't be disappointed as in recent years they have grown as the mushrooms after the rain. They can be very useful for travelers on the go wishing to spend more time outside when they need of a quick filler.
You may not believe that fast food can be fast, good and healthy as lately so many places are offering 'topli sendvic' (Croatian name for fast sandwich). I've discovered almost a dozen places selling this fast high-calorie food, sometimes useful for travelers on the go.
The fast food trend in Split has a full swing in summer season. If you check some resources just adding two words, fast food and Split, you'll get 59 places so far added in Split business directory.
The majority of fast food activities are a traditional ones like McDonald's replica. This doesn't mean the McDonald is missing in Split and if you really can't do without Big Mac burgers and sandwiches, McDonalds is inside the Joker shopping center. For your info a common meal at McDonald's costs from 30 to 37 Kuna.
Split has to offer its own special food, healthy on-the-go snacks, meals, and delicacy you'll be happy to try.
Split Fast Food – Soparnik, A Swiss Chard Pie
When you find soparnik, you will fall in love with it.  It's a very special and rare snack.
It's an old-fashioned Dalmatian dish dating back to the time before the Turks invaded the region. It is a simple dish made by filling double side dough with Swiss chard, onions, parsley, garlic and olive oil. Vegetarian travelers will like it!
Where to find it?
It will be easy to find it as Bakeries Keko are selling it at 13 different points all aver Split town area. Those Keko Bakeries located in the very center will be easy to reach like:
| | |
| --- | --- |
| Bakery (Pekara Keko) in Bosanska street 10 close to Narodni Trg (Public Square) | This bakery is located on Split green market (Pazar) close to palace's Silver Gate. |
| Pekara (bakery) Keko near Public Square | Keko bakery at green market |
Split Fast Food On The Go: Burek Pastry
What about starting your day with a pastry? If you've got a busy day ahead of you and want to grab something quick, just do what locals usually eat for breakfast. Head to one of many bakeries where you will find a variety of sweet and savory breakfast pastries.
One of the most popular pastries is BUREK. It's a pastry made of a thin flaky dough filled with cheese or meat.
It's rather greasy and heavy pastry but combined with delicious and creamy yogurt drink makes an excellent snack on the go. Add some fresh fruit from the market and you've practically got a meal.
It's one of the cheapest meals you can get for breakfast in the city. For a price from 12 to 15 Kuna you have a good meal to start your day.
It's served at lots of different spots around town but I suggest SK Burek Bar at Domaldova 13. It's a rather hidden place but I hope this map will help you.
Split Fast Food With Local Variety
"Kod None" is officially a fast food enterprise but offering local snacks that have nothing to do with traditional burgers and sandwiches menu.
It's located on Bosanska street N° 4, which goes along the western side of Diocletian Palace. It also has a few small tables. If you want a quick, tasty meal, None is a great choice.
At None (Grandma's) you can try some local specialties like:
Soparnik (a thin double-crust pizza filled with spinach or blitva (chard).
Viska pogaca, a focaccia type pie from the island of Vis with anchovies, onion and tomato.
Cevapi or Cevapcici – grilled beef and pork balls with onions served in a thin bun called lepinja with ajvar (a relish of red peppers, with garlic).
Classic Fast Food in Split
Sandwich bar Rizzo
Sandwich bar "Rizzo" established in 1992 is the first sandwich bar in Split.  You can find it on 4 different locations:
Pasta2Go
Pasta2Go fast food the first pasta bar in Split. A place where you can eat the most interesting combinations of pasta and sauces, whether it is about the Italian, Chinese, Indian or any other. It's located at Trumbiceva Obala N°6.
Split Fast Food – Good And Healthy
Split restaurants are definitely less expensive than those in Dubrovnik or even in Trogir. Due to high competition of fast-food establishments with pizzas and sandwiches at every corner of the historic center, restaurants have slightly reduced prices.
Split has some nice places where unhealthy fast food has been replaced by vegetarian and vegan food, sugar free, organic, and low-fat. Below I suggest some cafe bars and vegetarian restaurants  for everyone  at very reasonable prices:
Upcafè – Healthy Fast Food
A vegetarian/vegan cafe opened in October 2011 prepare meals of whole, seasonal and mostly organic ingredients. Their natural kitchen does not support the use of pesticides or additives. Prices go from 15 kuna to 35 for a stew. Click to see their menu!
Try some of these:
Stew – a complete meal with vegetables,whole grains and  legumes.
Tofu, seitan and tempeh sandwichesof whole grain.
Veggie and vegan Pancerotas.
Hemp burger.
Baked vegetable pancakes with cheese.
Natural desserts.
This vegetarian restaurant is not located in a very center but it is worth 10 minutes walk to Domovinskog Rata street N° 29a.
Makrovega
This restaurant has a really nice relaxing atmosphere which is nice to get away from the overwhelming number of tourists in Croatia in summer. Food is nice. Free WiFi available.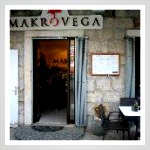 Out of the way but not hard to get to. Has a small courtyard at the front. Friendly helpful staff. Most similar to food I would get at home rather than 'vegetarian option' of pasta with vegetables which seems to be the only thing on offer everywhere else.
Offers seitan, tofu and mushroom bases for meals. As I haven't been there I am using this review, taken from happycow.com where you can read very positive valutations.
This hidden gem is hard to find but using this map you'll find your way to Makrovega. It's located in Lestina N°4 street, tel. +385-21-394440. Open Mon-Fri 9-21h, Sat 8-16h.