Honestly speaking parking in Split Croatia can be a big enigma and sometimes frustrating venture for visitors arriving in Split either by their own or rented car.
This is particularity tricky in high season when the parking place is more unavailable because of crowding and increased traffic, predominately towards the Split harbor.
From security point Split is considered as very safe city with minimum chances that your car will be stolen.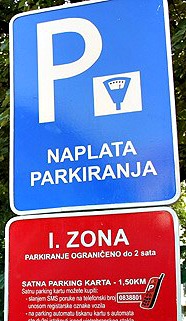 Around the old historical part of Split (only in second and third parking zones) you can find a lot of 'street parking' where you can leave your car during working hours (from 07:00 to 19:00) but paying a fee using the automatic machine. The hourly fee depends on a parking zone.
Do not forget to expose a receipt of paid parking in a visible place in the car (usually front dashboard above the steering wheel). Outside the work time, the parking is free.
Try NOT to park in dark and deserted areas because this will definitely increase the possibility of car robbery. This is important, especially if you are planning to leave your vehicle for a longer period of time. In that case I strongly recommend that you use a pay parking or a garage.
For passengers arriving in Split and intend to catch a ferry connection to one of the islands of Central Dalmatia, most commonly question is 'Where to park the car more closer to the ferry terminal?'
Parking in Split Croatia near the ferry port
Are you traveling by boat, train or bus? Parking "Željeznička stanica" (Railway station), is the nearest place for your vehicle.
Parking is located in the center of town, it is only 200 m from the old city.
It is connected with the bus and train station and located only 50 m from the ferry.
This parking is the closest, safest place and gives you the best price guarantee for parking your car. The parking lot also offers parking spots for buses and campers.
Take my advice and use this safe parking in Split if you don't want the towing service to take away your vehicle.
View Parking Split (Old city) on a larger map
Contact
Parking "Zeljeznička stanica"
Address: Obala kneza Domagoja 12
Phone: +385 21 338 349, +385 92 235 65 64
Email: [email protected]
Price list in Croatian Kuna
| | | |
| --- | --- | --- |
| Vehicle | For 1 hour | 24 hours |
| Personal car | 8 kn | 120 kn |
| Van (maxi) | 16 kn | 160 kn |
| Camper | 24 kn | 240 kn |
| Bus | 40 kn | 400 kn |
In case there is no free space at the harbor parking, another nearby parking place is in Bijankinijeva street (where I've stayed for almost 10 years). The street is only 900 meters from the Split bus station in the harbor. This map is showing how to reach this street where parking costs €7 a day.
Free Parking in Split, Croatia
There are locations where you can park freely in Split. Split parking system is divided in four zones. Zones closer to the city center are the first zone where the parking is more expensive like:
Riva promenade parking on eastern part has capacity for 100 cars and fee is 10 kn for the first hour and every next hour is 15 kn. It's open 24 hours, all year.
On western part of Riva promenade there ae several parking location (near church Sv. Franjo). The fee is 5 kuna for one hour using ticket machine
To reach these parking places you have to drive through Marjan Hill tunnel. See here the direction to free parking in Split near ACI Marina.
Free parking places in Split:
ACI Marina Split, just 10-15 minutes away from the city center.
In front of entrance to ACI Marina Lucica, just 10-15 minutes away from the city center.
In front of Joker shopping mall which is only 10-15 minutes away from the city center.
Promet.hr map – public parking in Split
View PROMET d.o.o. (ltd) parking spots on their website here. You can also see their garage parking locations here!
Four public parking zones in Split city
Zone 1:
Riva – Zone 1 – Opening hours (0 – 24 h) (100 parking places) – prices 10 kn up to 1 hour, 15 kn every additional hour.
Street parking zone 1 – price 5 kn for 1 hour, maximum retention 2 hours. Opened from (06,30 – 21,30)
Zone 2:
Zone 2 street parking – opening hours (07,00 – 19,00) – Price 4 kn for 1 hour, unlimited time, daily fee 48 kn.
Zone 3:
Zone 3 street parking – Opening hours (07 – 19,00). Price 4 kn for 1 hour, unlimited time, daily fee 48 kn.
Streets: Domovinskog rata, Solinska, Monter, Nova bolnica, Pojisan, Poljicka cesta, Preradovicevo setaliste…
Zone 4:
Zone 4 street parking – opening hours (07,00 – 19,00)- Price 3 kn for 20 minutes, daily parking fee 36 kn.
SMS Parking
There are 4 zones indicated by signs on parking boxes located at even intervals along the street: zone 1 (red – 70 8211), zone 2 (blue – 70 8212), zone 3 (green – 70 8213) and zone 4 (yellow – 70 8214).
You get a ticket at the box under the parking sign or use your mobile phone to pay by sending an SMS with your registration number (no gaps) to the number shown on the box (remember to include the international dialing code if you're using a foreign mobile).
A few minutes before your hour of paid parking runs out, you'll get a message to remind you to refresh your lease of the space or move your car.
Safe Parking In Split
If you are planning to stay in Split for a longer period of time, than you should opt for Acorus Garage where to leave your vehicle.
For more information visit Split Parking website
(www.splitcarparking.com)
and to book a parking spot send an e-mail to
[email protected]
It's a covered garage, located in the center of Split, 500 m from the historical center or a 10 minute walk. It's 24 hours guarded and you can be sure your car will be protected from any kind of accident.
The address of Agorus Garage is Ulica Domovinskog Rata, 49 (Ulica Domovinskog rata street n°49) (view on Google Maps). There are 150 parking lots with a maximum height of 2 meters. The prices are really convenient and go from:
1 to 3 days – € 15 per day
More than 3 days – € 10 per day.