Each year the number of direct flights to Split has constantly been increasing, with every year setting new records in passenger numbers.
This increase in air traffic means some airlines have decided to introduce new direct connections to Split airport from many European destinations.
The period from May to September is the right period to find the most flights available. Most people are looking to book flights to Split in July and August, with most tourists first looking for direct flights to reach Split, the capital of Dalmatia.
In the period of low season (November to March) there aren't many direct flights. But every year from April to October new connections are being introduced from a number of cities in UK, Italy, France and Germany.
Please check each company to confirm flights information. My data in this article including pricing is only informative and may not be entirely up to date!
For up to date info you can use the search form below to get live data on all flights to Split. This will enable you to search over 1,000 airline companies and travel agencies at the same time so it's a great way to compare prices and find best deals.
Low Cost Direct Flights To Split Croatia
The list of airlines flying to Split is rather long. I'm doing my best to constantly check the list of airlines flying into Split Airport as some have only announced new flights, but have not yet confirmed it officially.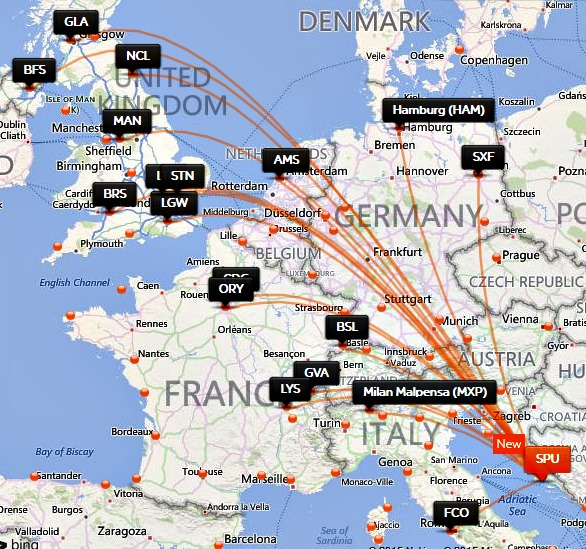 EasyJet, a low-cost carrier has extended flights to Split airport this summer. In addition to the already established flight, this company has already confirmed 17 flights. See the above route map from Split.
By checking EasyJet's summer timetable I have found three new lines from/to United Kingdom to Split:
From London Luton (LTN) airport from 16 May 2016 with three flights per week, every Tuesday, Thursday and Saturday.
Manchester (MAN) will be connected to Split from 17 June 2016, with two weekly flights, every Wednesday and Saturday.
From 2 June 2016 Split airport will be connected with Newcastle (NCL) twice a week, every Tuesday and Saturday.
Planning to visit Split this summer? Easyjet will be the best choice with the number of flights to Split greater than ever, as the company is announcing a sale of 300.000 seats from every corner of Europe.
British Airways Direct Flights To Split
After a few years British Airways have added Split airport on their route map. New direct flight between London Heathrow (LHR) to Split will be available twice a week during the summer schedule, on Wednesdays and Sundays.
Cheap flights to Split from Edinburgh, Leeds Bradford and Manchester by Jet2
Jet2 has a selection of cheap and direct flights to Split from Edinburgh, Leeds Bradford and Manchester.
Take advantage and book now to get the lowest fares and the best choice of seats for flights from North of England and Scotland airports to Split. Click the banner bellow!
Direct flights from London (Gatwick) and Manchester (MAN) to Split
TUI Airways is another British airline offering direct flights from UK to Split. Currently they have flights from London's Gatwick and from Manchester.
German Express Airways Direct Flight to Split
A new entry since 2015 is Express Airways, a carrier that easily connects Germany with Dalmatia.
Current flight connections from Germany to Split are from cities Bremen, Dortmund, and Karlsruhe/Baden-Baden. All of these are direct flights to Split airport.
So far these cities weren't on flying schedule. You can find more information on Express Airways website.
This company's planes ARJ-85 will fly once a week from these cities to Split, starting from May and ending in mid-October.
If you take a closer look at above schedule, you may have noticed a new destination. It's Brac island airport!
The flights will be from Dusseldorf and Leipzig to Brac Airport, the only island airport in Dalmatia. It's unnecessary to point out the importance of these flights to this small airport (BWK), which is only 14 km from Bol town, Brac island, one of Croatia's most visited destinations.
Vueling Direct Flights To Split
Vueling is a Spanish low cost carrier which has announced new flights to Split in 2015 connecting Sicily (Palermo and Catania) with Split airport for the first time. This regular line will run only in high season, once a week between July 12 and September 13. For booking check their website!
Last year flights from Milan and Torino (Turin) will also be running this year. Vueling.com will offer direct flights in high season from Torino to Split. For example on July 6th you can fly directly to Split for only 46,34€ starting at 11:00 arriving at 12:15.
Alitalia Flights To Split and Dubrovnik
Italian official carrier will introduce flights from Milan to Split and Dubrovnik. The flights will be active only in August with two weekly connections to both Croatian cities. For prices visit Alitalia website!
EasyJet's Flights to Split
EasyJet has announced a new seasonal low-cost flight from Naples to Split airport, starting from June 30 and ending August 31st 2015.
Departures from Naples to Split (SPU)
Flight number: U24839 on Tuesday at 14.30 PM and on Saturday at 07.05 AM
Arrival time: 15.35 PM and 08.10 AM
Aircraft type: A320
Return from Split to Naples (NAP) on same days at 16.10 PM on Tuesday and 09.50 AM on Saturday. One way fares start from €46,49. Book here!
Domestic Flights To Split
How do you get from one Croatian city to another? Croatia Airlines, the national carrier, has several flights a day from Zagreb to Split.
Since Jadrolinija canceled the coastal ferry line Rijeka – Split – Hvar – Korcula – Dubrovnik, many tourists are wondering how to get from Rijeka to Split or Dubrovnik. Taking a bus means a far too long and exhausting journey.
Luckily the new Trade Air carrier will alleviate this problem, introducing new lines from Rijeka to Split and Dubrovnik. There will be only one flight connecting this cities each Friday.
Here are their available connections:
Rijeka-Split
Rijeka-Dubrovnik
Split-Dubrovnik
Split-Rijeka
Dubrovnik-Rijeka
Osijek-Split
Osijek-Dubrovnik
Zagreb-Split
Zagreb-Dubrovnik
This offer is not always valid so please check current availability on on Trade Air website: Booking center!
How to find flights to Split?
Using JetRadar or Cheapflights is the best way to search for all currently available direct flights to Split.
Rather than checking each airline manually and compare flight dates and prices these services will conveniently do it for you, showing you all available flights and enabling you to easily select the cheapest one.
Live direct flights to Split map:
These airplane ticket search engines are convenient and also a great way to save money since you can be sure you can always see the best prices.