Would you like Split outdoor adventures to be a part of your Croatia holidays? Lot of people like to include at least one on their vacation. I've gathered some of outdoors activities in Split area and in a nearby neighborhood.
Many travelers are searching for fun and adventure in addition to traditional city sightseeing, museums or art galleries.
Some are experienced divers or mountain climbers or just  families looking for more excitements and fun. Split has something for all.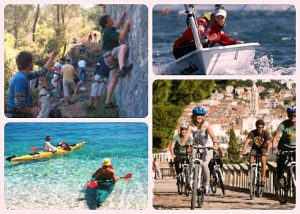 Split Croatia offers many outdoor activities whenever you want to escape from the city bustle or the unbearable summer heat.
The pristine nature with its beaches, mountains, islands and rivers that surround the city of Split offers  you a lot of open-air adventures.
There is something for every visitor here in Split. There are many beautiful beaches like Bacvice or Marjan hill peninsula beaches that offer all kind of water sport like sailing, windsurfing, diving, kayaking, snorkeling, or scuba diving.
For those who looking for more adrenaline-charged sports Split  Marjan green hill park  is a great place for exciting rock climbing, bike tours and hill hiking.
If you are visiting Split with children, here are many kids activities in Split and Dalmatian islands that will make your family holidays memorable. Croatia has been always child friendly destination and one of the safest family European destinations.
Bicycle tour
Discover top Split attractions, the locals' favorite spots like Marjan Hill, the lungs of the city on this 3-hour bike tour.
Ride a standard cycle or an electric bike in this hilly nature reserve pedaling through fragrant pine forests, scenic lookouts and ancient chapels.
Hiking
This 4 hour hiking tour, starts from the city center. This easy walking tour along the trails that zigzag through the green forest of Marjan hill, is set for everybody's pace.
Marjan (178m) is the perfect destination for all, wishing to get away from the city buzz and admiring the beautiful vistas of Split city and nearby islands (Solta, Hvar, Brac)
Rock climbing
Climb the craggy limestone cliffs of Marjan Hill on a 4-hour rock climbing tour with transport from Split! Led by a local climbing instructor, the experience includes use of all climbing equipment including ropes, harnesses and a belay. Learn about techniques such as top-rope climbing, and then have a go yourself!
The rock formations around Marjan Hill make for great climbing conditions for all levels of experience from beginner to advanced.
Kayaking tour
During the summer heat, there is no better Split outdoors adventures than a 4-hour sea-kayaking tour, around Marjan peninsula, paddling across the sea to Ciovo island, discovering secluded coves and unspoiled bays.
If you have more time on your disposal, there is a possibility to extend this tour to a 6 or 8 hour tours around nearby islands. Both tours will start and finish in Split and include a safety briefing and life jacket. No special skill is required.
Sailing tour
Leave Split to sail around the breathtaking island of Ciovo by yacht, and enjoy stops to swim or snorkel around its gloriously secluded beaches.
Under the vigilant eye of an expert guide, act as part of the crew and help handle the ship on the 4-hour sailing adventure.
No prior experience is needed, just a desire to actively participate while soaking up the sights of Croatia's beautiful island wilderness. If you have more time free, upgrade to a full-day tour and enjoy a light lunch in one of the island's restaurants.
Food&Wine Split outdoor adventures
3-hour evening walking tour of Split and wine-tasting is the best occasion to start your evening adventures.
It combines a leisurely stroll along the main promenade (Riva), continue to Marjan Hill and old Varos district and tasting some great local wine.
It's a good occasion to learn all about the history of Croatian wine from the bar's sommelier and get tips which is the best wine to take home.
Here are some of most popular wine tasting and winery tours.
How to book your Split outdoor adventures?
Here are some travel agencies that are highly recommended:
Split Adventure  is one of the  most significant adventure travel specialist in organizing different day adventures and one day activities in the Dalmatian area.
Huck Finn is the leading adventure travel agency and outfitter in Croatia. For years they are helping travelers to enjoy their stay in Croatia, immersing in the beautiful scenery and showing  the most  exclusive sights of Croatia.