Trogir town is another central Dalmatian coastal marvel, which has since 1997 been included in the UNESCO list of World Heritage Sites.
The historic city is situated on a small island between the Croatian mainland and the island of Ciovo, separated from mainland by small canals.
Thanks to its geographical position, just 30 km from Split and 5 km from the Split airport, this old town and  the same name Riviera have become a popular tourist destination.
Why visit Trogir?
Great cozy old town
Many attractions nearby
Clean beaches
Car parks
Supermarkets
No pushy people
No crime
Children friendly
Reasonable prices
Airport vicinity
Nautical tourism
Did you know that Trogir is nicknamed the Adriatic's Venice! Don't expect to find any canal, only a small island that's connected to the coast by two bridges.
I can hear you asking what they have in common. They both have a labyrinth of narrow streets bounded by old buildings and palaces, splendidly decorated as a testimony of Venetian origins.
Just be careful when wandering through the city's winding old cobblestone streets paved with a local white stone, you might not find you way out!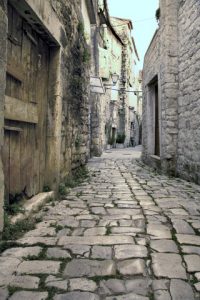 Walking along every street (calle) (Venetian name for 'streets'), you'll find little architectural treasures like Gothic houses, courtyards with stoned stairs and minor but high-quality palaces.
Trogir monuments, buildings and work of Art are selected (in 1997) between very few cities in the World to represent world's culture and art treasure. It is a remarkable example of urban stability.
The orthogonal street plan of this island settlement dates back to the Hellenistic period and it was enriched  by successive rulers with many fine public and private buildings and fortifications.
Every inch of Trogir Croatia is amazing. One of the most beautiful parts of the city is its waterfront stroll called 'Riva', which you should visit during the hot summer nights.
It is a right place for a nice cup of cappuccino or a tasty Italian pastry. It has a long stretch of yachting marina cafes, like the one under the palms and overlooking the canals.
Trogir also has a number of excellent Italian restaurants, serving authentic pizza, seafood, and pasta at good deal prices.
Trogir Croatia – Top Sights To Visit
One of the highlights worth visiting is the Trogir cathedral of St.Lovro (St.Lawrence) situated in the very center of this Romanesque town.
This triple-aisles basilica, set on the foundations of an early Christian church destroyed during an Arab invasion, was built mostly in the 13th century, during the Romanesque period.
The greatest value of Trogir's Cathedral lies in its renowned Romanesque portal (1240), the masterwork of one of Croatia's greatest sculptors, master Radovan. Read more about him!
Master Radovan's masterpiece, the cathedral portal depicts scenes from the Gospel and the birth of Christ.
The doorway is filled with scenes of everyday life, pictures of saints and apostles, exotic animals, sirens and centaurs.
On the outer edge of the doorway, there are two lions, one on each side, on which are seated Adam and Eve respectively.
Don't miss climbing the Cathedral Bell Tower, 47m high with magnificent view over old Trogir and the whole area.
Opening period from June 15 to September 15, daily from 09:00 (9 am) till 12:00 (Noon) and from 16:00 (4 pm) till 19:00 (7 pm). Tickets: 5kn
Kairos Festival – The days of ancient Tragurium (Trogir Croatia)
Special charm to the festival will provide competition in antique sports games such as rowing, sailing, rubs, antique football, antique bowls.
From 19th to 21th of June 2015 this traditional festival will be held in Trogir. The exhibitors will sell handicrafts, natural products, authentic food, antiques an handmade products trough the town streets.
Special focus will be given to the Mediterranean products which were traded in era when Trogir was a Greek colony Tragurium (like a olive oil and products from the  olive oil, wine, liqueurs, dried fruits, herbs, spices, smoked and cured meats, fish, cheeses, authentic cuisine, products  from clay and ceramic, from  the wood, metal, jewelry from natural materials, natural cosmetics, etc.)
Trogir Croatia Fortresses
While walking the Trogir Croatia old town you will inevitably notice two city fortresses both built by Venetians.
The first one is Fortress Kamerlengo situated at west end of the islet, built by Venetians in Xlll – XV century as a naval base for their navy forces in this part of Adriatic. It is named by town Magistrate Camerarius. Nowadays, fortress is multimedia center with open air cinema and stage for various cultural events.
Venetian traces in Trogir Croatia
Strolling the old city streets you'll notice many outstanding Renaissance and Baroque buildings from the Venetian period.
You'll find little architectural treasures like Gothic houses, courtyards with stoned stairs and minor but high-quality palaces. Places you shouldn't miss are:
Cipiko Palace, one of architectural treasures at Ivana Pavla II square in Gothic style.
Entrance of the historical Trogir Croatia Old City
Derossi palace situated in the historical city core of old town Trogir near the North City Gate. It consists of six old stone houses connected with beautiful court yard.
Trogir museums and art galleries
Worth visiting is the Church of St. Nicholas, a Benedictine convent with a museum (Church of St. Dominic, Obala Bana Berislavica) as well as the cathedral's art gallery and its Chapel of St. John (inside St. Lawrence's Cathedral) where there's a little collection of Renaissance sculptures including Niccolò di Giovanni Fiorentino's 'Lamentation'.
The Chapel is the most graceful architectural and sculptural unit in the Croatian early Renaissance, and the most elegant space of the time outside Tuscany.
Useful links
My other Trogir articles and guides: