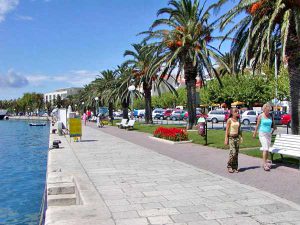 Makarska Croatia is one of the most beautiful towns in Central Dalmatia situated only 65 km from Split and 155 km to Dubrovnik.
Makarska is the center of the Makarska Riviera, one of the most popular tourist destinations in Croatia.
Most visitors to Central Dalmatia from Split head to the islands, ignoring the fact that between Split and Dubrovnik, there is a home of Croatia's most beautiful beaches area.
From Brela in the north to small fishermen village of Gradac to the south, spreads the 38 miles long most beautiful Riviera.
Makarska is the biggest town along Riviera that with its palm-lined promenade, looks very much like the Split Riva waterfront.
Bordered by two peninsulas, Osejava and St. Peter protected by mighty slopes of Mount Biokovo this Mediterranean town, boasts mild climate with plenty of sunshine and lots to see and do.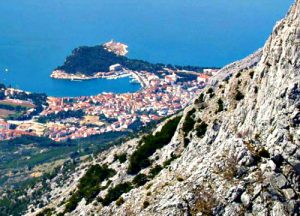 This small city is much smaller than Split but it has something in common with Dalmatian capital.
Similar to Split's 'Riva' promenade, even this small port has a long palm line promenade with fashionable cafes, bars and boutiques and small yachts harbor.
How to reach Makarska Croatia?
By car
If you are driving the fastest way is to take highway A1 from Zagreb and take Sestanovac exit to Brela/Makarska (about 36 km).
You can also take the Adriatic highway D1 which is much longer but more picturesque as following the Adriatic coast from Rijeka via Split to Makarska. On getting to Split by car you can find more information!
By bus
Bus is the cheapest and safest connection to Makarska Croatia. There are regular coaches from Zagreb, Split and Dubrovnik to Makarska, as well as from Mostar (Bosnia and Herzegovina), Ulcinj (Montenegro) and Belgrade (Serbia). Useful source of bus lines and routes you can find here!
From Split there are more then 40 bus daily connections you can find on this page!
By plane
The closest international airports to Makarska are the ones in Split and Dubrovnik. Split airport is more continent to reach Makarska by taxi or scheduled transfer.  For flights from Europe to Split check my getting to Split by plane page!
For travelers visiting Brac island, there is a flight (once a week) from Zagreb to Brac island run by Croatia Airlines.
By boat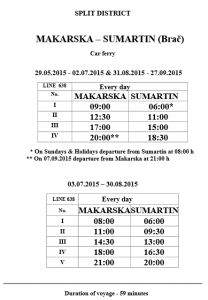 If you're traveling from Brac island you can reach Makarska from Sumartin village (on eastern side of Brac island) taking car ferry connection from Sumartin to Makarska (59 minutes). If you take this route you can download full time table schedule of Jadrolinija ferry company below.
Another ferry company Krilo also connects Makarska with destinations including Split, Korcula, Sobra (Mljet Island), Bol (Brac island), and Dubrovnik. You can see a full list of their connections here as well as book a ferry ticket online in advance. Keep in mind Krilo only runs passenger ferries, so no vehicles allowed.
By train
Makarska is not served by the railway network. Your best bet is to travel to Split or Ploce, then transfer by bus. Rail timetable information you can get from here or visit my getting to Split by train page!
Makarska Croatia – What to see?
Makarska Town Museum
This museum is a great place to find out about the history and culture underlying the sun, sea and summertime hedonism.
It covers the history of the region from prehistory to the modern period, and has a wealth of archaeological artifacts as well as material covering the customs and culture of the seaside areas and the mountain villages.
The Museum building, the waterfront Tonoli Palace, is a historic treasure in itself.
Admission 10kn.
Open: from 09:00 – 13:00, 18:00 – 21:00. Closed on Sundays
Address: Obala kralja Tomislava 17/1, Makarska
Phone: (+385-21) 61 23 02
Makarska Croatia -The Malacological Museum
Housed in the Franciscan monastery of St Mary, the Malacological Museum was founded by scientist and monk Friar Jure Radić (1920-1990) and his associates in the monastery. Created with painstaking attention to scientific detail and a devotion to celebrating the hidden beauty in the world around us (including under the sea), Friar Radic created a collection that is the best of its kind in the country. What's Malacology?
Malacology is the branch of zoology that studies molluscs – a large branch of the animal kingdom that includes everything from slugs and snails to octopus and squid plus a host of creatures with shells. There are about 3000 shells in the collection and a collection of invertebrate fossils. So, whether you're a budding biologist or a curious passer-by, there's sure to be something that will take your breath away.
Admission 10 – 15kn.
Open: Open 09:00 – 12:00, 17:00 – 19:00, Sun 10:00 – 12:00.
Address: Franjevački put 1, Makarska Croatia
Phone: (+385-21) 61 12 56, (+385-) 099 885 21 65
The Franciscan Monastery of the Assumption of the Blessed Virgin Mary
The Franciscans arrived in Makarska from Bosnia building their monastery in 1502. Although their efforts were frustrated by frequent invasions, a big earthquake and political opposition, through the centuries the rather lovely monastery you see today came into being. Read more on Inyourpocket city guides!
Address: Franjevacki put 1, Makarska Croatia
Where to stay in Makarska?
If you're looking for the best accommodation in Makarska be sure to check our partners by clicking the image below!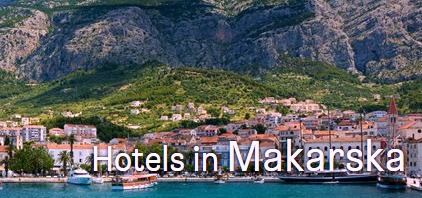 Makarska Croatia cuisine
The gastronomic offer of Makarska is based on the typical Dalmatian cuisine full of fresh seafood prepared in different ways. Olive oil, ham and cheese are a starter typical of this region.
There is no big difference between Split and Makarska gastronomy, both are typical Mediterranean except Makarska Croatia has a very close connection with the hinterland and Mount Biokovo.
Some typical dishes of Makarska region have roots from Biokovo mountain area like superb Bikovo cheese. Being a region of cow, lamb and goat farming, one specialty of the region is 'Kastradina', a stew made with dried and smoked lamb, mutton or goat meat.
Another typical dish is famous 'Pasticada' that has its origin from Split, but it's prepared in all coastal towns. Read more here!
Another  'state of art' of local cuisine is the 'Biokovo peka' four kinds of meat (lamb, veal, goat meat and chicken) cooked under an iron lid heaped with embers. If you really want to taste it than go 15 km away from Makarska, on 897 m above the sea level in Vrata Biokova (Biokovo Gate) restaurant, owned by Mr. Marijan Prgomet.
This place boasts name as "a oasis of peace and beauty" You can contact them:
VRATA BIOKOVA
Makarska
tel: +385 (0)21 613 902
gsm: +385 (0)98 924 5051
Makarska Croatia nightlife
Makarska is considered the center of the nightlife of central Dalmatia. During the summer, all the clubs are home to numerous DJ foreign stars, singers and bands as well as national.
The outdoor coffee bars are located along Makarska Riva (seawater promenade), which helps to create the feeling that the whole Makarska is a big party.
Below I've listed some of the most famous nightclubs of Makarska:
Deep Nightclub – in an amazing ambient of the natural cave. Underground and house music, international and resident DJ's.
Buba Beach bar – pop, rock, electronic music, hip-hop, DJ parties, numerous events.
Petar Pan Club –  DJ's and domestic live concerts. Open during the summer months.
Marineta Disco Club – located on the waterfront, disco music, blues, folk.
West Discotheque – in Hotel Dalmacija.
Classic Cocktail Bar – situated on the waterfront, nice cocktails, commercial and local music.
Fokus Cafe bar – Croatian pop-rock music.
Art cafe – various cultural events, concerts.
Makarska Town Beaches
Makarska is seated inside a deep sheltered bay, and dominated by the mighty rocky mountain of Biokovo. Below this natural protection are spread numerous beaches.
The most of  Makarska Croatia beaches are long pebble beaches, mostly sheltered with pine trees. Almost  all have the blue flag sign that guarantees the cleanliness of the beach and the sea.
One of the most popular beaches is Buba beach, situated 20 minutes walk from the center of the town. This beach is known as a party beach, similar to Bacvice beach in Split or like famous Zrce beach on Pag island (Northern Dalmatia).
It's a great place for having fun with your friends or finding some new ones. During he summer you can enjoy the music with the DJ from 10 AM until 04 PM in the morning.
The local Buba Bar is a perfect place for drinking cocktails and dancing until dawn.
I must remind you that Makarska beaches are rather crowded during the high season (August) but you can find some more peaceful beaches.
These less crowded beaches are Cvitacka and Ramova not far from Buba beach.
Particularly beautiful is Ramova beach, whose form reminds on the famous Zlatni Rat (Golden Cape) beach in Bol town, island of Brac. It's also very popular for paragliding landings.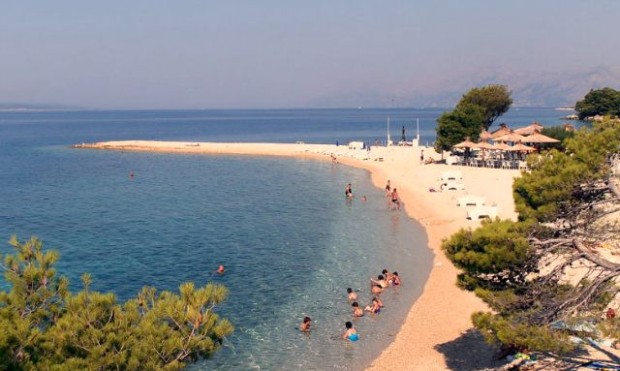 In addition to these public beaches, several hotel beaches are suitable for families with children, offering variety of seaside activities, like kayaking, sailing, bike or diving.
Among most popular are Hotel Meteor beach and Hotel Dalmacija beach.