Split Croatia is not a large city but Split town map will certainly be of a great help to make the most of your stay here.
Checking Split position on Croatia map, it is evident its prominent importance as a giant transportation hub for all local and international (from/to Italy) ferry connections. Split port area along (Obala Kneza Domagoja street) is the most important arrival/departure artery.
Whether arriving or departing Split, by plane, train, bus or ferry you will inevitably find yourself in this busiest zone. It is the busiest and most chaotic points of typical Mediterranean style. In July and August traffic reaches its peak.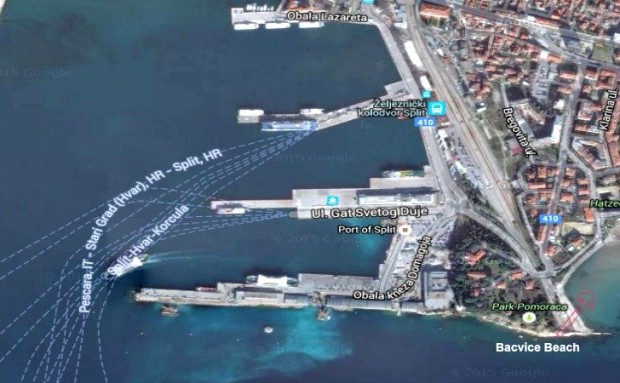 Above Split harbor map will help you find the transportation points, whether you are arriving by ferry, train or by bus. On the map you can notice four main piers, from Obala Lazarete (a first on top), the only one used for catamaran connections (only foot passengers).
Important to know
The bus station is called Autobusni Kolodvor, train station Zeljeznicki Kolodvor or Trajektna Luka stands for Ferry Terminal. Kolodvor means (station) and Luka (port or harbor).
The other three piers are for, car and passengers ferries to the islands and international ferry destinations (Italy – Ancona and Pescara). These piers are just in front of train and main bus station.
On the above Split city map you can find the most important stations from Bus, Train and Ferry Terminal with different harbor piers indicating the various departure points to your island destination (Brac, Hvar, Korcula, Solta islands) or international connections.(Ancona and Pescara Italy).
It is also indicated Coastal Car Ferry line (only seasonal line)  that runs from Rijeka to Dubrovnik, stopping at Split, Stari Grad (Hvar island) and Korcula.
Getting From Split Airport To Split Harbor
Is there a bus from Split airport to Split ferry port? Where this bus will leave me off?
The cheapest and easiest way to go from Split Airport to Split Port is to take an airport bus which leaves you off at Obala Lazareta. It is just a short walk from ferry port. See the map above!
The main taxi stand in Split can be found next to the Riva (Same place as where the airport bus leaves), other taxi stands can be found next to the main bus station and the train station as well as on the opposite site of the Riva. The price for a taxi between the Airport and Split city center is between 30-40 Euro.
Old Town Split City Map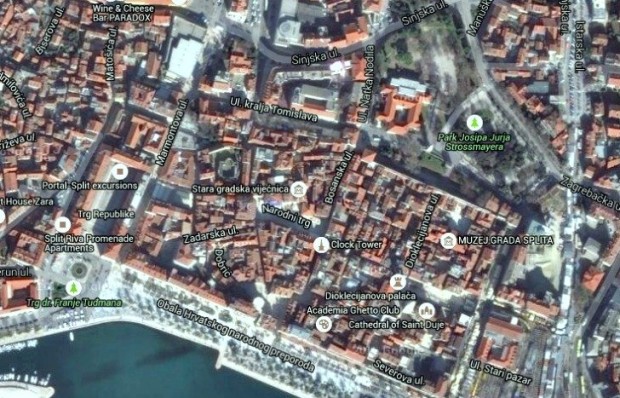 From your arrival point it is easy to reach the old town and Diocletian Palace. On above Split city map you can clearly see the old town map from Riva promenade and four main entrance gates, Bronze, Iron, Silver and Golden gate.
It will be easy to move around the old Diocletian palace using one of these gates. On the map you'll notice several important city points:
Diocletian palace
Narodni Trg (Piazza Square)
Split City Museum
Marmont street (shopping area)
Stari Pazar (Open Green Market – Pazar)
Republic Square (Prokurativa –  Trg Republike)
St. Duje Cathedral
Clock Tower
Riva promenade
For your convenience you might find useful Split city bus lines map, you can download it here, to learn how to use local buses to reach Split's beaches  or Marjan hill. Take bus number 12 or 21 to reach Mestrovic museum or Bene beach on Marjan hill peninsula.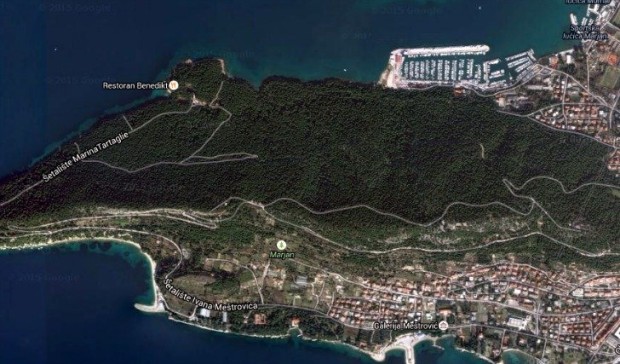 Another map that you can use is Split city plan, with the names of Split's districts like Varos, Dobri, Manus, Lucac and others. Enlarge the map to see the walking path from Trumbiceva obala street to 10 minutes walk to Marjan hill view point.
On the tourist map of Split you can find all ATM machine location in case you need to withdraw cash money, taxi stations and all most outstanding and worth visiting city monuments highlights.
Moving Around By Bus
The best and the cheapest way to move around Split is using local bus network. The whole Split's district is divided in four zones. Download Split city map to get idea of bus zones.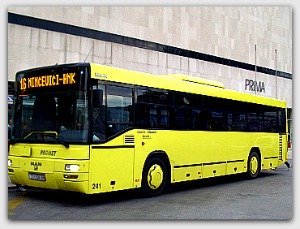 The ticket prices vary from 11KN (kuna) for zone 1, 13KN for zone 2, 17KN for zone 3 and 21KN for zone 4 (this zone covers local bus to Trogir and Split Airport)
You can purchase your single tickets with the bus driver on board but in that case, be sure to have a right change.
Your ticket is valid for 45mins within one zone, 65mins for two zones, 85mins for three zones, and 105mins for four zones. Within that period you can change more buses within the purchased zones in whichever direction.
Children from 6 to 10 years old pay 5 KN for any zone. In case you are boarding with luggage you have to pay extra 5 KN.
Split's districts map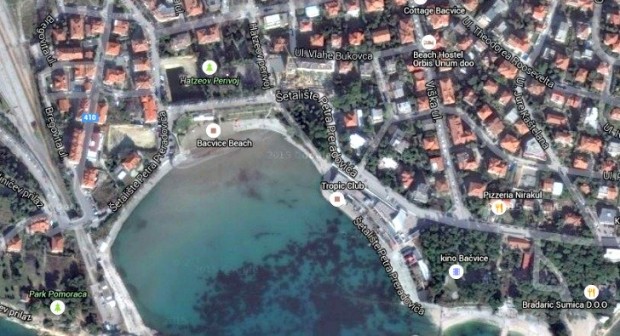 If you are looking for refreshment during the summer heat, above map will help you reach Bacvice sandy beach. You will be surprised how close it's to Split harbor.