Dubrovnik County is the southernmost part of Dalmatia. Known by the name of South Dalmatia, officially this county is called Dubrovnik–Neretva region. Read more about Dubrovačko Neretvanska županija on county web page.
The county consists of a coastal part with mountainous Peljesac peninsula with Dubrovnik town as a capital, and South Dalmatia islands starting with large island of Korcula, forested smaller Mljet island as the idyllic national park, and Lastovo, the most remote and isolated island.
The county stretches from Ploce port in the north, all the way to Montenegro border in the south.
On the map bellow, you can note an interruption of the county by so called 'Neum Corridor', a 24 kilometers of Bosnian territory, with a small seaside tourist place, Neum.
South Dalmatia Activity Highlights:
Need ideas on what to do in South Dalmatia? I wrote a few travel guides about this part of my country so don't forget to go over my articles for more information.
The whole county is absent of any heavy industry plants, which contributed to the development of agriculture and tourism.
The region is particularly proud of its wines, mainly the Postup and Dingac red wines of Peljesac Peninsula, and Posip and Grk, white wines of Korcula island.
Day trip idea: Kayaking around Dubrovnik walls
You can combine sightseeing of Dubrovnik with a sea kayaking and snorkeling tour! Your professional guide will show you the secrets of Dubrovnik and take you to its top attractions, and afterwards you can hop in your kayak to discover the other side of the walls.
After paddling around the city you can also visit the beautiful Lokrum island for a snorkeling session, and all equipment is provided to you.
More information & availability ->
How To Get to Dubrovnik County
Getting from Split to Dubrovnik or from other destinations in Central Dalmatia by car means you're going through a heavily trafficked route, especially in summer period.
What's the Neum Corridor?
In summer 2022 Pelješac bridge was constructed. This bridge now allows uninterrupted travel from Split to Dubrovnik and we no longer need to cross into the territory of Bosnia and Herzegovina country or use the Neum crossing.
Neum corridor is a part of Bosnia-Herzegovina territory around Neum through which travelers had to pass to get to Dubrovnik.
This used to be the main problem when trying to reach South Dalmatia. This 24 km drive through Bosnia and Herzegovina country (which is outside the EU) was always inconvenient.
Even though the agreement signed in 1998 between Croatia and Bosnia and Herzegovina consents to Croatian registered vehicles to pass freely through this part of Bosnia and Herzegovina, since Croatia entered the European Union in 2013 the agreement has never been ratified by either side.
Probability to run into any kind of trouble by Neum local traffic police when driving a car with Croatian license plates is practically not existent. In 99.9% of cases there will be no problems whatsoever.
But regardless of your car plates, check if your private or rental car comes with a green card covering Bosnia Herzegovina. To be safe I recommend Auto Europe or RentalCars to look for car hires.
It is possible to avoid Neum corridor completely, but it will extend the duration of the trip. At Ploce port take a car ferry (60 minutes crossing) to Trpanj on the Peljesac Peninsula, and then drive crossing the peninsula to Dubrovnik.
Driving time is about 2 hours following D414 and D8. Click here (.PDF file) to see the winter ferry timetable from Ploce to Trpanj!
To recap, let's take a quick look into how to get to Dubrovnik county using different means of transportation:
Traveling to Dubrovnik by train
Bad news for train lovers! Croatia's rail network connects all major Croatian cities, except Dubrovnik. If you want to visit Dubrovnik, you will have to travel by train to Split. What's worse, the Ploce to Sarajevo train ceased their service too.
Traveling to Dubrovnik by bus
This is the most popular and cheapest way of get to South Dalmatia. Travel time from Split is about 4 and a half hours, but it depends on the season and potential delays in summer.
The price of the ticket from Split to Dubrovnik is approximately 150 kuna one way. Check my Split bus station article for more info, or Dubrovnik bus station for current schedules and pricing!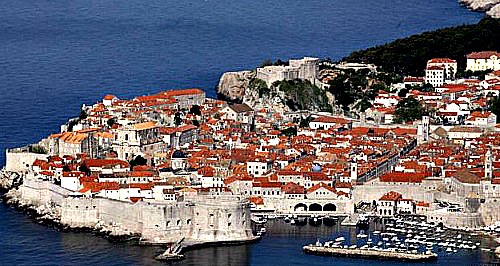 Traveling to Dubrovnik by ferry
Since this year there is no direct car ferry connections between the two cities (Split to Dubrovnik). There used to be a summer ferry schedule from Split to Dubrovnik county by state ferry company (Jadrolinija), but since 2015 this connection has been definitely abolished.
For foot passengers there is a daily catamaran connection from Split that connect also Hvar, Korcula and Mljet island. These connections are a perfect way to travel for island hoping lovers.
Traveling to Dubrovnik by car
Unfortunately for tourists arriving to Croatia with their own cars, the most common way to get to Dubrovnik with your vehicle is to drive from Split to Dubrovnik.
Alternatively if you want the convenience of traveling by car then your options are to either rent a car or book a private transfer service.
The aforementioned AutoEurope service is the most convenient way to rent a car in Croatia, and their pricing is highly competitive.
For a private transfer service from anywhere in Split you can check the offer below, with prices starting at around €50 for a one-way trip.
Split to Dubrovnik Private Transfer
Travel from Split to Dubrovnik in style and comfort with this private one-way transfer service. Simply make your booking and arrange for your professional driver to pick you up from any Split hotel or accommodation. Then, settle into your comfortable, air-conditioned private vehicle for a stress-free and scenic journey south to Dubrovnik. It's that easy!
Traveling to Dubrovnik by plane
There are currently no regular flights between Split airport and Dubrovnik county. Croatia Airlines operates a weekly direct service in the summer, but only from Split to Dubrovnik.
There's always talks about private companies introducing charter flights between Split and Dubrovnik. This would be a perfect day excursion, with a brief flight in morning and coming back in the evening. However, none of these flights materialized yet so none are available.
For currently available flights from Split to Dubrovnik you're welcome to use the search below to look it up!
JetRadar
enables you to search and compare 1000+ airlines, travel agents and travel sites to get the cheapest flights and best dates. Test it yourself!
Search not displaying correctly? Search directly on JetRadar!
Peljesac Peninsula Bridge
The idea of building this bridge has been around for decades, but due to economic difficulties it was postponed way back in 2007. The bridge connects the Croatian peninsula of Peljesac with the Croatian mainland, and through it the southern Dalmatia including Dubrovnik.
Idea of bypassing Bosnian territory by building this bridge to reach Dubrovnik county was not accepted with satisfaction by Bosnia and Herzegovina government, considering this construction would supposedly regress the development of the only way out of Bosnia at sea.
Since Croatia entered the EU, Croatian government has announced construction many times, and it finally begun in summer 2018. Bridge was finally completed in 2022 and taking the Neum corridor through Bosnia and Herzegovina is fortunately no longer necessary.
Dubrovnik County Islands
Besides the Peljesac Peninsula, South Dalmatia has three big islands, Korcula, Mljet and Lastovo, and three smaller islands Kolocep, Lopud, and Sipan, known under the name of Elafiti islands.
Just ten minutes by boat from the old port of Dubrovnik you can also find the island of Lokrum.
The Lokrum island is a nature park with exotic tropical and subtropical plants and a unique botanical garden, and a real paradise for naturist lovers.
To learn more about islands Mljet, Lastovo and Korcula visit my dedicated guides.