If you are looking for Dalmatia nudist beaches, this short guide will help you discover some of the most beautiful beaches in the world right on the Central Dalmatia coast and islands, on the calm, clear, blue Adriatic Sea.
Perhaps you have not tried nude bathing and are reading this page because you are curious about trying it.
Swimming in one's "birthday suit" is a very liberating experience and contrary to what you may think, fellow naturalists are not checking you out.
This is not a style of bathing for you if you are very self-conscious of your body or feel it has to be perfect to share its visibility on a naturalist beach.
Maybe it's not unimportant to point out that most naturist beaches (official or not) aren't in remote hard to find areas. Most of them are often in walking distance from centers of towns, villages or resorts.
Many of the regular beaches also have a naturist section (usually at the end of the beach). So, whichever Croatian destination you choose you can be sure there is a naturist beach nearby.
Is Croatia the right place for your naturist holidays?
Croatia has a long naturism tradition that goes way back in the early 20th century. For decades Croatia has been one of the favorite naturist destinations of western Europeans.
Today there are more than 30 official naturist campsites, tourist villages, hotels, apartments, nude beaches and numerous more unofficial naturist bathing places.
If you like exclusive naturist resorts with full equipment Croatia is for you. If you prefer unofficial, hidden, secluded nude beaches, where you can be alone, Croatia is for you.
If you are a nautical naturist Croatia is ideal for you as well, and there are plenty of nudist cruises that will take you to multiple beaches. Today there are 41 marinas with all necessary accompanying facilities at your disposal.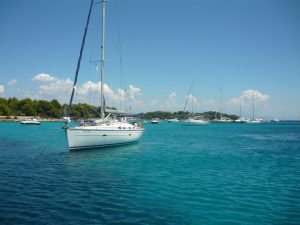 Nudist Cruise from Split
Nudist cruise around Adriatic perfect for all naturist lovers! Discover top Croatian towns and ports and explore top nudist beaches. Nudity is expected and encouraged on board for all travelers, so come embark on this unforgettable journey now.
Are there any naturist singles friendly resorts?
Most of the Croatian naturist resorts are family oriented, but you don't have to worry, singles are welcome everywhere.
Is topless common in Croatia?
Yes, very much. In fact topless is practiced on every beach in Croatia, not only nude beaches. It's actually considered normal.
What does FKK mean?
Naturist beaches are marked with signs saying "FKK" for "Freikorperkultur"; German for Free Body Culture. Istria and Kvarner regions have a large number of FKK naturist campsites and beaches. Read more about FKK meaning on Wikipedia!
Central Dalmatia Nudist Beaches
Central Dalmatia islands and coast line is the right place for finding not only official nudist resorts and beaches, but also those hidden and secluded small bays where you can truly have your privacy.
In this guide you'll find a list of top Central Dalmatia nudist beaches, including those on islands and along the Split riviera.
I would highly appreciate if you send me your travel story, in case you have your favorite beach on Central Dalmatia islands or if you know a beach which is not on this list.
Whichever Central Dalmatia part of the coast you choose, you can be sure there will be plenty of naturist possibilities.
Besides official Central Dalmatia nudist resorts and beaches, you can enjoy in numerous other hidden little coves or bays, many of them reachable only by a boat, where you can enjoy total privacy for a day or meet other friendly naturists.
Talking about naturism, it is impossible to also ignore South Dalmatia nudist beaches. Whichever island in South Dalmatia county or part of the coast you choose you can rest assured there are naturist beaches in your vicinity.
Here you'll find the list of nudist beaches including islands of Korcula, Mljet, Peljesac Peninsula, Elafiti islands and Dubrovnik area.
Like everywhere along the Croatia's Adriatic coast including South Dalmatia, besides official nudist resort and camps with parts assigned to naturists there are many beaches not strictly marked as 'nudist or naturist'.
Make note that although naturism is tolerated in Croatia, don't attempt to start a trend by being the first naturist on just any beach you're not familiar with, especially if it is in the vicinity of a town or village!
Nudist Beaches on Brac Island
For naturist lovers looking for nudist vacation, Dalmatian islands offer several official naturist camps and beaches, but also many other naturist beaches which can be found practically everywhere. Can you imagine anything better or more attractive for your vacation?
Next to the famous Zlatni Rat beach in Bol there are some naturist island Brac beaches. One of the most popular ones is Paklina FKK beach, located at the western end of the famous "Golden Horn".
On the northern side of Brac island, between Postira and Sutivan villages, you can find dozens of small bays and coves with beautiful scenery and natural Dalmatia nudist beaches.
Read about all Brac island beaches and learn how to get there!
Hvar Island Naturist Beaches
Hvar island is one of the central Dalmatian islands with a larger number of naturist beaches, whether those that are official, or secluded and hidden ones.
Hvar island beaches are mostly rocky and pebble scattered in numerous bays, inlets and on smaller islands along the northern and southern island's coastal line.
Nudist beaches on Hvar:
Links above will take you to Google's Maps where you can view exact location of these beaches and villages. Most nudist beaches on Hvar island are very easy to get to.
Solta Island Nudist Beaches
There are plenty of small hidden coves suitable for naturism all over Solta island, but especially beautiful are rocky beaches on small islets in front of Maslinica village in the western part of the island. The only way to reach them is to hire a boat.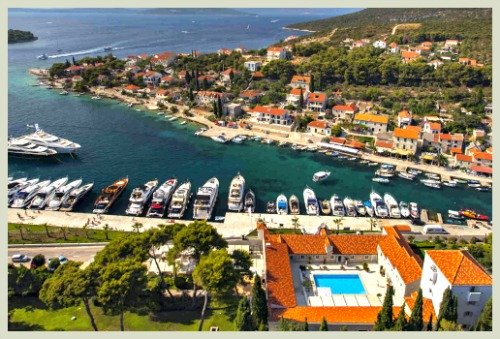 Vis Island Naturist Beaches
Ruda naturist beach is situated near Rukavac village on the southeast part of the Vis island with the most beautiful beaches, untouched nature and the famous "Green cave".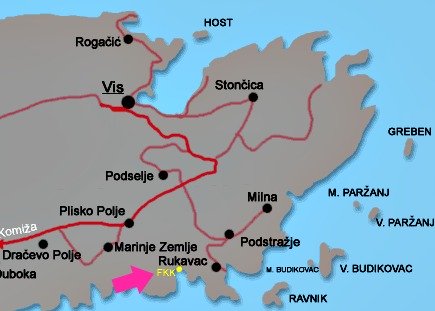 This is a pebble and rocky beach mostly used by naturist couples and families, with optional clothing.
Makarska Riviera Nudist Beaches
The coastal area of Makarska Riviera has the largest number of nudist beaches.
The Riviera is one of the most famous tourist locations along the central Dalmatia, and is also one of the most beautiful destinations with countless sandy and pebble beaches, pine trees, sparkling water and peaceful bays.
The area is also known for Biokovo Mountain, which overlooks the coastal area.
Most popular nudist beaches:
Brela to Vrulja
Basko Polje North
Baško Polje South
Krvavica – Makarska
Sveti Petar Peninsula
Nugal Beach
Dracevac Beach
Igrane Beach
Porat – Mala Duba
Mala Duba – Blato
Ruskamen – Omis Riviera
Nugal Tucepi naturist beach
Nugal beach is located east of Makarska, just before Tucepi town. Wonderful beach in a pebbled bay surrounded by steep cliffs.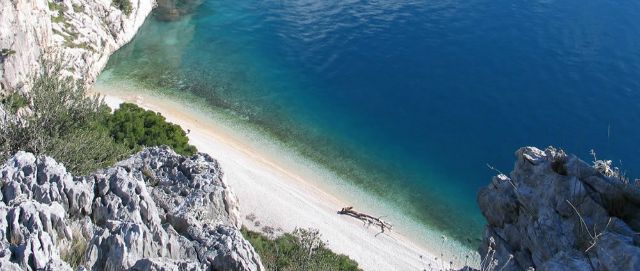 Book your accommodation in comfortable private apartments and hotels in Tucepi.
Nimfa and Dole naturist beaches near Zivogosce
Nimfa naturist beach is located near the Nimfa Hotel in Zivogosce, south of Makarska. Book your accommodation in comfortable private apartments and hotel in Zivogosce.
Dole naturist beach located near the western end of Dole auto-camp, between Zivogosce and Igrane, and it is one of the most popular Dalmatian naturist beaches in Makarska region.
Split Nudist Beaches
If you are looking for the best Split beaches, you won't find any official naturist ones. In spite of that Split has two areas where you can freely expose your naked body.
In a series of nice beaches on the south side of Marjan hill, Kasuni beach is one of most beautiful ones with a rich pine forest. In this bay you can find all kinds of beaches, partly pebble, rocky and even a small sandy beach. This beach is also a nudist one.
On a strip of coast south of Split, between hotel Zagreb and Stobrec village, you can locate Duilovo beach, popular nudist beach frequently visited by gays. It's a rocky beach with pine trees above the shore. This map will help you find it!
Trogir Nudist Beaches
Medena is the top unofficial naturist beach situated near the village of Seget, 4km away from Trogir. It is a pebble beach in vicinity of Medena tourist village. Find it on this map!
You can learn about other Trogir beaches here!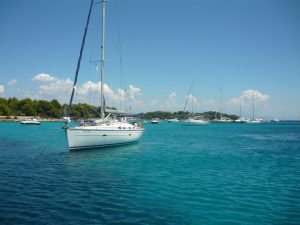 Nudist Cruise from Split
Nudist cruise around Adriatic perfect for all naturist lovers! Discover top Croatian towns and ports and explore top nudist beaches. Nudity is expected and encouraged on board for all travelers, so come embark on this unforgettable journey now.
South Dalmatia Nudist Beaches:
Dubrovnik
Dubrovnik area has several naturist beaches which are well worth visiting. Most well-known one is Cava located on Babin Kuk peninsula, about 6km from Dubrovnik's old town..
Other beaches include Betirina, located near fishing village Mlini and neighboring resort Srebreno, between Dubrovnik and Cavtat. You can get to Betirina beach via a five-minute boat trip from Mlini, and enjoy the beach's own restaurant.
There's also Plat naturist beach located between Cavtat and Mlini, about 12km south of Dubrovnik (Zupa Dubrovacka area), connected by a regular bus service from towns of Cavtat and Dubrovnik. Small island Supetar just opposite of Cavtat town also has a naturist beach, reachable via boat service.
Lastly the island of Lokrum just 10 minutes off the coast from Dubrovnik (connected by boat taxi every 30 minutes) hosts a very private and tranquil nudist beach on the far eastern tip of the island.
Don't forget to read my post about best Dubrovnik beaches to discover more fabulous places for a dip!
Peljesac Peninsula
After Istra, Peljesac is the largest peninsula in Croatia. Peljesac is known for being the peninsula of mountains, excellent red wines, and famous oysters and mussels which are cultivated here.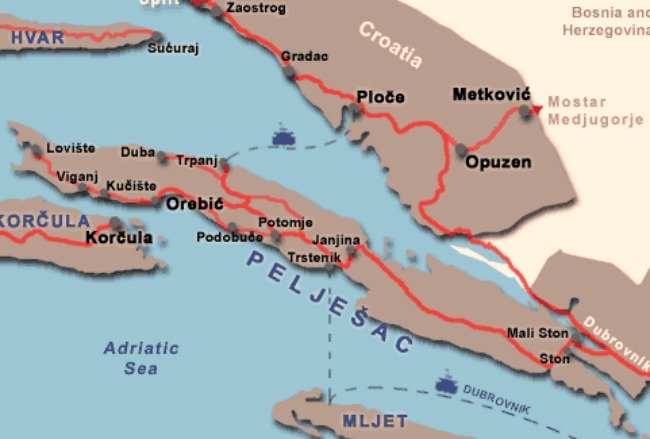 In the central part of Peljesac peninsula there aren't any official naturist beaches, but many coves, for example between Zuljana and Trstenik, are visited by naturists.
The rule is, if naturists show up first, "textile" sunbathers go for the next cove, and the other way around. All of those beaches are reachable by dirt roads some 50-100 meters from the sea.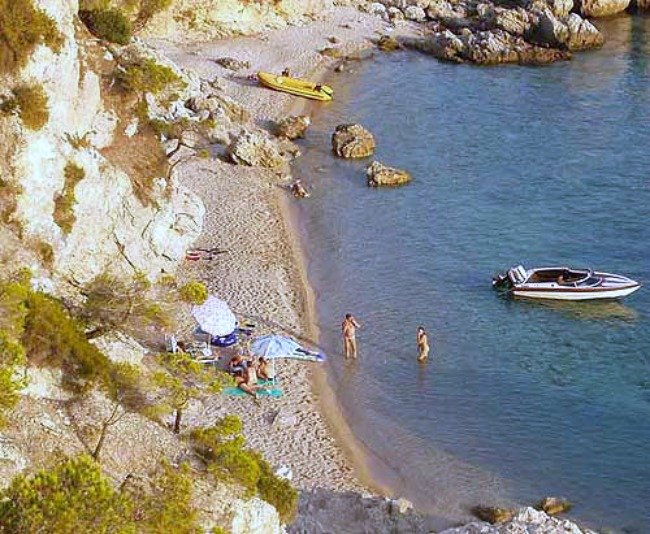 One of the most beautiful nudist beaches in South Dalmatia is Grdni Do just north of small Zuljana village, few km south of Trstenik town. This beautiful pebble beach is often used by nudists, but is not naturist exclusive nor official naturist beach. You can find some very cheap private accommodation in Zuljana giving you quick access to the beach.
Discover Croatia on nudist cruises! Visit multiple destinations and explore nudist beaches — more on my
nudist cruises
article!
This posts lists just some of the many nudist beaches in Croatia, and I hope it helps you find the perfect place for your next holiday.