Croatia cruise tours on the Adriatic sea in restored antique ships (gullets) is a very special adventure and a different way to enjoy your vacation.
With 1185 islands Croatia's Adriatic coast is the second largest archipelago in the Mediterranean Sea, after Greek islands.
I strongly recommend planning your sailing trip in advance, not only to save money, but also to ensure you can find the perfect boat in the desired period of your holidays.
For those of you who have a specific vessel in mind, booking in advance will save you at least 12% to 35% on the final price.
These discounts refer to all kind of boats from sailing to motor yachts, gullets to catamarans.
Check my suggested cruising itineraries along the 5.835 km long coastline! Read more cruising guides on CruisersWiki for yachts sailing around Croatia.
Croatia charter sail and motor boats – find out how to explore Dalmatia islands on your own!
There is no better way to explore my country and its history and tradition than sailing along the beautiful Adriatic coast.
Spend your vacation hopping from one island to the next, visiting secluded coves and small fishing villages, and admiring the natural splendor of the Central and South Dalmatian coast.
Cruise Types:
The closest thing to the experience of sailing in Croatia is being on the Windjammer in Maine, USA. But, instead of tours on the rough Atlantic Ocean, you are sailing on the calm blue waters of the beautiful Adriatic Sea.
For this experience you have to be fit, agile, adaptable, and enjoy meeting people from all over Europe. These gullet ships have tall sails, but mostly run with motors as the wind is seldom and unpredictable.
The capacity of these small ships is for a mere twenty-eight or so people. The cabins are basic and small and not sound-proof, reachable by narrow steep stairs. Some ships have private bathrooms for each cabin, while others have shared ones.
These Croatia cruise tours are for vacationers who love to swim, sunbathe, and snorkel, which can be done right off the ship as it anchors in beautiful spots.
If you like camping or you don't require much privacy, if you are comfortable with informal living, than you are a good candidate for this holiday adventure.
Each evening your ship docks at either islands or the mainland, enabling you to socialize and enjoy local food and shops before returning to the ship for the night.
No need for space for a fancy wardrobe or many suitcases. These sailing tours are for t-shirts, swim suits, a few towels with lots of sun lotion in a small suitcase.
Each ship has its own chef who prepares home-cooked meals with local produce, meat and fish daily in the informal dining area. Passengers share meals as they get to chat, make new friends, and learn about Croatia as they sail.
It's time to start planning your gullet (wooden ships) holidays. If you don't know what a gullet is, here you'll find all information.
Suggested Gullet Ship Cruises
I've selected several great gulet ship cruises from Split and Dubrovnik you may be interested in. Be sure to check out these offers if you're interested!
3-Day All Inclusive Independent Gulet Cruise from Split to Dubrovnik
Spend 3 unforgettable days sailing Adriatic's most beautiful destinations. Depart from Split harbor and take a trip to Makarska, all the while enjoying your first awesome lunch prepared for you. Spend your afternoon swimming in the best local beaches, or if you're feeling adventurous go try the zipline or rafting on nearby Cetina river.
Next day you'll take a dip in amazing waters of Peljesac peninsula, before continuing to Mljet island and national park.
On the third day, right after breakfast, you'll depart to Dubrovnik. Explore the walled city on your own or join in for a guided tour, the choice is yours!
Pricing: from €350 (all-inclusive).
8-Day Young and Party Gullet Cruise from Split to Dubrovnik
Fun cruise for youngsters that will take you to multiple must-visit destinations during your 8 days on board. Experience top beaches and the best nightlife!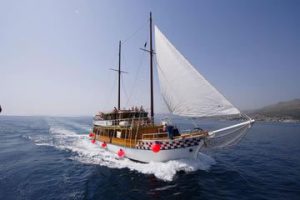 Your first trip once you board in Split is towards Makarska, where you can optionally join rafting on river Cetina. Your ship will dock in Makarska town port in the evening, where you can start your partying in this wonderful town.
On the second day you'll depart for Korcula, exploring the charming town, old streets, and taste some of Croatia's best wine included in the wine tasting tour. In the evening, the choice of where to party is up to you!
Your third day will hopefully be without a hangover, because you'll be visiting Croatia's most hyped town Dubrovnik. Your guide will take you on a walking tour of the city where you can learn about its history and tradition. Your day shouldn't pass without sea-kayaking around Dubrovnik's walls, and once you're done taking selfies get ready for an unforgettable night out.
Early morning departure on the fourth day (right after your refreshing swim to wake you) will take you to Mljet island and National Park, where you can explore untainted nature in all its glory. You'll be in the perfect place to relax and chill, and prepare yourself for the last few days.
Fifth day includes a trip to Pakleni (eng. Hell) Islands, a group of islands near Hvar town that will make you wonder where they got the undeserved name. In the evening you'll get to indulge yourself in many bars and nightclubs in Hvar.
Your last couple of days will include a trip to Zlatni Rat beach on Brac island, one of Croatia's top party destinations. Your last destination before returning to Split will be Omis, the town of pirates.
Pricing: from €700 (all-inclusive).
8-Day Private Gullet Ship Cruise/Rental
This one is for families or groups of friends who can afford it, but it's without a doubt an unforgettable experience. This is your chance to rent your own 35-meter long private gulet ship with air conditioned cabins, each one with private bathroom inside, fully staffed with a captain, crew, hostess and chef.
The beauty of this cruise is that you get to pick the destinations! You'll start in Split, and from thereon your crew will take you anywhere you like. If you prefer you can leave the choice to them, but this trip is best when you have specific destinations in mind. Fully customizable according to your own preferences!
The clear downside to renting your own luxury gullet of course is the hefty price, but if you have a large family or group of friends and want to treat them to a once in a lifetime experience, this is probably one of the best choices you can make.
Considering accommodation, food, travel and other costs for 6-8 people, renting a villa or a luxury private apartment can cost just as much. This boat can take up to 12 passengers which would cost only €583 for 8 days per person or €73 per day, and a gulet cruise can offer a completely different experience, excellent privacy, delicious food prepared just for you, and unparalled freedom.
Pricing: from €7000 (all inclusive, up to 12 people, fully customizable destinations).