I'm not exaggerating when I say that Bol on Brac island may be the best place for beach holidays in Croatia. This small town is an ideal destination for families with children and for all visitors who decide to spend active holidays in Croatia.
Bol, considered the oldest town on the island, is located on the southern side of Brac island facing the more known (and expensive) Hvar island, separated by the Hvar Channel. Bol is just about an hour away by fast catamaran from city of Split.
The town has became the first tourist oasis on the island, primarily due to its famous triangular shaped pebble beach, approximately 1000 meters long.
Golden Cape (hr: Zlatni rat) is not only a tourist symbol of Bol Croatia town, but also a trademark of Croatian tourism. Because of its beauty and uniqueness, it often occupies the headlines of world newspapers, catalogs and brochures.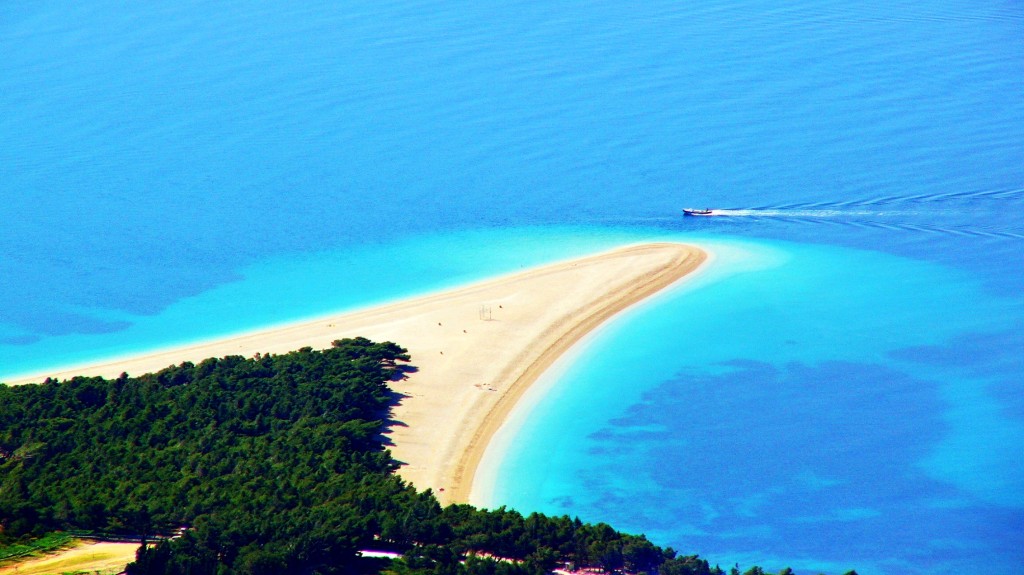 This beach is Bol's pride and brand name and without doubt the most beautiful beach on the Adriatic coast.  The beach's cape plays a strange game with the wind and waves moving from one side to another, changing the shape of the beach.
Getting To Bol Croatia
When planning to travel to Brac island, you can reach Bol town in different ways:
taking a car and passenger ferry from Split to Supetar
coming from Makarska take a car and passenger ferry to Sumartin.
taking a catamaran (fast boat) from Split to Bol (only for foot passengers)
taking a catamaran from Split to Milna (Brac island) – only for foot passengers)
taking the direct flight to Brac airport (only 4 km from Bol town)
renting speed taxi boat from Split airport – For more info, please contact Adriatic express.
What to do and see
If you wish active holidays full of sports, recreation and the company of young people, come to Bol, island of Brac. This town is an ideal destination for all sea water sports fans.
Bol – A Windsurfing Paradise!
There are few sports like windsurfing that can give you unbeatable feeling of being out in the open and clear sea waters.
Bol has become an internationally famous windsurfers' destination and one of the most beautiful places to go windsurfing on the Adriatic coast.
In the summer period the windsurfing-friendly wind maestral (mistral) blows almost daily in the channel between the islands of Hvar and Brac and in the afternoon reaches significant strength, perfect for more experienced surfers.
In the morning hours mistral wind is more moderate ideal for learning and practice so you can find many windsurfing schools in Bol, near Zlatni Rat beach.
Every year in May, Bol town takes part in world competition in windsurfing freestyle.
Diving in Bol Croatia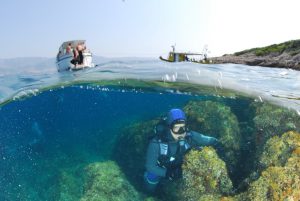 If you are diver, or you want to learn something about this sport, diving experience will be one of the best memories of Bol.
Big Blue Center, located on the promenade to Zlatni rat beach offers courses from Open Water Diver to Open Diver Instructor based on PADI, SSI and UDI Standards.
The basic scuba course costs 45 € for 2 hours, and teaches you theoretical and practical basics in open water scuba diving.
Among other water sports, Bol offers water skiing, Jet Ski and para-sailing, and there is also possibility of renting a sea-kayak.
Tennis in Bol Croatia
Tennis fans will be delighted to learn there are 20 tennis-courts in Bol, which are easy to rent along with coaches. You can also enjoy spectating a tennis tournament Bluesun Ladies OPEN, which is taking part here every year.
The tennis in Bol has become more popular after Goran Ivanisevic, Wimbledon 2001 winner, has built a summer house there.
Tennis center Potocine in Bol is a first-class establishment with 26 courts (central court has 2000 seats) as well as a children's tennis center and makes part of Bluesun Hotel Bonaca.
Bol Croatia extreme sports
Every August in Bol an Extreme Sports Festival takes place, better known as 'Sky Running'. This competition is a combination of running and paragliding.
All contestants start from Golden Cape beach where competitors run up to the highest peak of Vidova Gora (778 meters) called Vidovica (St. Vitus).
Bol Town's Nearby Places Of Interest
Here are a few nearby interesting places to visit during you stay in Bol.
The first one is Drakonjina Spilja (Dragon's Cave), and it's only 5 km away from the west side of Bol town. It is located immediately above Murvica on the island of Brač.
It's called so because of the mysterious relief of a dragon found inside. The dragon was carved by unknown monk in the 15th century, when the monks lived and even built a chapel.
It's well known that Brac stone quarries are the symbol of the island. Only 20 km from Bol it worth visiting a small village Selca, where you can see quarrymen at work. It's the same place where Romans extracted stone blocks for Diocletian palace construction.
From here Romans loaded the solid blocks onto ships at the port of Pucisca to be transported to Split port.
It's interesting to mention the monument dedicated to Russian writer Lav Tolstoj built in 1911 in Selca. It is situated in the Tolstoj park.