Ciovo (Čiovo; en. pron. chiovo) is a small island in central Dalmatia, and it's an indivisible part of Trogir town and Trogir Riviera.
It has an area of 28.8 square kilometers and 5,908 inhabitants (according to 2011 census), with the highest peak Rudine (209 m). The island has a typical Mediterranean climate, rich vegetation, archipelago of small picturesque islands, with innumerable hidden bays and beaches.
You can't be wrong if you chose this island for your summer holidays. The largest places on the island are: Okrug Gornji, Okrug Donji, Arbanija and Slatina.
It's the nearest island or peninsula to Split Airport, distanced little more than 6 miles. Once on the island you can find excellent boat connections from Trogir or Slatina village to Split town. If you prefer to take a bus to visit Split, there is a regular public bus connection N° 38 to Split town.
From Ciovo island you can easily reach Krka and Plitvice National Parks. Krka National Park is only 39 miles from Ciovo, while Plitvice Lakes are further and will require a 3 hour drive.
Getting to Ciovo island
The fact that Ciovo is connected with two bridges — one pedestrian and the second one the drawbridge, makes it almost a peninsula. The advantage of this island is its proximity to the Split airport, convenient for visitors getting to Trogir by plane.
For travelers arriving by car, particularly in high season, the most serious problem is passing over the only bridge from Trogir to the inner part of the island.
Getting to Trogir and Ciovo from Split:
Jadrolinija line 606 (car ferry).
Bura Company fast boats.
Reading the article from Dalmacija News, titled 'Read what the inhabitants of Trogir have to suffer every day', it's evident that long car lines over the only bridge from Trogir's old town to Ciovo can sadly discourage many tourist from visiting this awesome island.
I remember two years ago it took me more than an hour to cross the distance of 6-7 miles from Split airport to Arbanija village on almost 35°C in August. In high season road traffic over the bridge can be at or near a standstill.
So, why visit Ciovo?
This island is usually visited "casually", but after your first visit I'm confident you'll ask yourself how is it possible that a place of this beauty isn't on the top of tourist promotion of Croatia together with Dubrovnik or Hvar town.
Ciovo offers a calmer and less crowded atmosphere, as opposed to nearby hyped destinations like Trogir or Split. Besides beautiful beaches and secluded bays, Ciovo is a great destination for sightseeing.
Some of the most popular sights are Church of Our Lady of Prizidnica dating back to 1546, and small church of St. Peter in Supetarska lagoon. Village Žedno (situated inland) is also where you can find church of St. Maurice, and a Dominican monastery in village Arbanija contains interesting paintings from the 17th century.
Ciovo also offers many possibilities for a great holiday, with recreational activities and historical monuments, Mediterranean vegetation and mild climate, chill island life, archipelago with breathtaking little islands, and some of Croatia's best beaches.
Ciovo Island Accommodation
Since Ciovo is often an overlooked destination (especially since it's so near Trogir), it can boast cheaper accommodation offers than some other destinations. If you don't believe me, check it yourself:
There's a ton of affordable private apartments, hotels and hostels on Ciovo, and if you don't even intend to travel in high season (July and August) you can easily get great bargain prices. The search form above will also look for villas, guest houses, resorts and other accommodation types.
Top Ciovo Beaches
If you are looking for the best beaches for you holiday on Ciovo island, here is a selection of the best and most popular ones. The beaches are for everyone from families with children, those who like to have a drink on a beach, jumping in the sea from the bar, nightlife lovers or naturist fans.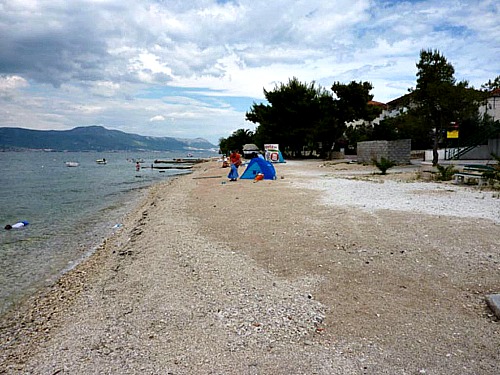 For more great beaches in and near Trogir and Ciovo make sure to read my Trogir beaches guide!