As soon as you land at the Split airport, the Kastela Riviera, will be the first landscape in front of you.
It 's a typical Dalmatian countryside with numerous  beaches, picturesque villages, between the blue sea from one side and gentle slopes of  Kozjak mountain, in the background.
It incorporates a series of small villages along the 25 km coastal line between Split and Trogir. See the Google map below!
See all villages on the map bellow, sometimes called "Seven villages like seven swans"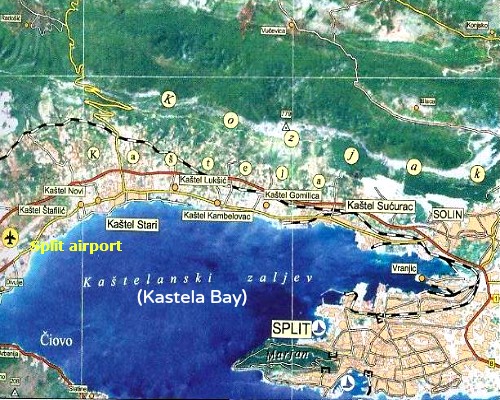 Riviera Beaches
I'll have more info about great beaches to see in Riviera soon!
Short Kastela Historical Overview
This beautiful Riviera was attracting people since the prehistoric times. It was always a favorite place, from ancient Greek sailors, roman patricians, Croatian kings, Venetian rulers to the present tourists, sun and sea lovers.
If you don't know, the name means 'castles' in Croatian language. There are seven coastal villages, all built around 15th and 16th-century castles.
All castles were built by wealthy Trogir and Split families like Antun Cipiko, Koriolan Cipiko, the brothers Vitturi, all from Trogir and the brothers Cambi from Split.
Most of these castles served as summer residences but also to protect themselves and peasants escaping from the mountain villages towards these fortifications, during the Turkish invasions.
Around these castles, sprang up new settlements. It the past, there were more of 20 castles and fortifications constructed in that period, of which only seven are still preserved.
How To Get To Riviera?
Being positioned in the heart of Croatia coast, it is very easy to reach this Riviera. Actually it is the nearest point to Split airport, usually called Resnik airport, being only 2 km from Kastel Stafilic village.
The proximity of Split airport, can be a good choice for catching an early morning flight.
Riviera is situated next to Split, the capital of Dalmatia and it can be  reached by all means of transport. All buses or trains that go to Split pass through or next to villages.  Arriving by car via the highway, take the exit at Dugopolje and continue in direction Split.
There are no ferry connections to any of these villages, but nearby Trogir town has good ferry connections with Split port.
If you stay in Split or Trogir, a relaxing day trip will be a good chance to visit these picturesque villages.
Riviera resources
To find more information on this riviera, check out these website: