You can not go wrong visiting Split in May. May in Split is one of my favored months to enjoy my home town.
Split is pretty quiet during this period but still it's Mediterranean vibrancy is visible in the old city center.
May is the month that heralds the coming summer season, but still far from the tourist invasion.
The city is already prepared to receive the first visitors, the hotels are open, ferry schedule has been prepared by Jadrolinija
Beaches are ready to receive the first swimming fans.
What's the weather like in May?
It is not quite beach weather as the water is still rather chilly but the sun is already warm to begin your summer tan. (average temperature is 22.5° C (72.5° F) with 273 sunshine hours). More weather details you can find on Split weather page.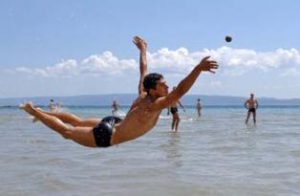 If you are visiting Split Croatia in May and you want to open your swimming season than Bacvice sandy beach with its shallow water will be more comfortable as it warms faster than other Split's beaches.  It was my preferred place each time I skipped a day of school.
This Beach is just a short walk from the main ferry port. It can get crowded in the high season but in May you may enjoy watching the local people playing a small ball game in the shallow water (picigin).
It's great fun walking around this fine sandy beach gently sliding into the deeper clean and clear water. Don't worry, you don't need jelly shoes!
Stay in Split in May and save…
Accommodation prices are significantly lower. Take for example, the four-star Hotel Radisson Blu Resort (website).
For a period of three nights in May for a double room you will pay 597 euros, while in July it costs 753 euros. The difference is 156 euros. The difference is evident for those who want to save.
What's going on in Split in May?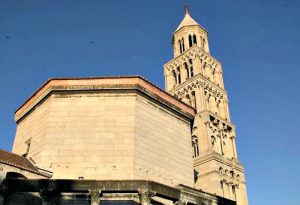 The most important event in May is St. Duje Day, held on May 7. This festival celebrates Split's patron saint, St Duje (St Dominius).
The town turns out for a big procession and there are various games and prizes (traditional split's bingo) as well as a ceremony in Split's Cathedral of St Duje. It's also a Fest of food and drink near fish market.
Detailed program of the celebration of St. Domnius can be obtained at the tourist information centers:
Split Tourist Information Center
Obala Hrvatskog narodnog preporoda 7,
21000 Split, Croatia
Tel: ++385 21 348 600

Split Tourist Information Center
Peristil 1
21000 Split, Croatia
Tel: ++385 21 345 606