Solta island is the closest island to mainland, only 35 minutes from Split port. It's an ideal destination for quiet holidays, without having to give up visiting Split city in one day.
It's rather strange that many guide books provide the scant information about this splendid island. For example the prestigious guidebook like Lonely Planet's on Croatia, dedicates only 16 lines.
In order to correct this injustice about the only island, you can see while strolling popular Riva promenade, this page will give you a true picture of the island and why it deserves to be visited.
I suggest you to make one hour trip across to Solta on the first ferry out next morning and you'll find why island of Solta boasts to be the most popular destinations for Split residents.
After all, it's the only island you can look over while strolling along the Riva in Split. I'm not exaggerating considering this island as Split city's suburb and a favorite place for a weekend break.
Even emperor Diocletian was in love with this island.
Solta Island Map
Solta belongs to the medium sized group of Adriatic islands. However, considering its natural gift, it is certainly amongst the most beautiful.
It is only 16km or 9 nautical miles from Split, with its 60km of coastline mix together with four harbors and 24 bays. It offers the visitor a quick and safe approach for a pleasant stay.
Getting To Island Of Solta
Taking advantage of modern fast boats or car ferry, one can reach the island within 35 minutes to one hour.
By Jadrolinija Car Ferry
If you are getting by car to Solta (not recommended) than you have to take Jadrolinija car and passengers ferry from Split to Rogac (the main port of the island). It sails one hour from Split. Below you can check 2015 summer and winter ferry timetables as pdf. files!
**To open these links you'll need Adobe Reader
Jadrolinija 2015 Summer Car Ferry Timetable – (R/T) Split to Solta
Jadrolinija 2015 Winter Car Ferry Timetable – (R/T) Split to Solta
LNP Company Fast Catamaran Split to Rogac (Solta)
There is a daily catamaran line from Split to Rogac. The journey takes 30 min and the ticket is from 28 Kuna to 35 Kuna per passenger depending on low or high season period.
The tickets can be purchased at SPLIT TOURS agency d.d, located at this address: Obala Lazareta bb, 21000 Split (phone contact: +385 (0)21 338 310). Visit Split port page and map!
Travel tickets used to be purchasable online, but please check LNP's website to see if they're available right now.
Split to Rogac (Solta) 2015 time table:
Split to Rogac (Solta) 2015 prices:
Getting around Solta Island
Local transport on Solta is more reliable than on any other Central Dalmatian islands. The bus connections are run by by the same company that operates local bus transport in Split – Promet Split.
It's helpful to know that all bus schedules are synchronized by either, car ferries and fast catamaran connections.
The best way to move around this island is on foot or renting a bicycle and scooter. Check 'Lunaris rent' at Maslinica, Sv. Nikole street 14; Phone: 098 131 8593.
The Most Beautiful Places On Solta Island
Maslinica
It's the only island's village situated in the cove of the western part of Solta island. It has beautiful scenery of picturesque cove and pinewood in the southern side and also of its well-protected cove of Sesul and archipelago of seven islands.
Private accommodation and apartments.
Stomorska
It's the oldest port on the island. First families settled in Stomorska as early as in 16th century. Stomorska has been famous for its fleet of big wooden ships that were used to carry Solta's wine and olive oil to markets on mainland and in Italy.
Private accommodation and apartments.
Necujam
The youngest village of the island, founded by building summer houses but also by planned hotel building. Necujam is the largest and according to some the most beautiful cove of the island.
Private accommodation and apartments.
Rogac
Rogac is the main port of the island but also a tourist village with nautical marina, gas station and beautiful coves (Banje, Kasjun, Zustova and others) which makes this place an excellent spot for nautical tourism.
Private accommodation and apartments.
Olive Tours From Solta Island
This tour starts from Rogac on Solta. Please note that ferry tickets to and from Split are not included in the price.
This tour includes: visiting olive groves, the village of Gornje Selo and the mill with "Taste like a pro" program, lunch in the mill with local wine, and all transfers from the ferry port of Rogac and return.
The after lunch program can be tailored depending on your wishes. For info and booking contact Olynthia.hr. They also organize a day trips from Split!
Solta Island International Summer Camp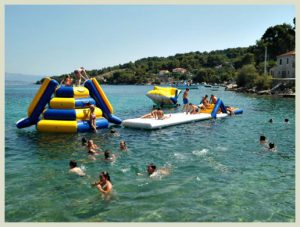 I apologize I have not before published about this island of Solta International Summer Camp information for kids and teens age 7-17 near Rogac village.
For already 23 years this Euroclub is the largest international youth camp on the Adriatic coast hosting youth from all over the world. The stay in Camp is designed as a mix of vacation and education, sport and relaxation, friendship and fun.
Euroclub (summer camp for children) address: Rogac, BANJE, 21430, Solta; Website.
It's a mixture of foreign language school, arts camp, sports camp and active vacation. English is the official language and program consists of EIGHT DAY PROGRAM (from € 399):
8 days / 7 nights accommodation.
7 full boards in summer camp Euroclub Croatia.
Intensive language course or creative workshops (20 + 5 hours per week).
Use of learning materials and equipment.
Organized usage of sport facilities (table tennis, soccer, beach volleyball, basketball), recreational and entertainment.
Facilities and the disco.
Injury Insurance.
24 h medical care.
Excursions (optional):
Dubrovnik – city of stone
Plitvice lakes
Split Aquarium
Split kayak tour
Omis rafting
Trogir tour
Split city tour
National Park 'Krka'