Split Croatia villas are hard to beat if you want to have more space available when traveling with a group of friends or you have a numerous family. How to find the best Split villas?
Talking about Split summer rentals, this page is related to villas and not to apartments rentals.  All villas are independent buildings or freestanding private homes with a full privacy respect.
Small villas has minimum 3 bedrooms with additional  living space such as living rooms, dining area, bar, verandas, gardens and some with a private pool.
The bigger villas dispose with 5 to 6 bedrooms and from 3 to 5 bathrooms.
This is particularly important concerning  the rental price as more people, means a lower price to share with. Prices depends also on other factors like the distance from the beach or whether or not there is a private pool and garden.
Split Croatia Villas Locations
When looking to rent a villa in Split, consider few facts that will determine not only the price. Location is one of important conditions that will normally cost significantly more. Split city is not so big not to choose some villas that are located in nearby suburbs  like Stobrec or even better, Podstrana.
Both districts are very good connected by local bus service, and the rentals are considerably much lower, without sacrificing the villa's comfort or amenities.
Terms of of renting change if you prefer the district closer to the old city center. Don't expect to find villas to rent inside the Diocletian palace walls,because there aren't any.
Split city district located along the coast of Matejuska (continuation of Riva promenade) to the west, at the foot of the southern slopes of Mount Marjan, has a reputation of elite district, with a population of 4,000 inhabitants. It's known as Meje district.
This area offers the most luxurious Split Croatia villas. The area covers the districts and the peninsula Sustipan. By the sea there is a park Zvoncac, and picturesque beaches Kastelet, Kasjuni and Jezinac.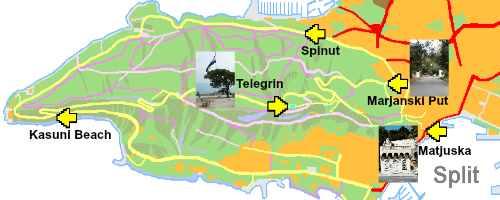 Meje district is famous as an extraordinary center of cultural and scientific institutions as the Museum of Croatian Archaeological Monuments, Ivan Mestrovic Gallery, Institute of Oceanography and Fisheries and the Mediterranean Institute for Life Sciences.
Another favorite Split district is  Veli Varos (Varos) located above Trumbiceva obala street just west of Riva promenade, on the southern slopes of Marjan Hill.
Postrana and Stobrec Districts Villas
This villa is situated 6km south of the 1700 year old town of Split, 100 meters from the beach.
It will be the beautiful base from where you can explore the beauties of Central Dalmatia.
Split is the center point for those exploring and sightseeing romantic coastline and extraordinary islands like Hvar, Brac, Vis, Solta and Korcula.
For pricing and availability click here.
Villa Mermaid – Modern Villa With Pool And Stunning Sea Views
Villa Mermaid is a new built modern villa with stunning sea view of Dalmatian islands and the city of Split. It is located in the lovely village of Podstrana, near the church, 15 km from Split down town and 14 km from the town of Omis.
It is just 120 m distant from the nearest beach and you can walk 6 km by the coast passing beautiful beaches, restaurants and cafe bars.
Villa has a swimming pool, 4 Bedrooms, 4 Bathrooms (sleeps 9), 120 met from the sea! Prices start from € 362 per night! For instant quote, click here!
Villa Ark – Secluded With Panoramic Sea View – Stobrec
Isolated and secluded by the sea, Villa Ark offer an intimate ambiance and a sense of privacy in complete harmony with its setting by the sea.
Waking up with a soothing sound of the waves, dinner with loved ones with stunning panoramic view of the sea and nearby islands and direct access to the beach through the pine trees vegetation will make your enjoyment complete.
The town of Stobrec is very close to Split for sightseeing (only 6 km). This villa has 11 bedrooms and 16 bathrooms.
It's an excellent solutions for small groups. It can accommodate up to 40 persons. Prices are the most convenient on the local Split Croatia villas rental market, starting from € 79 per night. Check for availability here!
Villa Floramye – charming villa with pool in Stobrec – 5 km from Split center
Set on a quiet place, just 5 km from the old city of Split, the villa welcomes you into its unique premises for a memorable holiday.
Not far from the villa, only 5 minutes drive to the beautiful sand and pebble beaches of Stobrec and surroundings, explore the lovely nature, extraordinary views along the coastline and learn from the history of local sites.
This villa called Villa Floramye can accommodate up to 8 persons in 3 bedrooms. It's ideal for families with children or small groups of friends. Rental price starts at € 250 per night. For availability and quotation, please check here!
Split Croatia Villas – villa with private Pool near Stobrec
Villa with 6 bedrooms, 3 bathrooms and 4 showers, with private pool next to Split town 10 min driving from Split center.
There is a renovated beach 400 meter from the house that makes things even more interesting  for guests. Pool tiles are from glass mosaic and they make pool looks amazing. Pool is 4 meter wide and 8 meter long enough to fit 12-15 people inside.
Villa can accommodate up to 12 guests and prices starts from € 257 per night, depending on the season period. Check here for rates and availability!
Split Croatia Villas – Marjan Hill
Villa Mediterranea – spacious villa with large terrace, garden and summer kitchen, 200m from center!
Villa Mediterranea is a spacious holiday home furnished tastefully, the interior mixes its authentically old past with exposed brick walls plus modern furniture and all new appliances.
The interior is very comfortable and welcoming for evenings outside cooking at the summer kitchen, dining at the large outdoor table and days relaxing on the second large terrace.
Villa offers 5 bedrooms and 2 bathrooms, accommodating 7 persons. The renting price is very interesting for a villa on this location, just 200 meters from the promenade in the center of Split and 400 meters from the nearest beach. Prices start from € 176.
Villa Spalatina – Only A 5 Minute Walk To The Diocletian Palace
Villa Spalatina is situated in the residential area Meje on the outskirts of the park-forest Marjan, only a 5 minute walk to the Diocletian palace and the town center.
It is ideal for one to four couples or a bigger family who want to be close to the town, yet enjoy peace and relaxation. The villa is built of stone from the island of Brac.
It was completely renovated in 2007 and is fitted with top quality furnishing and appliances to make your stay luxurious and comfortable.
Villa offers 4 bedrooms for 8 persons and prices start from € 285 per night. It is ideal for one to four couples or a bigger family who want to be close to the town, yet enjoy peace and relaxation. Make some inquiry if you are interested!
Villa Split – Beautiful Sea View
Among all Split Croatia Villas, this wonderful property is placed on one of the most attractive locations in Split. I would call it a perfect getaway, for it is a remarkable historical edifice, offering an oasis of privacy and luxury just a few minutes from city center.
Villa Split is situated in city part of Split called Meje, which is a south oriented district in the west end of Split, just at the beginning of the forest Park Marjan.
With 5 bedrooms and 5 bathrooms, a swimming pool with a lush garden, is one of the most luxurious villas in this district. The rental price corresponds to the position and the comfort of the villa. It stars from € 1199 per night for a group of 10 quests. For instant quote – check here!
Villa Verde, a luxury villa in Split center
This villa is situated in the residential area Meje on the outskirts of the park-forest Marjan, only a 5 minute walk to the Diocletian palace and the town center.
It is ideal for one to four couples or a bigger family who want to be close to the activities of the town, but also a little removed from the town noise if they want to enjoy peace and relaxation.
Fully air conditioned, the villa is built in the traditional Dalmatian urban style with a private pool and sauna, a spacious garden and a beautiful view of the harbor, the islands and the sea.
Villa Verde has 5 bedrooms for 10 guests. The nearest public beaches are about 15 minute walk away.This villa has, among all Split Croatia villas, the most stunning view.
Rental price starts from € 338 per night. For booking and inquiries, please, check here!
Split Croatia Villas in the very center of town
Villa with 4 luxury suites – overlooking the sea and islands
This villa is located in the very center of the 1700 year old city of Split, only seven meters away from the seaside, in the city's protected area.
The main attractions of Split are only two minutes walking distance from this villa like Split National Theater, Marjan Hill, Jadran beach, Pjaca Square, museums (Nautical, Archaeological, Ethnographic, etc.). Villa is close to famous low-cost Fifa restaurant.
It has 4 bedrooms, 2 bathrooms, 2 kitchens, 2 living rooms for 11 persons. The rental price starts from € 200 per night. Click here for more info!
Split Croatia Villas in Varos district
Villa Veli Varos Split is situated in old town of city Split, 200 meters from Diocletian pallace and 150 meters from the promenade, in Plinarska street, alongside the National Theater (HNK) and the Veli Varos (old part of the city center), at the foot of Marjan hill.
House, more then a century old and renovated in 2013, consist of 3 apartments, each has separate entrance. Next to the house there is a famous restaurant and cafe bar Le monde, where you can taste daily fresh domestic cakes and the best coffee in the town. If you have to decide the top location for your Split Croatia Villas, than this is N° 1 choice.
The owners rent bikes for their guests, and organize tours to the nearby islands.
Villa can accommodate up to 8 persons, in 2 bedrooms with 2 bathrooms. The price is more than acceptable for its top position. Starts from € 100 per night. Check yourself!
Family friendly Split Croatia Villas With Private Pool And Garden
Villa Ivana has 4 bedrooms and 3 bathrooms with a garden and private pool. It's located 10 minutes walk from the old city center. It can accommodate up to 11 quests and rental price start from € 427 per night.
For instant quote – Click here!