Split in June is another peaceful month. The days are getting longer and each day is warmer and warmer. Schools are still in session, as most close its doors on June 15.
There are two reasons to be in Split in June:
Less crowds – Without doubt there are those among you that don't like the crowds on the beach and the daily search for a good place on it. That certainly will not happen in June because there are much less tourists. You will only be in a dilemma, whether to move a towel to another, more attractive location.
It's cheaper – Not only the  tour packages are cheaper, but less money you will spend on other services. Food and drink are often discounted because it's a start of the season.  You'll save money and at the little things, like the entrance to the beach, renting the sun loungers or even it can happen to save  on a new swimsuit. You can't  be wrong on cheaper accommodation in Split in June.
What's the weather like in June?
| | |
| --- | --- |
| Average temperature | 22°C (72°F) |
| Min/ Low temperature | 19°C (65°F) |
| Average sea temp. | 21°C(70°F) |
| Average sunlight per day | 15:21 |
The average day temperature is 27 ° C (80 ° F), night time temperature is rather enjoyable around 19 ° C (66,2 ° F) and average monthly sunshine hours are 307 with average 9 rainy days.
June is the month of transition between low and high season. Basically everything is ready for the upcoming summer season without the usual frenetic Split's harbor traffic, like in July and August.
German and Italian tourists have not yet arrived. Prices are still affordable as hotels haven't yet raised their prices for the peak summer season. Don't forget to check my selection of best Split hotels deals in June.
The only thing that disturbs this apparent peace, are school excursions especially during late May and early June. Hotels and transport around cultural highlights can suddenly fill up with noisy teens.
What to do in Split in June?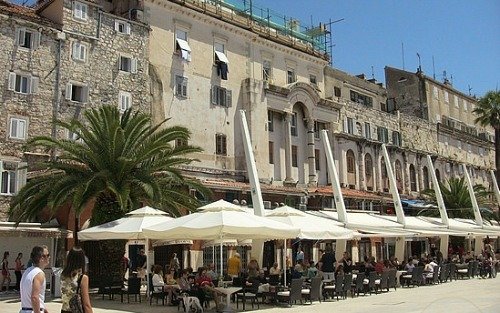 Cafe life is in full swing. The prices of coffee on the Split waterfront, which is one of the most popular places to go out and socialize in the city, range between 10 and 12KN.
Old and lively Split center with countless cafes and Riva promenade are inevitable points that you can not miss.
Riva promenade is the best place to see and being seen. Enjoy watching people, order a cup of kava (coffee), an obligatory beverage of Split everyday life.
I recommend ST Riva,  a trendy cocktail bar with charming balcony and a large terrace. It costs only 8KN and a large for 10KN.
June in Split is a perfect time for all kind of outdoor activities. Split offers ordinary walking tours or biking tours with standard or electronic bikes on nearby Marjan hill.
Read more about:
June is a great month for all kind of water sports like kayaking around Marjan peninsula all the way to Ciovo island.
If you're interested in a kind of extreme sports, why not trying Cetina river rafting adventure from Split or full adrenaline sport like Marjan hill rock climbing.
If you're a lover of good food and wine, Split is a good place for some foody tours like wine, sweets and snacks through some Split's finest foodie hangouts located in and around the Diocletian Palace.
You can also combine pleasant June evenings tastings Croatian wine and cheese, strolling along some of Split's most charming quarters.
In June, all Split beaches are easy to get to from popular Bacvica to the less known as Kasjuni or Bene both on the Marjan Peninsula, easily accessible by local bus N ° 12 and 21 starting from St. Francis Church Square, located at the end of the Riva promenade.
 Split in June 2015 events
Split likes music. It's the part of its soul. If you are in Split at the end of June and beginning of July, take part of popular music festival. Check their official website to get the more details and the exact dates of 55th festival.
The first festival was held in 1960 at Prokurativa (officially Republic Square) and it has reached its 55 edition.
No one can be bored in Split!