Mljet island is one of the Croatia's top highlights and a paradise of pristine nature and eye-catching scenery, peaceful atmosphere for all lovers of swimming, hiking, biking or canoeing.
Mljet is positioned in the South Dalmatian Archipelago. It extends parallel to the eastern half of Peljesac peninsula. It is separated with Mljet channel, 8 km wide.
The island is 37 km long with an average width of 3 km and an area of 100.4 km2. The nearest point to Korcula island is Cape Goli, 18 km away while Cape Gruj, at the southeast of the island is 30 km from Dubrovnik.
Only one-thirds of the island (northwestern part) has been transformed into national park from 1960, that covers nearly 5400ha, including sea belt 500m from the coast, islands and reefs.
Mostly covered with Aleppo pine trees, the island was named the Green Island.
The island has a relatively small population, according to the 2011 census, less than 1100 inhabitants. The biggest villages are (from northwest to southeast), Pomena, Polace, Sobra and Saplunara that attract the most visitors. There is only one main road from Promena to Saplunara.
Mljet Island National Park
The most important feature of Mljet island National Park, are two salt water lakes Malo Jezero (Small Lake) and Veliko Jezero (Great Lake), connected to the sea by a narrow canal.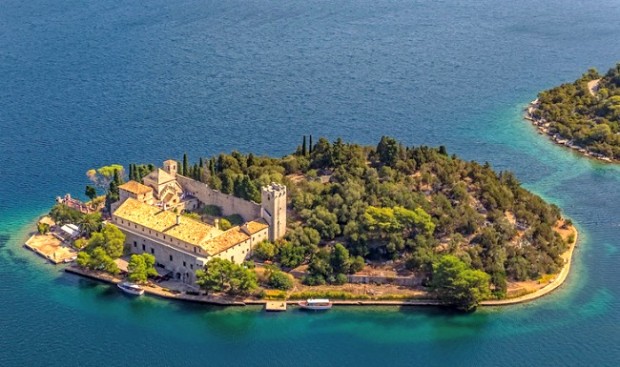 On the small island of St. Mary, in the southern part of Mljet Great Lake, there is a Benedictine monastery with the church of St. Mary. Its area is 0.5 hectares. It was built in 12th century. There is a small restaurant, connected by regularly scheduled small boats.
Mljet National Park
Address: Pristaniste 2, 20226 Govedjari – Mljet
Tel: +385 (0)20 744 041, Fax: +385 (0)20 744 043
Email:
[email protected]
Website
Mljet National Park can be visited throughout the year. There are three official entrances to the park, and during the tourist season it is open from 8:00 to 20:00.
In the winter period (from the beginning of November to the end of March) they accept visitors only by prior arrangement. The entrance fee for a whole day is 90 Kuna per person while children will have to pay, 30 kuna.
National Park is accessible for pristine nature lovers, strolling along the lakes shaded by pine trees, bicycle through the park, rent a kayak to paddle the lakes or simply swim the clear, blue water.
Getting to Mljet Island
Getting to this island is not as simple as it seems, particularly from Split. Almost nearly 60 years, the main port, Sobra on the island's eastern side was served by car ferry from Split to Dubrovnik and Korcula (coastal line).
Car Ferry From Peljesac Peninsula To Mljet (Sobra)
If you are traveling by car the most convenient car ferry is from Peljesac peninsula, from Prapratno to Sobra (Mljet).
It's a 45 minutes sail on 5.5 nautical miles that divide the mainland and Mljet island. See ferry schedules for Prapratno – Sobra!
From Dubrovnik To Mljet Island
From Dubrovnik there is no car ferry connection to island Mljet. Catamaran Nona Ana is sailing on high-speed line Dubrovnik – Sipan – Mljet – Korcula – Lastovo (only in July and August connects Dubrovnik with Korcula and Lastovo Island).
Nona Ana catamaran is fast ship for 200 passengers, with 2 decks, length 28.75 m, width 8.00 m and speed 30 NM. Catamaran leaves from Durrovnik Gruz harbor (Petka pier).
The ticket price (one way) on this line is 35 Kuna (winter period), while in high season will cost you 70 Kuna.
This line is active only in period between May 29th to August 30th, 2015. Sailing schedule is rather complicated and divided in two periods.
The first one is from May 29th to July 2nd while the second one, refers to the period between July 3rd to August 30th.
This catamaran leaves from Dubrovnik Gruz harbor (Petka pier) and ticket can be purchased 30 minutes (up to 1 hour during high season) before departure.
This catamaran is a property of G&V shipping company from Dubrovnik. On their website you can find all sailing information including the predicted time table for high season (July to August).
Further passenger ferries are operated by Krilo company. You can find their schedules and more information here.
Getting to Mljet Island From Split
Many travelers have asked me how to get from Split port to Mljet. There is no car ferry from Split to island of Mljet.
Only foot passengers can reach this island from Split, by fast Jadrolinija's catamaran from June 1st to September 27th. In this period, daily catamaran leaves from Split, at 07,45, arriving at Mljet at 10,40.
This very popular connection calls on the way to Brac, Hvar and Korcula and after Mljet, proceeds to Dubrovnik.
Alternatively a private company Krilo also runs catamaran connections from Split to Pomena and Split to Sobra on Mljet.
For more detailed information, please, visit my Catamaran from Split page.
Getting Around
For foot passengers there is good news, as every catamaran is connected by bus that takes you around the island. It means that a bus timetable is adjusted to ferry arrivals and departures.
Mljet Island Beaches
At the southeast end of the island of Mljet, there are several sandy beaches. One of them, Saplunara sandy beach is one of the most beautiful sandy beaches in Southern Dalmatia.
Its name comes from the Latin word sabalum meaning tiny sand. There are two sandy beaches, Big and Small one. They are situated in one kilometer long bay, surrounded by a thick forest of pine.
There is no ferry line to Saplunara, but you can reach this small village by bus or renting a car from Sobra,  which is only 16km away.
In this quite village you can hire private accommodation, rooms and sea-view apartments. I recommend very modern and comfortable Franka apartments.
Another, even more beautiful sandy beach is located some 20 minutes walking from there in the Blace Bay. It is rather isolated and away from populated places.
The beach is nearly 1 km long, surrounded by centenary pine trees and presents an  example of intact nature. Blace beach is often visited by naturists.
There aren't any official naturist beaches on the Mljet island and none of the beaches is marked as one.
But the island offers hundreds of lovely, little pebble stone coves and bays, many of them reachable only by boat, where you can be undisturbed and enjoy total privacy as a naturist.  Read more about nudist beaches in Dalmatia!
Mljet Island Video