Split markets are unique places like in any typical Mediterranean city. It would be quite impossible to imagine Split without its fish and open green markets.
Split outdoor markets are still popular and frequented, despite many new supermarkets and shopping malls opened over the years. Joker shopping center or City Center Dalmatia located at the end of Vukovarska Street are popular shopping places, but Split locals still often prefer buying their groceries at local markets.
Don't be surprised to find these markets among Split's attractions. They're a unique experience, with colorful fish, fruits and vegetables, and with equally colorful sellers. Split markets always had a mix of people from sea and land, islands and countryside.
Each time you are hungry, thirsty or short on cooking supplies, just visit these two markets to find everything you need. If you can't find what you're looking for in these markets, chances are it doesn't exist in Split.
Everyone who likes cooking at home will inevitably visit these markets. They're especially convenient if you rent a local home or apartment for a week or longer.
Cooking by yourself in Split can save you a lot of money too. Some restaurants along Split's main promenade (Riva) can be obscenely expensive. Be sure to take a look at restaurant prices and our budget tips! Cooking at home gives you the motivation to discover some fantastic open air Split markets where you can find fresh food.
Pazar Green Market
The stalls of Split's daily Pazar Market runs along Hrvojeva Street from the east wall of Diocletian's Palace, all the way to the palace's Silver Gate. View it on Google Maps here.
This big open air market is located at the eastern side of the Diocletian Palace in front of Silver Gate, and offers all the fruit and vegetables you'll need, but also plenty of other commodities.
Along the palace walls you can find cheap (but usually low quality) clothes and shoes from China and plenty of souvenirs to take back home. Green market with fruits and vegetables is on the part closer to the ferry port.
Local farms near Split produce all groceries found here, and the market only offers seasonal products. The prices are rather reasonable, but in high season they can get completely absurd. My advice is to negotiate before you buy anything.
The market opens around 7 AM and closes by 2 PM. If you want to save some money, it's a good idea to go after 12 PM. This is a good time to bargain with vendors for slightly lower prices.
To make sure you always buy fresh and quality products, just follow where the locals are buying. Local housewives always have their own trusted vendors they're buying from all the time: just keep an eye out on them and you won't go wrong.
Ribarnica – Fish Market
The fish market (Ribarnica) is only few corners away from Marmont street (view on Google maps), a popular shopping area in Split.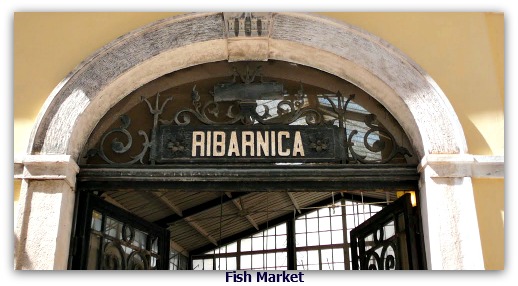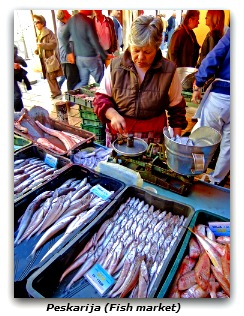 Fish market is in a closed area in the winter period, but usually outside in the summer. Fish market is a popular place for fish lovers and strollers, both local retired people and numerous tourists.
Here's a fun little secret: this may be the only fish market in the world completely free of flies, due to the sulfur springs nearby.
The distance between these two popular markets is only a 6 minute walk: from fish market passing over People's Square (Pijaca), entering Iron gate of Diocletian palace, following the main palace street all the way to Silver Gate, to Stari Pazar street. See the map below to find the shortest way!
Pazar Green Market & Ribarnica Fish Market on Google maps:
Here's a map with both Pazar & Ribarnica, including directions on how to get from one to another.
Split Cooking Class
For a unique culinary experience you can consider joining the Split Cooking Class. It's a hands-on experience with an experienced English-speaking chef. Split Cooking Class includes a visit to green and fish markets, cooking class in a kitchen, and lunch with local wines.
The class usually starts at 9 AM. You'll buy all the groceries with recommendation from your chef, and prepare a delicious lunch with his assistance. You can choose from 4 to 5 different dishes based on fish, shells and shrimps, local vegetables, fruits and spices (home made bread, carpaccio, risotto, home made pasta, gregada, buzara, fish stew, …).
For more information be sure to see Split Cooking Class here, or contact them directly via email or phone (+385 91 270 1111).
Split Culinary Tours
You can also find dozens of different Split culinary tours on GetYourGuide here. A knowledgeable local guide can take you shopping at local markets, or take you to a gastronomic tour of top local restaurants and wine bars.